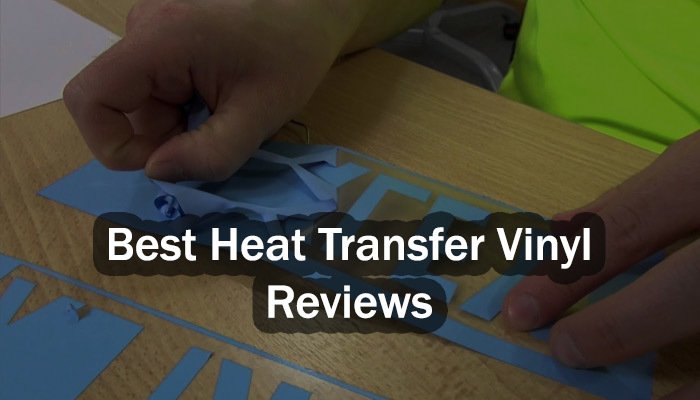 Best Heat Transfer Vinyl Paper Reviews for T-Shirts in 2023
Are you wearing a T-shirt right now? If yes, go ahead and take a look at it.
What do you see? Probably some text, a graphic, or an image, right? That's what I love about T-shirts—you can put anything on them.
But this would be almost unachievable without some sort of heat curing or transferring system.
That's where heat transfer vinyl comes in. When producing a T-shirt with novelty text or images, heat transfer vinyl is used.
However, finding quality HTV isn't an easy task.
For this reason, I'm going to help you find the best heat transfer vinyl by reviewing the finest options on the market. Let's get started
Siser EasyWeed HTV Sheets
Check Latest Price
Fame Crafts Heat Transfer Vinyl
Check Latest Price
Vinyl Sheets by EZ Craft USA
Check Latest Price
What is Heat Transfer Vinyl?
Heat transfer vinyl (also abbreviated to HTV) is a special kind of plastic-based vinyl that is used on certain types of materials for the purpose of creating custom designs.
Usually, you'll need a vinyl cutting machine to help you achieve this. Once you create the designs on the vinyl, they can be transferred using heat onto the material of your choosing (hence the name).
So how is heat used to make HTV stick?
The HTV is sold as a clear material that can be peeled like a sticker. You take this and stick it on the shirt to get an understanding of where you want your design to be. If you're happy with the positioning, you then place it under your  t shirt printing machine.
Then you lift up and peel off. Your custom T-shirt is now ready!
So, imagine the possibilities. You could make not only T-shirts but myriad other objects such as cushion covers.
Usually, HTV is sold in rolls for those who use it professionally. The smallest rollsare usually about 15 inches by 5 yards. If you use a cutting machine, vinyl is usually sold in sheets of 12"x12".
Some popular brands that manufacture vinyl cutters are Cameo and Cricut.
Best heat Transfer Paper Reviews
The number of options out there is overwhelming. For this reason, you need someone to help you narrow down the choices. That's what I'm going to do now. Here, I'll review my recommendations to help you find the right vinyl paper.
1. Siser NA EasyWeed 12-Color Starter BUNDLE
Specifications
Roll width: 12″ or 15″ wide
Sheet size: 12″ x 15″ regular HTV, 10″ x 12″ glitter HTV
Thickness: 0.09 mm (3.5 mils)
Composition: PU (Polyurethane)
Transfer temperature: between Cotton and Linen for regular iron, 305°F/150°C for heat press
Transfer pressure: medium pressure
Transfer time: 15 seconds
Peel: hot or cold
So, we're starting off with probably one of the absolute best options on the market in terms of HTV. If you don't already know, Siser is already known for producing high-quality heat transfer vinyl.
But the main reason this product is worth your consideration is because of the fact that it's a multi-color bundle. That might not seem like something you need if you're a beginner, but I beg to differ.
There are, in total, 12 different colors in this HTV bundle, so it's great for experimenting. Each one of these guys measures at 12×15". That's a great size for beginners because it leaves a lot of room to make mistakes and learn.
I also love how the carrier on these HTV sheets are so sensitive to pressure. Add to that the fact that these babies are supremely easy to peel, so you basically end up having to do far less work to achieve your desired results.
As you can see, there's a good reason why Siser calls this one a starter bundle!
Oh, and, get this—many users also say that this is the best iron on vinyl for Cricut that they have used, so if you have a Cricut machine, that's great news!
Something else I love about Siser HTVs is how durable the transfers created by them are. Your designs will last a really long time.
Highlighted Features
Compatible with a large range of fabric types
Extremely easy to weed
Durable transfers
Reasonable price tag
The large size helps accommodate beginner mistakes
2. Fame Crafts Bundle 20 Pack
Specifications
Sheet size: 10 x 20 inches
Composition: PU (Polyurethane)
Package Contain: 40 sheets in 30 different glossy colors
Transfer temperature: between Cotton and Linen for regular iron
Transfer pressure: medium pressure
If you agree that bundles are where it's at, then you'll love this one in particular. It one-ups most other bundles by offering not twelve, but twenty different colors!
That's what makes this a great option if you're venturing out of the beginner phase and are ready to start trying new types of designs and prints. Because of the larger assortment of colors, you'll be able to dabble in more intricate prints.
These guys measure at 12"x10", which is good if you're already somewhat experienced with handling vinyl.
What's great about these vinyl sheets is that they can transfer onto not only T-shirts but also other clothing items like hoodies and sweatshirts. That's not to say that other HTVs won't be able to do the same, but these ones have been specifically designed for that purpose.
The fact that these HTV sheets are particularly thin and lightweight definitely helps. Yet, despite their relatively low thickness, the transfers you make with these vinyl sheets are going to be superbly durable.
Highlighted Features
Very lightweight
Easy to weed
Can be used to transfer designs to many different kinds of clothing items
Great for decals for car windows and mugs as well.
Ideal for beginners
3. EZ Craft USA 40 Sheets Assorted Colors
Specifications
Sheet size: 12 x 22inches
Thickness: 0.5 inch
Composition: PU (Polyurethane)
Transfer temperature: between Cotton and Linen for regular iron, 305°F/150°C for heat press
Transfer pressure: medium pressure
Bundle : 20 sheets with most popular 20 colors
Holy mother of bundles!
What is there not to love about a bundle that was literally made for the aspiring and successful T-shirt maker in you? I mean, this guy comes with not twelve, not twenty, but forty assorted colors. Can you imagine the possibilities?
No, I really mean that there are hundreds of possibilities with this bundle because it's not just regular HTVs that you'll get in this bundle. That's because it comes with 30 different glossy colors, 3 metallic colors, and 2 mattes.
What an amazing variety, and for such a great price. So even if you're just a beginner, this bundle can still be of good use to you, as you're getting such a large variety at such a low price. That translates, for you, to endless options for experimentation.
But don't make the mistake of thinking that the low price means you're getting a bad product. These are perfectly up to the task!
These HTVs measure at 12"x12" and the adhesive and liner on these are of high quality. You probably already know that having a smooth cutting process is crucial to getting your desired result with your transfer.
Something else to take into consideration is the fact that because these sheets don't come in rolls, they arrive already flat, and perfectly good to use straight away. Bent corners can ruin your entire mood even before you start designing and cutting, so this is a huge plus.
Highlighted Features
High affordability
Large range of colors allows for unlimited experimentation
Compatible with most vinyl cutting machines
Lightweight and thin, yet highly durable
4. HTV Heat Transfer Vinyl: 20 Pack 12″ x 10″ Sheets
This bundle is definitely one of the more affordable options on the market, given that it comes with 20 sheets. This is a great choice if you're frequently creating custom T-shirts!
But it's also great for personal use considering that you can easily use an iron and still get great results. I particularly love the fact that this vinyl is so easy to peel; it doesn't have that plastic-y feel that so many other brands aren't able to eliminate.
These HTVs are made of polyurethane that is of unexpectedly high quality. Keep in mind, though, that this is cold-peel vinyl and thus works a little differently.
The HTV sheets are also shipped in a plastic folio that makes storage a breeze. Not just that; you can also store scraps left over from any projects for later use.
In my experience, these HTVs are also very compatible with cutters—especially if you're on the lookout for the best heat transfer vinyl for Silhouette Cameo, this is probably it! Seriously, the way these HTVs work with Silhouettes is so seamless that it's bound to amaze you.
So what colors are you getting in this bad boy? You're getting 2 full black sheets and 2 full white sheets, with other assorted colors such as light pink, orange, yellow, aqua, and even neon yellow.
Totally worth a buy!
Highlighted Features
Comes with maintenance and usage instructions to make your life easier
T-shirt transfers will last for at least 50 washes
Comes with a bonus Teflon sheet for extra protection
The protective sheet will preserve your vinyl for many, many years
5. PrimeCutsUSA – 65 Vinyl Sheets
If you're a serious user of heat transfer vinyl and have already figured out the ins and outs of all you can do with the right colors, then get this bundle.
Seriously. It comes with sixty-five 12"x12" vinyl sheets; I can't possibly imagine anything better if you're an enthusiastic cutter who's trying to save some money. Because, yes, this is a highly affordable bundle!
But don't let the low price tag fool you. These 12"x12" HTV sheets are each 3.0 mil thick, and each one comes with adhesive liner and backing. Don't even worry about whether these will hold up until you're ready to use them.
I almost forgot the best part: these HTVs come in a variety of finishes—more specifically, you're getting one glossy and one matte sheet for each color. This is, therefore, a great idea if you're dabbling in several different kinds of designs!
You're not just limited to making T-shirts with these babies, though. Think big! You can use this for transferring to any number of items, including decals, signs, picture frames, and even things like rain boots!
I'll never believe them again when they say price always dictates efficiency and quality.
Highlighted Features
Supremely affordable
Very easy to peel and weed due to high-quality adhesive and backing
Compatible with all desktop cutting brands
Lasts up to 5 years indoors and 4 years outdoors.
6. Jh-Best Crafts Roll Transfer Paper
As you may already know, making the perfect T-shirt requires more than just the right HTV. You also need the best heat transfer vinyl paper to make sure your designs are transferred smoothly and without cracks and peels.
However, that can add quite the extra amount to your expenditure on vinyl. That's why you need a transfer tape that is both cheap and efficient. If that's what you're looking for, then look no further than this product!
These 12"x10" transfer papers are one of the best transfer paper for heat press because of the red grids printed on them that makes using them a breezy walk in the park. Alignment mistakes will be a thing of the past when you're trying to figure out how to make your cutters print exactly the image you want onto your HTV.
Honestly, this transfer paper gives even professional brands' papers a run for their money. It'll easily grip any vinyl lettering or image and make peeling such a smooth process that you'll be amazed. Compare with something like Cricut's Strong Grip transfer tape and the difference will make your jaw drop.
Especially when you consider that this transfer tape was designed to be compatible with such a wide variety of adhesive vinyl (both for indoor and outdoor purposes).So, in my opinion, this one is a win, given its reasonable price.
Highlighted Features
Great for all sorts of smooth surfaces like decals and signs
Comes in a convenient and easy-to-store roll
Great quality
Easy to use
7. SiserGlitter Heat Transfer Vinyl HTV
It's time to get funky, my friend. Gone are the days when you'd have to imprint your T-shirts, mugs and handmade cards with boring matte and glossy vinyl prints. Thanks to dedicated brands like Siser, we now have something even better: glitter HTV!
This one, in particular, was specifically designed for T-shirts, but that doesn't mean you can't use it on other apparel as well. Go crazy with some glitter-text sweatshirts, sweatpants or hats!
You get 3 gold glitter HTV sheets in this pack, and each one measures 10"x12". If you're an already experienced maker of custom T-shirts, then these are the perfect dimensions for you to work with. It's perfect for the 12"x12" cutting mats that most desktop cutters come with.
Yes, it's true that this bad boy is a little more expensive than other brands offering glitter HTVs. However, glitter works a little differently than other HTV finishes, so in my opinion, it's better to be safe than to save.
Don't worry about your HTVs getting bent out of shape or being difficult to work with, because there are shipped completely flat. Gotta love a thoughtful manufacturer, am I right?
Oh, and, if you think that glitter HTVs come with some sort of twist, then don't! The transfers you make with this HTV are going to be just as durable as other prints you've made with matte or glossy HTVs from this brand and others.
Highlighted Features
Works great even with regular irons
Excellent weeding and cutting compatibility
Super sparkly texture makes it great for personalized gift items
Ideal for t-shirts
8. Rozzy Crafts 12 Color Iron-On Heat Transfer Vinyl (HTV) Starter Bundle
As you may already be able to tell, I love bundles—all the colors, and all the possibilities they represent. Even if it's a 12-color bundle, like this one, all it takes is a good quality product to set your imagination churning.
So, let's look at some details to get a better understanding of what you can expect. The HTV sheets in this set are made from polyurethane (PU). PU heat transfer vinyl sheets tend to be very soft, and thus ideal for thin-lined and detailed designs.
Each sheet in this bundle measures 12"x10" inches, so it's a great option if you're just starting out with a personal vinyl cutter, as they tend to have 12"x12" cutting mats.
Some colors you can expect from this bundle are white, blue, orange, red, purple, and yellow, among others. Those are great colors to start with if you're only starting on your vinyl-related DIY projects.
You also need a good HTV that is easy to peel and easy to weed, especially if you're starting out—otherwise the experience can be frustrating and demotivating. Users love these HTV sheets specifically because of how easy they are to weed and peel, so you're in for a very smooth experience.
Durability is another amazing plus point of this product. A heat transfer vinyl is really only as good as its durability, as I'm sure you'll agree—make your own designs and wear them for years and years.
As a beginner, you really can't go wrong with this set. Give it a try!
Highlighted Features
A great option for beginners doing less complicated designs
Works with both iron-on and t shirt press
The colors are a delight to look at
Cool peel option produces better results for the long term
9. iImagine 7212″ x 12″, Assorted Colors
Aaaah, big bundles. They make me so happy. It's like being a little kid and stepping into a huge stationery shop where all your creative dreams are coming true before your very eyes.
Especially when the bundle has seventy-two sheets!
That's right; 72 sheets of high-quality HTVs in three standard finishes: glossy, matte, and metallic. As a maker of custom T-shirts and other vinyl designs, I'm sure you'll agree that realizing your biggest creative dreams are easiest when you have a range of colors and textures to work with.
Coming in a 3-mil thickness, these 12"x12" HTVs are especially suited to desktop cutting machines due to their size. If you have previous experience with them, then you'll know that making T-shirts is a breeze with sheets that have these dimensions.
I especially love the adhesive on these; it goes on almost any smooth surface you can imagine, such as ceramic, paper, metal or plastic. Make sure that whatever surface you're putting it on, though, is perfectly clean and free of dust and oil. It's also perfectly safe for dishwasher use!
This vinyl is also perfect for images and designs with finer details. Sometimes, it can be hard to find vinyl in such assorted colors that also stays true to its purpose.Thus, I think it'll be a good deal for you if you choose to purchase this best transfer paper for shirts !
Highlighted Features
10. Transfer Paper Tape Roll 12″ x25 FT
I've saved one of the best products on the market for last. And no, it's not HTV; but it is something equally important: transfer paper!
As a DIYer, you probably know that the best vinyl transfer paper can be hard to find. But luckily for you, I'm here to tell you all about the product that probably comes closest. Keep reading to find out why I think this.
First of all, this thing has a blue see-through alignment grid; compared to grids of other colors such as red.That can actually help you align better as you won'tbe distracted by the grid itself when placing your image on it.
The 12"x25" dimensions also add to overall ease of use. Most transfer tape rolls will come with 8 inches less of what this one offers.So, this is actually a huge win if you're looking to save money without compromising on quality and efficiency.
And what good is transfer paper unless it works with all sorts of vinyl? This transfer tape is also known for accepting all cutters with open arms.
Highlighted Features
The purchase comes with a free squeegee!
Supreme quality adhesive despite the cheap price
Comes with a paper backing.
Alignment is easier with this one
In Short let's look other Transfer vinyl paper
Sale
JANDJPACKAGING HTV Heat Transfer Vinyl Bundle – 43 Pack 12″ x 10″ PU Iron on Vinyl for T-Shirt, 32 Assorted Colors HTV Vinyl for Cricut, Silhouette Cameo or Heat Press Machine
2020 UPDATED HTV VINYL -Our heat transfer vinyl sheets is thin with an excellent dimensional stability and very good cutting application characteristics. The thickness of htv bundle is very thin ,thus' easy to cut with most cutting machines.And the backing is white colored, which is easy to layer and distinguish the cutting side.
EASY & SAFE TO USE – Quickly and easily apply the adhesive backed iron on vinyl bundle to fabric using a hot iron or heat press; Our htv vinyl bundle is SGS certified eco-friendly with super elasticity and softness,and perfect for decorating children's clothing and accessories. Keep your kids safe, stylish, and chemical free. Good choice for Christmas and birthday party gift to your creative kids or friends.
DURABLE& MACHINE WASHABLE – PU HTV Vinyl bundle is easy to handle compared to other brands,easy for beginners to use. Our htv heat transfer vinyl bundle is pretty sticky, they adhere to the fabric seamlessly and has held up well in the wash.Washing test:40 degrees, more than 50 times,30 min/time.Reverse wash will be better.
VIBRANT COLORS – 12" X 10" 42 pack htv heat transfer vinyl bundle in 32 different colors, 5 black htv bundles and 5 white iron on vinyl bundle and 30 Assorted Colors,The htv vinyl accessories include 1 pack teflon sheet.Seamlessly integrates with Silhouette,Cameo and Cricut machines.
【GREAT SERVICE】We stand by the quality and versatility of our htv heat transfer vinyl bundle. Your satisfaction is our NO.1 priority. If your iron on vinyl bundle does not perform to your expectations, it's simply to contact us, we will try our best to solve it for you.
Buy on Amazon
CAREGY Heat Transfer Vinyl HTV Iron on Vinyl for T-Shirts 12 x 10 Inches 16 Sheets (White)
Genuine CAREGY Brand Heat Transfer Vinyl for T-Shirts and many other garments.
16 Sheets included – Each sheet measures about 12 inches by 10 inches – Perfect for 12×12″ cutting mats.
CAREGY is an easy to weed polyurethane (PU), ready-to-cut material designed for custom apparel decoration.
Great for use in cutting machines.
Ships flat for your convenience.
Buy on Amazon Sale
Dark T-Shirt Transfers, Iron-On, 8.5 x 11, 5-Pack
Buy on Amazon
Koala Paper 28 Sheets Light Fabric Iron-on Heat Transfer Paper for Inkjet Printers 8.5×11 in DIY Customized T-shirt, Bag, Apron
Transferred design surface is soft, stretchable, washable and can touch with your skin
Perfect for DIY your personalized white or light T-shirts, Hats, Aprons, Bags and more, but material with cotton content must over 50%
Easy to transfer the image onto the fabrics with a home iron. The heat press machine is recommended for the best result. Recommended heat press machine settings: 347-365℉, 25 to 30 seconds, heavy pressure
Compatible with inkjet printers, for long-lasting color quality, we recommend printing with pigment ink
Economical pack of 28 sheets. Each paper is 8.5×11 inches standard Letter size. Instruction sheets included. When cutting the printed image, please do not use the smart cutting machine. Please use ordinary scissors, because you only need to make a rough cut around the image.
Buy on Amazon Sale
HTVRONT Glitter Heat Transfer Vinyl HTV – 13 Pack 12″x10″ Iron On Vinyl for T-Shirt (Teflon Sheet Included), 9 Assorted Colors HTV Glitter Bundle of Heat Press Vinyl, Easy to Cut & Press
【GREAT VALUE HTV GLITTER VINYL BUNDLE】Each Iron-on Glitter Vinyl Bundle contains a 12-Pack of Assorted-Color Premium 12"x10" sheets of Glitter Heat-Transfer Vinyl, plus one free Teflon sheet. With 9 vibrant colors (2 Silver 2 Gold 2 Red 1 Black 1 Green 1 Royal Blue 1 Rose Red 1 Laser Black 1 Laser Silver 1 Teflon sheet) to choose from, you have a ton of options for customizing your designs. NOTE: Actual color of vinyl may vary slightly due to differences in monitor display.
【AVAILABLE THICKNESS & EXCELLENT DURABILITY】 Premium Glitter HTV Vinyl Bundle is designed to offer flexibility without compromising the durability and strength of the vinyl. This HTV Glitter Vinyl is SGS certified eco-friendly, and perfect for decorating children's clothing and accessories. Wait 24 hours before its first wash, and your designs will retain their color even after repeated wash cycles, with no fading, peeling, or cracking.
【PROFESSIONAL – SUPER-EASY TO CUT, WEED, and TRANSFER】Glitter Vinyl Heat Transfer is of the highest-quality polyurethane. Our ready-to-cut material is designed for custom garment decoration. Pressure-sensitive adhesive backing allows you to weed even small letters and fine designs easily! Quickly and easily apply the adhesive-backed HTV to fabric using a hot iron or heat press. Our Glitter iron on vinyl makes beginners feel like PROS and reduces the time necessary for even complex projects.
【CUSTOM DECAL CRAFTS and a WIDE RANGE OF OTHER USEs】 This Glitter Heat Transfer Vinyl Bundle offers vibrant sparkle, suitable for a wide range of fabrics such as Cotton, Polyester, Viscose, Rayon and Cotton/Poly Blends. It's compatible for use with the most popular cutting machines. Personalize your custom t-shirts, tote bags, caps, aprons, pillows and more with our Glitter HTV Vinyl! Great choice for creating one-of-a-kind gifts and holiday projects!
【SATISFACTIED SERVICE】We truly believe that our PU Glitter Heat Transfer Vinyl Bundles are superior to other brands of Glitter iron on vinyl, and helps make your life more sparkling and vibrant! If your product does not perform to your expectations, please contact us immediately to report the issue. We will make every effort to ensure your satisfaction!If you're pleased with your purchase, please help us by sharing your crafting experience with other craft lovers or on social media.
How to Pick the best Transfer Vinyl
As you can imagine, HTVis a product that is used by hobbyists and professionals alike. That means that the market is pretty big, and consequently, there are several options.
Of course, that also means that there are several other factors that will decide which, for you, will be the best heat transfer vinyl for shirts.
So here are a few of the things you need to know before choosing.
Measurements and Quantity
As I've mentioned before, HTV is usually sold in rolls.
For commercial purposes, it is typically sold in rolls of 15 inches by 5 yards at the least, but larger sizes also exist, of course. This is probably the one you'll need to get if you're customizing larger items like T-shirts and signs.
If you have a professional vinyl cutter, the chances are that it has placeholders in its rear which are able to hold the rolls. As such, you should consider buying several rolls at once, not only for quick production but also storage.
However, if you're just starting out, you can always buy starter packs, which usually have one roll each of a different color.
If you're buying HTV for DIY-related purposes such as making cards or mugs, hobby stores usually sell smaller sheets. The standard dimension is 12"x12". If you have a personal vinyl cutter such as Cricut, you're better off buying store vinyl. Be warned; they are more expensive.
Finish
HTV comes in two standard finishes: matte and gloss. Special finishes like glitter also exist, but I'll be telling you only about the standard ones.
Matte HTV is perfect if you're planning to use it for indoor purposes, such as projects involving walls or glass. It's perfect for things like custom printed mugs.
The matte finish is preferred by those who want to eliminate glare from the surface of their products. Matte HTVs will last for a minimum of 3 years, but longevity will, of course, depend on the quality.
Then we have gloss. This finish is perfect for outdoor purposes, such as boats, mailboxes, or front doors.Basically, if whatever item you're transferring the vinyl on is going to be exposed to the elements, then you should use gloss.
It's also suited to things like glasses and plates if you don't prefer a matte finish.
Gloss finish vinyl lasts for a minimum of 6 years.
Transfer Time and Pressure Rate
Not all vinyl transfers at the same rate. It depends on various factors such as thickness, quality, and the material of the receiver object. There's also always the question of the efficiency of the cutter you're using.
Don't always expect the best quality HTV to transfer the fastest—that's not necessarily an indicator of good quality. In fact, the denser and thicker the HTV is, the more time it might take.
This also depends on how much pressure is being put on the vinyl. Some vinyl types won't need much more than a hard iron press. But there are also HTVs which you must use with a more professional machine.
Color selection
You want that the black vinyl be black rather than navy! with the white remaining white. The variety of colors, though, is more crucial than that. If you enjoy and are proficient with a particular type of HTV, you should be able to purchase it in any color you like. For easy reference, I prefer brands who list all of their colors and patterns on their
How to Use a Heat Transfer Vinyl?
Even though a machine isn't absolutely necessary for HTV, using one will definitely make the task easier. So here, I will tell you how to use HTV with a cutting machine.
Step 1:
First of all, make your design or select a pre-made one.
Step 2:
Then, you have to place your HTV on the cutting mat of the machine. The carrier sheet should be face down before your machine proceeds to cut. (Note: Don't forget to specify in the machine software that you're cutting vinyl!).
Step 3:
Once that's done, you'll have to cut out excess vinyl—also called weeding. Special tools are available for this.
Step 4:
Next comes the application. Most people like to use iron, although printing-machine brands also produce heating tools. Note that if you're using an iron, spreading the heat over the design's surface will require a bit more work.
Step 5: 
Now take your T-shirt, or whatever you're transferring the design to. Press the design down on the surface with the carrier sheet face up. For this step, you'll need to give it a protective layer over the design, such as a pillowcase. Put your iron's settings to cotton.  Now iron for 15-20 seconds.
Step 6:
Finally, it's time to peel. You must start at the corner of the carrier sheet. If the vinyl doesn't unstick from the carrier sheet, you have to replace it and iron over it again.
Voila! Your HTV design is ready.
Frequently Asked Questions
Can you wash heat transfer vinyl?
Yes, but you have to wait 24 hours after the transfer. Remember to use only mild detergents, and water temperature shouldn't exceed 178°F. Do not dry-wash.
How long does heat transfer vinyl last?
HTV is known for being durable. Typically, you can expect the HTV to last for as long as your T-shirt material lasts.
Does the vinyl come with adhesive?
Yes. The adhesive is activated when you apply heat to it.
What is transfer tape, and do I need it?
Also called pre-mask, transfer tape is considered by many to be crucial. It basically transfers your vinyl designs after they've been cut. In most cases, yes, you will need transfer tape.
Vinyl can be transferred from its backing to another surface without the tape; however, it will likely be difficult, especially if you have intricate designs.
What type of vinyl do you use for T shirts?
Heat transfer vinyl is the best option for durability and clarity.
What is the difference between heat transfer and iron on vinyl?
Unlike HTV, iron-on vinyl does not require heat to have its adhesive activated; you only have to peel and stick.
Final Thoughts
I don't know about you, but I think there are only a few things better than being able to design your own T-shirts.
Sure, it takes some effort, and some practice, but all good things take time! I just think we're incredibly lucky to be living at the same time as the existence of such a thing as heat transfer vinyl.
So, what are you waiting for? Go buy one of the vinyl options I've reviewed and get creative. Good luck!