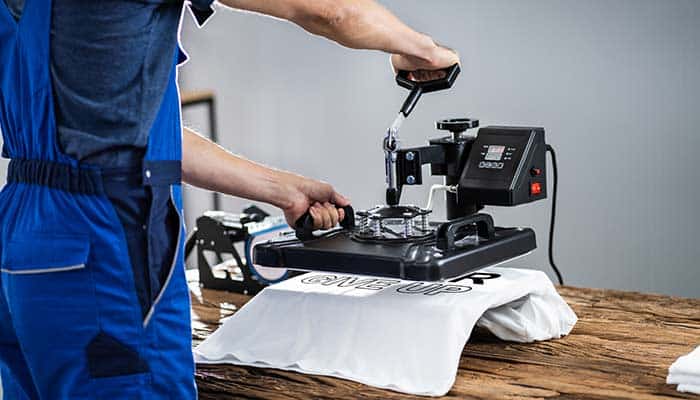 Best Heat Press Machine Reviews for T-shirt Printing In 2023
Heat press machines are selling like hotcakes right now. With these machines at your disposal, you will be able to do stick graphic art, lettering, numbering, and any other ink design in order to bring your dull products to life.
But how to choose which heat press to buy? They all look so similar, and the slight nuances in their features only make them all the more confusing.
To help you out, we have gathered all the necessary information that you might need in order to find the best heat press machine for your needs.
In addition, we have included a buying guide to help you make a conscious decision. Let's get started.
Need a quick decision? Here's our top 5 best t shirt heat press machine picks:
| Image | Product Name | Our Rating | Price |
| --- | --- | --- | --- |
| | Fancierstudio Digital Heat Press | 5 Out of 5 | |
| | VEVOR Heat Press Review | 5 Out of 5 | |
| | Power Press HPM-1515-BK | 5 Out of 5 | |
| | F2C Pro 6 In 1 Combo Heat Press | 4.5 Out of 5 | |
| | TUSY Digital Press Machine For T Shirts | 4.5 Out of 5 | |
What Is A Heat Press Machine And Why Do You Need This?
A heat press machine is a device that uses heat to transfer graphic design or art onto the surfaces of other materials, especially fabrics. They can be used to customize t-shirts, mouse pads, mugs, ceramic tiles, jigsaw puzzles, and etc.
These machines have two plates made of metal, which heat up to a certain temperature within a particular amount of time. Then they press the fabric from both sides, exerting a certain level of pressure until the image gets imprinted on it.
Now, heat machines are usually purchased by business owners. They come in various sizes, and styles, from which the buyer chooses one that will be the most cost-efficient for him. With these machines, plain boring things can be made to look unique and alluring to the taste of customers of all ages.
The versatility of these devices makes them a huge asset to the business owners. If you are trying to make money by selling clothes or other accessories adorned with customized images and prints, then you definitely need one of these heat press machines.
Best Heat Press Machine Reviews For The Money
You will, no doubt, be perplexed to see the myriad of options in the market. So, to help you out, we have dug deep and shortlisted the best ones available right now. Here are our suggestions:
1. Fancierstudio Digital Heat Press
Technical Features:
Printing Area:15 x 15 inches
Temperature Range:0 to 699 °F
Power Output: 1800 Watts
Time Range:0-999s
If you are buying a heat press machine for the very first time, then this one can be a really good option for you. That's because this thing is very affordable and easy to figure out. You'll get some amazing features without spending a shitload of money.
The Francierstudio Power Heat Press is the first of its line that comes with heat press sheets and Teflon-coated heat platens. It has a silicon base which can withstand a lot of heat without suffering any change in its form or performance.
This guy is very compact, as well. The lid opens upwards, so there will be no hassle with keeping it in the corner of the room. You can also keep this in your house while you promote your business.
It can also be used for applying transfers, numbering, lettering, and putting images on garments, ID badges, cardboard, ceramic tiles, and many other materials.
The device runs on 110 volts and 1800 watts. Make sure that these circuit specifications are compatible with the electronic wiring of your production area. With this arrangement, it can easily reach up to 699-degree Fahrenheit in just about 999 seconds, which is only about 16 minutes!
In terms of longevity, you can rest assured that this machine will last for over a year without getting worn off in the slightest. We advise you to buy some extra Teflon sheets just in case the ink spreads to your heat press.
Highlighted Features
Silicon coating on the iron plates
Long-lasting
Electronic time and heat control
Heats up quickly
2. VEVOR Heat Press Review
Technical Features:
Printing Area:15 x 12 inches (38X30cm)
Temperature Range:0-450 °F (0-232 °C)
Power Output:  1050W
Time Range: 0-999s
This heat press comes with built-in Teflon-coated heat plates that give it great consistency in performance. The 8-in-1 heat machine is designed to exert pressure vertically and make it safer for use. Moreover, it has heating coils on the surface, which allow it to exert an even pressure on the material being worked on.
Vevor Heat Press has a swing-away feature which allows a 360-degree rotation on the upper heat plates. This will prove to be of great advantage to you. That's because you will be able to reduce the possibility of fire hazards by keeping the heating elements away when it is not being used.
Another key feature is the protector replacement that comes with this machine. You will see a tiny red button on the control box, which is there to protect both the control box as well as the heat plates whenever the voltage is too high or too unstable.
This machine can be heated to a maximum temperature of 200 to 450-degree Fahrenheit, while the minimum temperature hovers around 93 to 250-degree Fahrenheit.
The wide range of temperatures means that you have more material options to work with making it one of the best multifunction heat press machines in the market. You will also find temperature control settings, and a digital LCD timer to give you more accurate measurements.
Highlighted Features
Easy to monitor temperature and time
360-degree rotation of heat plates
Equipped with accurate digital timer and temperature control
Comes with many attachments
3. Power Press HPM-1515-BK Heat Press Machine
Technical Features:
Printing Area: 15×15 inch
Temperature Range:32-455 F
Power Output: 1400 Watts
Time Range: 0-999s
If you want to quickly boost up your business, then this machine is perfect for you. It can heat press a lot of t-shirts without getting worn out in any way. Moreover, the heating plate in this machine is coated with Teflon. This means you don't have to get extra Teflon sheets from the market.
The coated plate makes this machine safe for use. It is regarded as the best heat press machine for home use since it is extremely user-friendly and easy to work with.
There is an LCD control board that includes fully functioning time and temperature controls. The Powerpress HPM runs on 1400W and a voltage of 110V. Make sure that this is compatible with your electronic circuitry in order to avoid explosions.
Speaking of explosions, if the device is compatible, you will face no other trouble with it. That's because it comes with a replaceable fuse in the box that will protect it from any kind of fire hazard.
This machine can reach a maximum temperature of 450-degree Fahrenheit in about 16 minutes. It has a separate safety control chip which will let you easily control the heat on the plates by using the settings.
The plate heats up evenly to ensure that any pressing done with it works out efficiently. Only one of the plates heat up so that you don't burn your fingers while working with such high temperatures.
Another unique feature about this is that this machine comes with a warranty. No other heat press in the market gives their customers this benefit.
Highlighted Features
Ensures even heating
User-friendly and perfect for beginners
Features a replaceable fuse to prevent fire accidents
Ideal for bulk pressing
Durable
4. F2C Pro 6 In 1 Combo Heat Press
Technical Features:
Printing Area: 12×15 inch
Temperature Range:32 – 430 Fahrenheit degree (0 – 250 Centigrade)
Power Output: 1000W
Timer Control:  0 – 999 seconds
This thing is a professional swing-away model that can be rotated full 360-degrees. It gives the machine increased flexibility in function. For you can freely move the upper arm when you are laying out the cloth on the workbench.
The device runs on 110 volts and 1000 watts, with the basic US-style grounded plug to power it up with. You will get a temperature gradient that ranges from a minimum of 32-degree Fahrenheit to a maximum of 430-degree Fahrenheit.
Moreover, the timer will tick to 999 seconds, which is the length of time for it to heat up to its maximum potential. The heat plates are coated with Teflon, which will save you the trouble of going out to buy any extra Teflon sheets from the market.
You'll be glad to learn that the height of this machine is adjustable from 13.5 to about 17 inches. This adds to the comfort of using this machine and saves you from developing any sort of back pain while working for long hours at a stretch.
Now, you can use this device to transfer beautifully colored images by dissolving and using the sublimation process. It will work effortlessly on glass, ceramics, textiles as well as on t-shirts and hats.
Oh, another thing we have to mention is that with this machine you have to check if the heating plate is laying completely flat on the material. If you notice any gap, then you have to readjust the machine properly on a completely flat workstation.
In addition, you need to exert extra pressure on it to make sure that the pressure knob is locked firmly in position so that the plate doesn't shake while it's being used.
Highlighted Features
Industrial-grade heat machine
Long Lasting
Industrial-grade heat machine
Supports 360-degree rotation
5. TUSY Digital Heat Press Machine For T Shirts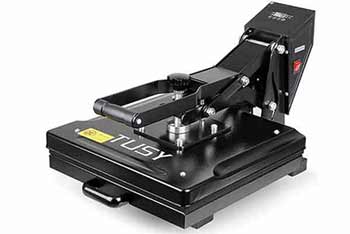 Technical Features:
Printing Area: 15×15 Inch
Temperature Range:0 – 482 degrees F
Power Output:1400W
Timer control: 0 – 999 seconds
If you are looking for a machine with a big surface area that provides great comfort during work, then you should seriously consider this option.
The TUSY Digital Heat Press is very easy and comfortable to use. And if you face any problem, look for instructions inside that will help you to figure out all the little details concerning this appliance.
One benefit of using this machine is that there are rubber rings at the bottom of the legs, which makes the entire unit very stable, and ensures that the heating plates are tightly bound together. If there are gaps in between, then the image will not be copied from the transfer paper to the cloth.
Fortunately, the device comes with an adjustable pressure panel, which you can use to just turn the knob and increase or decrease the pressure as per your needs. That makes it convenient for the machine to heat press material of varying thickness.
This beast runs on 1400 watts and 110 volts. If you are living in America or Canada, then these machines will be compatible with the power inlets without any trouble.
I like the fact that the temperature can rise upto 482-degree Fahrenheit within 999 seconds. Now, these things are great for printing on t-shirts, as well as blankets, banners, mouse pads, comic books and so on.
A great thing about this machine is that it has anti-heating features. That makes it the best choice for places that are strewn with a lot of hazardous substances.
Highlighted Features
Has anti-heating features
Big surface area to work on
Super sturdy
Plug in and use- no setup required
6. EPhotoInc Swing Away 9 X 12 T Shirt Heat Press Machine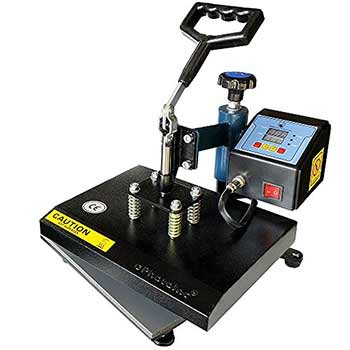 Technical Features:
Printing Area:9" x 12″
Temperature Range:Room temp to 500°F
Power Output:1200W
Timer control: 0 – 999 seconds
This heat press machine can transfer graphic art to t-shirts, bags, puzzle pieces, ceramics, and many more. If you are looking for the best heat press machine for small business, then go for this one because it is quite compact, yet powerful.
The machine accompanies an LED temperature display and a time display, which gives out accurate readings and makes it easy for the user to use. Time and temperature controls are very crucial, as they will determine the final outcome of the product.
If the temperature is too high, or the timer faulty, then whatever material you have put between the heating panels will get burnt to a crisp. It will ruin the heat plates of the machine itself, which will later need to be replaced. All that will be a lot of hassle, so make sure you pay close attention to these two aspects.
Just in 16 minutes, this machine can reach up to 500-degree Fahrenheit. That is a lot of heat indeed, so make sure that you keep your fingers and hands safe.
The heating panels are Teflon-coated; this will be a saving grace even if the temperature rises too much. So, you will not need to spend additional bucks on silicone sheets to protect the base from overheating.
Highlighted Features
Teflon-coated panels
Very diverse
Used in domestic as well as industrial purposes
The timer comes with a built-in alarm
7. USCutter 15″X15″ Digital Heat Press Machine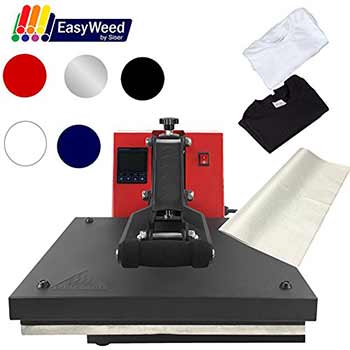 Technical Features:
Printing Area:15″x15″ Clamshell Heat Press, 16″ x 20″ replacement Non-Stick
Temperature Range:0-399° F
Power Output:1400W
Time Range:0-999s
This is a digital machine, that comes with five sheets of Easy Weed Vinyl, one non-stick sheet and two t-shirts for practice. You can try out your hand and strategy with the device to learn the corners of the task.
You will get a large area for working on your t-shirts due to the clam-shell design. This will not take up unnecessary space and or force you to limit your freedom of movement. So, if you do not have much experience in heat pressing, you will be much at ease with this one.
The device comes with a large LCD display, which is very important to check the time and temperature. In order to have full control over the final outcome, always set up the best heat transfer machine with the right temperature and time. These are the two main determinants of how well your design will turn out.
If you do not set these parameters properly then not only will your design be a ruined, but the t-shirt might get burnt and cause some damage to the machine as well.
USCutter is a very heavy-duty machine which is supported by a sturdy steel frame. The machine will last you a long time, provided that the heat plates do not burn away due to improper settings on the panel. The whole body is made of thick aluminum which doesn't rust even after prolonged use.
Highlighted Features
Comes with a starter pack of vinyl
Will not rust
The heating plates have a non-stick surface
Very versatile in function
8. F2C 15″ X 15″ Black Digital T-Shirt Sublimation Machine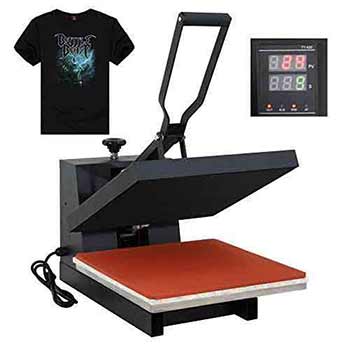 Technical Features:
Printing Area:15″x15″(38* 38cm)
Temperature Range:0-200C (0-400F)
Power Output: 1200W
Time Range: 0~ 999seconds
Are you looking for the best heat press machine to get funky with your personal style? Then this is the perfect machine for you! This black clam-shell heat press can transfer photos or graphic art of any complexity onto t-shirts with the utmost ease.
The temperature of the aluminum heat plates quickly rises to a whopping 400-degree Fahrenheit and locks the ink nicely into place in no time.
With the LCD Digital Control Box, setting such parameters is very easy. Using the electric control settings, you can adjust the timer to go off exactly when it reaches the specified temperature.
So, you will not be confined within the radius of the machine while it works. The machine will turn off by itself and save you the risks of fire hazard.
Also, the heat plates are coated with silicone, which means that they can endure the heat for ages, without undergoing any deformity. The pressure on the heating plates can be adjusted using the pressure knob so that you can use this machine for different materials of varying thickness.
Keep in mind that you will need a circuitry that can endure a system of 110V and a 1200W to run this machine. This is the standard setting for USA and Canada, so you can use them in these countries without fear of an electrical hazard.
You will be able to start using the machine right away as it comes completely assembled, with all the nuts and bolts properly all put together for you.
Highlighted Features
Pressure knob to adjust the pressure
The LCD monitor displays temperature and time
Alarm with an audio signal
Aluminum heat plates ensure heat distribution
Sturdy Frame
9. Super Deal PRO 5 In 1 Heat Press Machine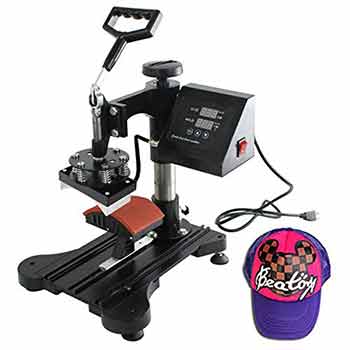 Technical Features:
Printing Area:12″x15″ Platen Press
Temperature Range:0 to 399 Fahrenheit
Power Output: 900W
Time control: Adjusted up to 999 seconds
Do you want your possibilities of having cool stuff to be limitless? If yes, you must give this thing a chance!
With this monster, you can heat press any graphic design onto any t-shirts, mugs, tiles, mouse mats, tote bags, and any other material that comes to mind. Oh, did we mention wood and metal? Yes, you can print on those as well!
This best 5 in 1 heat press machine comes with non-stick heat plates that are lined with the best quality aluminum alloys, which can be used to press just about anything. The swing-away design gives it the freedom of rotating to a complete 360-degree without any hassle. You just need to position this machine in an area that has a lot of space.
The silicone and cotton padding just add extra protection to the heating board. Moreover, there is a structural support that ensures that the panels sit firmly on each other and exert a balanced pressure throughout the platens.
In addition, this best quality heat press machine comes with a bunch of useful materials, starting from extra platen presses, a hat press, two plate presses, two silicone pads, one cotton pad and of course, last but not the least, a manual guide.
All in all, purchasing this thing is a very good bargain for you regardless of whether you are using it at home or for commercial purposes.
Highlighted Features
Comes with a huge platoon of useful presses and materials
Extra padding on the heat plates
Safe to use
Pressure adjustment knobs
Very affordable
Compact size
10. F2C Pro 5 In 1 Swing-Away Digital Heat Press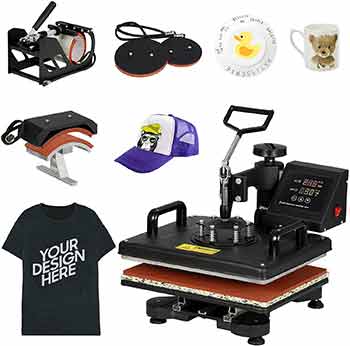 Technical Features:
Printing Area: 12″ x 15″
Temperature Range: 32 – 430 Fahrenheit degree (0 – 250 Centigrade)
Power Output: 1000W
Timer Control:  0 – 999 seconds
Here is another machine that you can use to set prints on just about any material. This machine is specially cut out for printing on tiles, cardboard, coasters, ceramics, and t-shirts, of course!
If you are thinking about whether all these unusually hard materials will damage the machine, then let us tell you that it will not. The F2C Pro has a very tough body with steel frames that are welded in place to resist any form of wear and tear even with prolonged use.
You will be further surprised to know that this machine also accompanies a printer machine that can be used to get the prints on the Teflon sheets with ease.
Don't fret about the setup of the machine at all. The heat press and the printer both come completely assembled together so that you don't have to take the trouble of figuring out the nuts and bolts at all.
And as with many other devices in the market, this one also comes with the basic digital timer and temperature controls to ensure that none of your workpieces get heated up too much.
Just keep an eye on the LCD display and pull up the swing as soon as the timer beeps.
Highlighted Features
Product has CE certification
Has a rubber grip on the swing
Large surface area
Teflon-coated plates
Silicone and Cotton pads protect the plates
Can reach up to 400-degree Fahrenheit
11. EPhoto New Digital Heat Press Machine 1515GB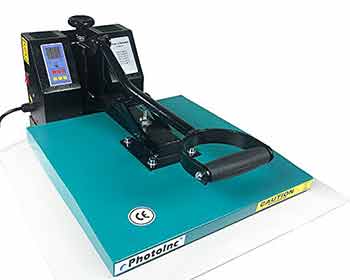 Technical Features:
Printing Area: : 15″ x 15″
Temperature Range:Room temp to 500°F
Power Output: 1400W
Timer Control:  0 – 999 seconds
If you are looking for the best heat press machine for beginners to simply print t-shirts with, then this is the one for you. It runs on 110 volts and 1400 watts; comes fully equipped with the LCD display to show the temperature and time.
You will also find brand new Teflon sheets inside, meaning no need to invest in extra sheets. The heat platens are made of aluminum, which is rust-free, to begin with. Also, the Teflon coating on top of it will give it an extra layer of protection against the heat as well.
This machine can reach up to 500-degree Fahrenheit in temperature by a little above 16 minutes. The temperature will be evenly spread out through the plates due to the aluminum, and thus your t-shirts will also be safe inside this machine. You can also experiment by heat pressing umbrellas, backpacks, headbands, etc.
This is one of the best budget heat press that comes completely assembled to you. All you need to do to start operating it is to read the instruction manual that comes with it and follow the steps accordingly.
To adjust the pressure in the heat plates, you will be able to use the knobs. Due to the high pressure and temperature, the printed design will sit on the material of the t-shirt very nicely and will not budge from its place even if its washed.
Highlighted Features
Silicon pads on the bottom plates
Easy to use for beginners
Pressure knobs control pressure as required
Features LCD display
Comparison Among Different Heat Press Machines
| Product Name | Printing Area | Temperature Range: | Power Output: |
| --- | --- | --- | --- |
| Fancierstudio Digital Heat Press | 15 x 15 inches | 0 to 699 °F | 1800 Watts |
| VEVOR Heat Press Review | 15 x 12 inches |  0-450 °F  | 1050W |
| Power Press HPM-1515-BK | 15×15 inch | 32-455° F | 1400 Watts |
| F2C Pro 6 In 1 Combo Heat Press | 12×15 inch | 32 – 430° F | 1000W |
| TUSY Digital Press Machine | 15×15 Inch | 0 – 482 degrees F | 1400W |
| EPhotoInc Swing Away T-Shirt Press Machine | 9" x 12″ | Room temp to 500°F | 1200W |
| USCutter Heat Press Machine | 15″x15″  | 0-399° F | 1400W |
| F2C 15″ X 15″ T-Shirt Sublimation Machine | 15″x15″(38* 38cm) | 0-200C (0-400°F) | 1200W |
| Super Deal PRO Press Machine | 12″x15″  | 0 to 399° Fahrenheit | 900W |
| F2C Pro 5 In 1 Swing-Away Press | 12″ x 15″ | 32 – 430° F | 1000W |
| EPhoto Heat Press Machine 1515GB | 15″ x 15″ | Room temp to 500°F | 1400W |
Different Types Of Heat Press Machines
There are different types of these machines for different functions. However, to the uninformed mind, they will all look the same. Hence, we are giving you a brief summary here so that you do not regret your decision after buying one of these heavy machines, so read on…
Clamshell Heat Press
This highly affordable and easy-to-use machine can help you to customize anything from mugs to t-shirts and more.
It is called "clam-shell" because of its design. The heat plates open like an oyster shell, supported by a pivot that sits between them. You keep your material on the heated plated while pressing down with the conjoined plate.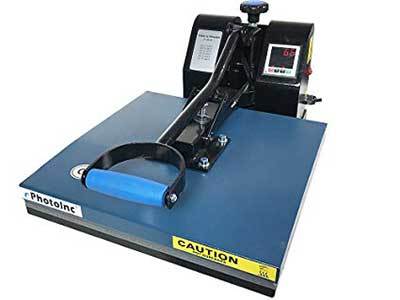 One problem is that the pressure on the heat plates is not adjustable. Therefore, these machines are not ideal for thick materials. These devices are compact, so buy these if you have a limited working area.
This machine is ideal for people with limited space and those who want a more portable heat machine.
Swing Away Heat Press
This is called a swing-away heat press because of the upper heat plate swings. It heats up and swings away from the lower plate, which is where you have to place your workpiece. Compared to the clamshell design, this machine can actually work on a wider variety of items, which is why it is preferred in both domestic and commercial workstations.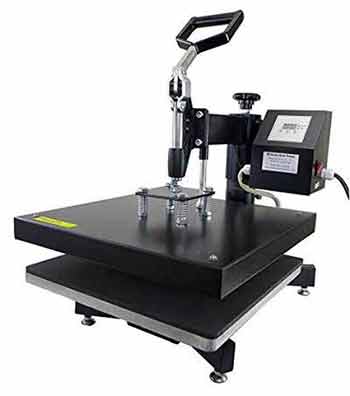 Due to the fact that the machine has a swing function, it takes up more space. Although this machine occupies a lot of space, it serves a great deal more than the compact ones. So, if you work on a diverse set of materials, then you should definitely opt for this one.
Draw Heat Press Machine
This one is exactly like the swinger press machine mentioned above, with the only difference in the lower plate.
You will be able to move the lower plate so that you can put your garments into position without risking reaching under the hot upper plate.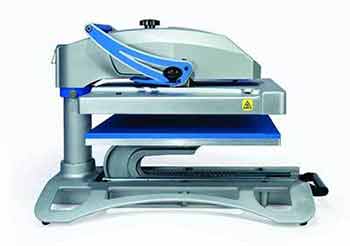 Be careful to lay the garment securely into place. Otherwise, it might move when the plate is being put back into place and get completely spoilt by the mispositioning of the ink.
This allows a heat-free workspace with a space-saving design.
Manual, Automatic Heat Press Machine
Choose a manual machine if you are just starting out. You will have the freedom to adjust the temperature, the timer, and the pressure on the materials. Also, you will need to manually lift up the heating plate as well.
With an automatic machine, you will have to preset all of the settings mentioned above before you begin work. But, of course, you only need to do this once for each type of material.
Automatic machines are used mainly for producing in bulk in industries. They are also more costly than manual machines.
Things To Consider Before Buying A Best Heat Press Machine
If you want the best heat press machine for t shirts in the market, at first, you have to be ready to cut through the weed. Go into the shop or website prepared, and you will not find yourself bogged down by oodles of choices.
## Budget
If you are just starting out, then choose a machine that is the cheapest within good quality. Just buy a machine that can work with a variety of materials, like cloth, ceramic, rubber, and so on. An expensive heavy-duty machine should be bought by only professionals.
Decent machines start out at $200, so try to find ones that are around this price bar. Just make sure that the machine is capable of producing what you require.
## Efficiency
For the highest level of efficiency, the machine has to run on all the optimum setting controls. Read the instructions carefully to understand the basic settings of temperature and time. Also, check which type of transfer sheet and materials it will work the best with.
To maintain the efficiency that the machine has on the first few days of use, you have to make sure that you clean the plates, oil the nuts and bolts regularly. Also, you need to keep the machine in a dry and cool spot when it is not being used.
## Customer Service
Some companies are notorious for their service. In case of technical issues, you might not get help from the company directly. So, when you purchase from the manufacturer, ask them about the company. Let them know that you are relying on them to help you out if anything goes wrong.
## Pressure Knobs and Adjustable Force
The pressure knobs ensure that the printed design is being properly copied to the t-shirt. If the heat plates are too tight, then you will face a lot of difficulty working with the machine.
Whereas, if the heat plates are loose, then they will not clamp tightly on to the t-shirt, and the design will not be copied at all.
In case of camp-shell machines, you have to check if the pressure knob is adjusted properly, and whether the pressure is appropriate for the thickness of the material you're setting the prints on.
## Heat platens
The heat platens are an essential part of the heat press machines. These are the parts that do the actual work. They heat up and relay the image from the transfer film to the workpiece. If the heat on these plates is not evenly spread out, then the t-shirt imprint will not be debossed properly.
Before you decide to buy a machine, check the heat plates to ensure that they heat up to the desired temperature within the estimated time. You can check by gliding your hand in the air over the plate and feel the warmth across the plates.
## Digital Timer and Temperature Control
Digital timers are now very commonplace in modern machines. These controls are crucial to the proper application of the machine. That's because they help to regulate the temperature and the duration for which the plates have been heating up.
These help you to relax a bit by keeping a check on the temperature and time for you. Some machines have alarms with their timers, which is an extra helpful feature that will further reduce the chances of the plates overheating.
## Heat Press Size
The size of the heat press will determine how much flexibility you have with your projects. If you need to make big-sized prints, then buy the bigger presses. Otherwise, stick to the smaller machines as they cost less and are compact as well.
## Manual vs. Automatic
Manual machines teach you a lot about heat pressing. They also give you more control as you are in charge of everything.
You will need to set the time, the temperature, and adjust the pressure knobs every time you put in a t-shirt or mug. If you don't know much about these machines, then buy a manual one and earn while you learn.
With automatic machines, you will still need to input information in all of the parameters mentioned above, but you will only need to do it once.
The machine will remember your instructions and save you the trouble of putting in the same information multiple times. Buy an automatic machine if you are producing in huge bulk every time.
Why Should You Use A Heat Press Machine For T-Shirt Printing?
Graphic t-shirts are a huge deal right now. Although t-shirt printing can be done by other means, a heat press machine is the most convenient for the job for many reasons. One of them is that they don't compromise the quality even in bulk production; other reasons are listed below.
Easy to Use
Anyone can work these machines. Even someone who doesn't have any knowledge about this type of work. The operation is very simple, and the processing is very fast. The operator has little to do except to pull the levers, and to feed the machine the blank t-shirts for printing.
Cost-Effective
Buying these machines is a great investment! You can purchase one of the cheaper ones to start up your business initially and then move up from there as your business grows.
Your risk will be within reasonable bounds since you will be able to get one of these highly productive machines for just under $200! No additional dyes are necessary. Skip the messy spills, with these compact and high-functioning machines.
Compound Different Techniques
You can use the same machine to try out other interesting techniques like sublimation, and the incorporation of various printing styles to make the end product look more presentable.
You can use ink injection techniques to add more color first, and then use the heat to lock it all into place, so that the final designs come out livelier and popping as ever.
Customer Satisfaction
All the prints need to be consistent in quality. The customers should be as satisfied with the coloring and resolution of the images as with the fast delivery of their orders.
The fade-defying press quality will have them coming back with more orders in the future. This will help you to grow your business significantly.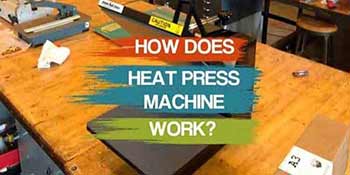 If you are new In this field then read Out :  T-shirt Printing Materials Checklist for Beginners
How To Use A Heat Press Machine
Although heat pressing seems like a fairly easy task, you need to follow all the steps in the right order and use great caution when sealing the prints. One careless hand movement could make all your efforts go to waste by crinkling up the image and ruining the t-shirt.
Step 1:
Select the design, quote, or photograph you want. Then use an editing application on your computer to resize the image according to the size of your t-shirt. After this, flip the image so that it becomes a mirror image of the original, and save the file.
Step 2:
Do a test print first on a regular paper. Check if the size, color, and alignment are alright.
Step 3:
Make corrections if required, otherwise, proceed to make the final print on a transparent transfer paper. Make sure that the print comes out on the side of the transfer film.
Step 4:
Cut off the excess/ blank portion of the transfer paper. Only keep the part of the paper that you want to display onto the t-shirt.
Step 5:
Turn your machine on when you're ready to transfer the image. Turn the knob of the thermostat to the right so that the red light comes on.
Step 6:
Keep an eye on the thermometer. When the plates heat up to the desired temperature, turn the machine off.
Step 7:
Now lift up the machine and get ready to lay the t-shirt and align the transfer paper correctly on it.
Step 8:
Spread out the t-shirt on the base plate. Make sure to remove all creases. The surface of the t-shirt should be completely smoothed out.
Step 9:
Now place the transfer paper on the t-shirt so that the print faces the t-shirt at the proper angle without any creases forming.
Step 10:
Finally, pull the upper heating plate down and grip it properly before securing it firmly on the surface of the t-shirt.
Step 11:
See the directions that came with the transfer sheet and set the timer on the machine accordingly.
Step 12:
When the timer beeps, lift up the heating platen very slowly and carefully.
Step 13:
Then strip off the transfer paper from the t-shirt and let it cool for 24 hours.
What To Do And What Not To Do With A Heat Printing Machine?
You have to take care of your machine if you want it to serve you for a long time without having to go through repairing or replacement hassles. These machines are pretty long-lasting if they are taken proper care of.
The Do's
Here are the things that you should do.
Do Use the Right Materials
The heat plates are very hot and will burn anything that is not susceptible to heat. If something gets burnt, it will either melt into the plate and render them unusable, or the plates will be ruined and will give off a bad smell every time they are being heated up.
Do Take Care of Your Heat Press 
You have to clean your heat press on a regular basis; Any dirt stuck in the crannies will hinder its performance and reduce the lifetime of the machine. Also, make sure to check if any of the parts have started to wear off. If yes, then replace them immediately.
Check to see if the heat press is well lubricated because it won't run very smoothly if it is dry
Don'ts
Here are the things that you should avoid doing.
Do Not Use for Purposes That the Device Isn't Designed For
These devices are only made for specified tasks like transfer jobs, sublimation, laser toner, and so on. You cannot use these machines for silk printing, screen printing, lamination or anything of the sort.
Do Not Use the Wrong Transfer Paper
Choose carefully from the variety of transfer paper sheets available in the market. Once you find the best ones for your machine, stick to the brand, and do not use any other sheet in its place. This is to ensure that you get the best of results from your device.
Do Not Press Down Without the Heat Plates Reaching Max Temperature
Never press down the heat plates if they have not reached their optimum temperature. Also, take care to never use any damp or wet things around the machine. No wet clothes, or wet substances, as they might cause corrosion of the metal parts.
Common Heat Press Machine Troubleshooting
Every machine has faults in one way or another. Fortunately, you can work around these faults all by yourself with a few instructions and a little work.
## Inconsistent Results
Results depend on three variables- time, temperature, and pressure. If you are not getting good results, find the optimum value of these 3 elements by experimentation through trial and error.
Try transferring on different materials using different combinations of time, temperature, pressure, and observe the change in results. Also, check the prints to see if they have turned out nice and clear. If not, there might be something wrong with the printer. In that case, using a different printer will solve your problem.
## Transfer Ink Getting Misplaced
This happens due to excessive pressure on the heat plates while transferring. To fix this, either reduce the pressure a bit or replace the Teflon sheets used with the material.
## T-Shirt Color Getting Ruined After Being Heat Pressed
You are using too high a temperature. Since different fabrics have different melting points, you need to adjust temperature settings accordingly. As a rule of thumb, do not use materials that cannot take temperatures above 180-degree Celsius.
Final Verdict
Nowadays, we have countless options for every product. Choosing one from so many is truly a difficult feat.
What makes it all the more difficult is the fact that these machines are so similar in appearance.
However, we can agree on the fact that we like things that are a good value for money, right? Well, that was the key idea we had in mind while making this article for you.
We hope it helped you in learning more about these devices so that you can pick out the best heat press machine for your budget and requirements.
And if you have any suggestions for us, please give us a shout in the comments section.
Good luck with the purchase!
Similar Article: