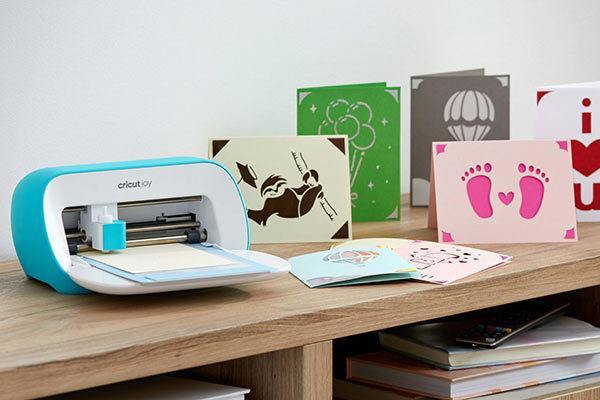 Best Printer for Cricut Print and Cut in 2021
Getting your images cut as per their shapes is quite convenient rather than having all of them cut as a triangle. Cricut machines guarantee that your image doesn't have any white space, hence making your work exceptionally neat.
Unlike when using your hands to cut, the machine ensures that your cuts are accurate and precise.
However, the process of choosing the right Cricut machine is quite daunting. With so many brands on the market, getting the right machine will require you to do extra research. With this blog, however, the process is simplified, allowing you to choose effectively.
In this blog, we'll review the top 4 printers for Cricut print to help you make the right decision. Additionally, we'll share information on the right features to look for while choosing to guarantee that you buy the right printer. This way, you will get to land the right printer and get one that meets your budget.
Best Printer For Cricut Maker Projects
1. HP OfficeJet Pro 7720
HP has a reputation for designing quality printers for any task you might have in mind. With this HP OfficeJet pro 7720 high print speed printer, you have a solution for all your printing needs. It offers high printing resolution to guarantee that all your printouts are of the best quality and outstanding.
The printer is also considered as a wide-format printer. So, if you have large size printing needs, it will get you sorted. It features a 4-ink cartridge system making it possible for you to get high-quality prints. Additionally, it runs at high speed hence making it convenient for commercial use.
It has an auto-duplex setting that allows you to print on both sides of your sheets. Therefore, if you have projects that require printing on each side, you will not have to spend more time printing the other side. This also guarantees that it will save you time as it prints hence allowing you to handle more projects that one printing each side at a time.
Additionally, the printer features an auto-feeder design for supervision free printing. In other words, you don't have to keep close monitoring of the printer but rather enjoy working on other items while the printer is working on your project. It also accommodates a high paper capacity of approximately 250 pages at a time. Therefore, with this printer, it's possible for you to work on large projects without stressing the printer.
Unlike other printers, this has an easy to use interface. It connects wirelessly via Ethernet or USB connections. Therefore, it illuminates all the wire mess in the room, and it doesn't have to be placed next to the worktable. All those features make it one the best inkjet printer for cricut.
Pros
Auto-duplex printing
4-in-1 printer
An auto feeder with high paper capacity
High printing speed
Cons
Does not support HP's instant ink
It takes time to set up
Final Verdict
With 18 ppm for color and 22 ppm for black printing speeds, this printer is convenient for commercial use. It cuts down the printing time to ensure you can handle large projects all the time. Although it's a little difficult to set up, once you get it right, you are sure it will give you excellence in printing hustle.
2. Epson WorkForce WF-7710
What makes this printer ideal is that it uses 80% less power compared to others. Therefore, when you have it in your workshop, you are guaranteed that you will not experience high energy bills. Additionally, the less power consumption gives you an assurance that you can still get your prints ready even when you have low energy supply.
When it comes to usage, this printer is also great. It has a 4.3" touchscreen allowing you to control the printing process effectively. Unlike with buttons, the touchscreen design is quite fun, and it allows you to enjoy effortless printing. Therefore, you will not only enjoy using the printer but also have an easy observation of how your printouts are coming.
On the other hand, apart from printing, this machine can also copy, fax, and scan. Therefore, when you have it in your office, it will give you more than one function. This is to say you will get services of at least for machines hence making it possible to decongest your space.
With this printer, you will also enjoy a high printing speed of at least 18 paper-per-minute for black prints and 10 paper-per-minute for color. This guarantees that you can handle large printing projects and maintain t6he quality.
The printer also has an auto feeder that accommodates up to 35 pages. Therefore, nit will save you a lot of time, especially when dealing with a large project. Additionally, its also designed as an auto-duplex printer. This is to say; when you need to print on both sides, you will not have to print one side at a time but rather print them all together. Therefore, the printing time will be reduced by half for efficiency.
Pros
Wireless connectivity
High paper capacity and printing speed
Auto duplex design
4-in-1 functionality
Cons
Final Verdict
Although it runs out of ink quicker, one thing that's sure is that its prints will not fade or smudge. Therefore, the quality of your printing will not be compromised at all times. It has a high printing speed making it convenient even for commercial use.
3. Canon Pixma iX6820
If all you want is an affordable printer with professional printing results, here is your solution. This printer is designed featuring unique features to guarantee that it gives your printing passion a second meaning. It has a feature that allows you to personalize its printing through the My Image Garden software. The software allows you to organize your photos using facial recognition and other features. This makes it easy to use and quite fun.
The printer has an unmatched printing resolution that is at 9600 x 2400 dpi. This is quite impressive and even if you search everywhere, finding such a resolution is near impossible with other brands on the market. However, the high resolution also comes with excellent quality hence providing you with every reason you should consider investing in this iX6820 printer.
When it comes to printing ink, it has 5 separate ink cartridges. Therefore, when one ink runs out, it's easy to replace only the entire ink unit. This guarantees that it will help you save ink costs with a significant margin.
The printer provides you with a high printing speed of 10.4 ppm in color and 14.5 ppm in black. This guarantees that you will get the job done within the shortest time possible, even when dealing with large projects.
When it comes to connectivity, the printer ensures that you are satisfied. It uses the latest technology to connect the printer with wireless connectivity, AirPrint connections, Ethernet, and USB. This design allows you to set your printer a little far off from your table and maintain high operating quality.
Pros
High printing resolution
A unique feature for easy image recognition
Affordable price range
5 ink cartridges for easy replacement
Con
It doesn't have the auto duplex feature
Final Verdict
There are two reasons that you should not even hesitate when thinking of buying this printer. First, it offers high resolution, which guarantees that your images will have exceptional reception on the market. The second reason is its competitive price range. However, even with all the goodness, it also has a few shortcomings. Its speed is not always reliable, especially if you are looking for a printer for commercial maximum safety.
4. HP OfficeJet 5255
The printer supports HP's Instant Ink hence allowing you to make subscriptions depending on your usage. This, in return, helps you save a lot of money in the long run while you still enjoy the exceptional performances of the printer.
It has a high resolution of 4800 x 12 dpi making it a perfect fit for both photos and document printing. Therefore, you are guaranteed that the prints you get will also be of the best quality with sharp clarity.
On the other hand, with this printer, you are sure that you will not have to congest your room with several other gadgets. This is because the printer as a unit; it can also fax, scan, and copy. Therefore, it will provide you with a solution for almost every need and still allow you to enjoy a little free space in the room.
It has a printing speed of 10 ppm and 7 ppm for black and color, respectively. Therefore, you are guaranteed that it will get the work done, although at a lower speed than other printers on the market. However, this speed for the price is still convenient, and the printer will also ensure that your project is complete within the expected time frame.
It features an auto feeder of up to 35 pages and auto-duplex to guarantee time-saving. With these features, you are guaranteed that you will not have to keep close supervision as the printer is running. Therefore, it will be easy for you to undertake other responsibilities confidently. Additionally, it has multiple connectivity options from WiFi, USB, and Bluetooth. Therefore, it will eliminate all the messy wire connections keeping your room clean and neat.
Pros
Sleek and elegant design
Easy to setup
Supports HP's Instant Ink
Print, copy, scan, and fax
Cons
Low printing speed
Displays numerous error messages
Final Verdict
Even if you are working on a budget, you don't have to worry about getting a good printer. The HP OfficeJet 5255 will get you sorted. It provides you more than one feature to guarantee that your office runs effectively. However, its low speed and little printing volume do not make it convenient for large printing projects.
Buying Guide for Best Printer for Cricut
There are several issues that you must put into consideration when it comes to buying Cricut printers. Therefore, before making your decision, it is essential to put all the facts straight and ensure that your choice is within the expected Cricut rates.
Printing Resolution
The first thing to consider when choosing a Cricut printer is the printing resolution. This defines how much details your image will get. In other words, if you land a printer with high resolution, the more details your image will contain. This will, in return, enhance the quality of your image and give it a professional look for a longer period.
However, when it comes to printing documents, the resolution will not have as much impact. If you are expecting only to print documents, then any resolution will work just fine. However, if you are thinking of including images in your printing, you must ensure that you get a printer with the right resolutions.
For instance, a printer with a 48000 x 24000 dpi resolution gives you an assurance that your printing quality will be exceptional regardless of your image.
Maximum Printing Size
When looking for Cricut printers, the maximum printing size is a critical feature to consider. The last thing you would want to experience is spending so much money buying a printer that will not even be close to printing your projects.
Therefore, you need to ensure that you get a printer that matched your Cricut machine size, and it allows you a slight printing allowance.
Getting the right size guarantees that you have minimal waste on your paper. Therefore, it will guarantee that you not only get the job is done, but it also ensures to save you money in the process.
Auto Feeder and Auto-Duplex
If you are thinking of printing in high volume, these features will come in handy. Of course, when you are printing, there are several other things that you should focus on doing. Therefore, if you get a machine with an auto feeder guarantee, it will allow you to concentrate on other activities.
This will also save you time as well as eliminate the hustle of feeding the printer manually. Additionally, the auto-duplex is a feature that allows the printer to print on both sides. This also saves time significantly and guarantee that you spend the list time possible even when printing on both sides.
Extra Functions
Getting a printer with more than one uses is quite profitable. This will guarantee that you have enough space in the room by eliminating the need to get other machines. Additionally, having a printer with other functionalities makes it possible for you to scan, make copies, print, and fax your documents.
However, if all you want is getting a printer that will specifically help you in printing, then getting a machine that will get the job done.
Frequently Asked Questions FAQs
Q: How to Use CricutPrint Then Cut?
A: The printer has a menu that allows you to change your image visibility once uploaded to Cricut design space by pushing the button at the bottom of the menu. This will change the design of your copy from cut to print then to cut.
Q: Can You Any Printer With Cricut?
A: Yes, whatever printer you are using, the Cricut can synchronize perfectly. Once you set and send your image or document from your computer to the Cricut machine and load it with the right papers, it will get you the desired text or image cut.
Q: What Is The Recommended Software For Cricut?
A:The most convenient software for Cricut is one that has a freestyle drawing tools feature. In this case, the most appropriate software is SCAL. It is also compatible with Windows and Mac hence making it ideal for use with any device you have.
Q: What Printer Gives The Best Quality Print Out?
A:With so many brands on the market, settling for only one printer can be tough. Therefore, while making your decision, ensure to choose one that meets your printing expectations. However, if you are unsure of what to choose, our recommendation is the Canon Pixma printer.
Conclusion
If you are thinking of venturing into printing, getting a Cricut machine can be quite helpful. However, having a Cricut machine alone may not be helpful, depending on what you are printing. On the other hand, if you are looking for neat and precise cuts on your work, a Cricut printer with more than one function might be convenient.
If you are new in the printing business, however, it might not be easy for you to make the decision. Therefore, you can start by following up on the above features to consider while choosing. You can also find help from people with more information on the right printer for Cricut print to get you started.
However, if all you want is to get started, but you don't have anyone to ask, we recommend getting Canon Pixma iX6820. It has an easy to use interface and has a reliable resolution for the best quality. It also has a convenient printing speed for both black and color prints.