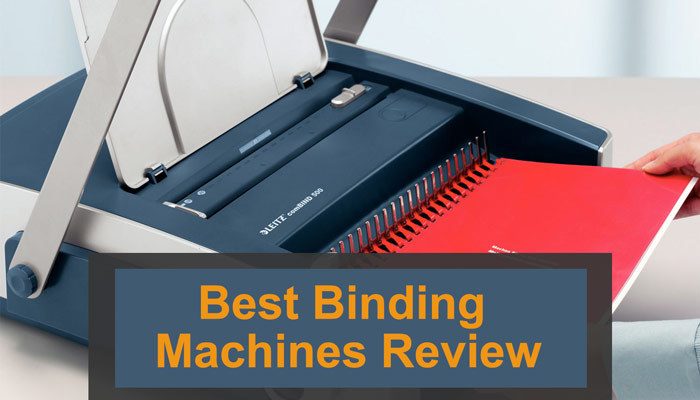 Best Binding Machines Review in 2022
You should always keep certain tools constantly available if you deal with paperwork regularly. The essentials are a printer with ink, a staple with pins, and lots of blank paper. However, they are not enough. You need some additional tools if you want your reports to emit an air of professionalism.
Binders are by far the simplest and most effective tool that enhances the quality of your paperwork. Therefore, most office and academic environments carry the best binding machine they can find.
These devices elegantly bind pages together in a professional manner. They are so easy to use, yet it gives your work more weight and value to the readers.As such, these tools are very valuable to offices and academic institutions.
However, people who are not familiar with these machines might be a bit lost on what to get. Therefore, we have compiled a comprehensive list of some of the best binders in the market so you can easily find the binding machine for your work.
---
What Is a Binding Machine?
These handy tools are not as complex as the name may suggest. A binding machine is simply a device that binds a collection of pages together in a professional manner. These are mostly used to make a report or document more readable.
It enhances the aesthetic appeal of those documents and makes them easier to read. They function much better than staplers; perfectly securing and organizing each page and presenting them in a book format. Therefore, they are primarily found and used in offices, schools, and colleges.
These are usually manual, but high-end models are automated. First, they punch holes into the pages. The number of pages a binder can punch at a time varies on the quality.
Afterward, the user must line up the holes with a comb to create a solid binding. They come in a variety of shapes and sizes; each is bringing unique functions onto the table. So, you need to carefully examine each unit to know what it can do and how well it can do it.
Our Top 12 Best Binding Machines In 2021
Now that you have a general idea of what these machines are, we will be recommending you 12 of the greatest binding machines you can find.
1. Fellowes Binding Machine Star+ Comb Binding (5006501)
We will kick off this list with an excellent home use unit. Meaning, this unit is an excellent economical option that can handle light use easily and effectively. You can figure this out by simply observing the machine.
It is small yet compact, and it gives you just enough work space to bind properly, while the device also barely occupies any space for itself. You can easily put it on a home shelf or desk. The device is no slouch when it comes to work, despite its size. You can punch 15 pages at a time on this unit.
Since it is meant to operate in a home, the 15-page capacity is nothing to scoff at. It can bind up to ten times that amount. The machine uses a 3/4-inch comb to accomplish this. Its size does not stop it from delivering great features. Within its compact frame, it holds a desk built-in comb storage.
While comb storages are common, they usually do not include a document measurement device. This unit, however, does. And this increases the quality of its results massively. You can expect a tight and centered document after it has finished processing.
The binder continues to deliver with a superb edge accuracy guide. This allows you to carefully and quickly punch the pages with pinpoint accuracy. You can rest assured knowing that your pages will not be misaligned.
2. Swingline GBC Binding System, Manual, Desktop Binding Punch, P50 (2515650)
In case you thought the previous entry was still too big, then GBC has got the perfect binder for you. This unit was designed specifically with students in mind. It barely takes up any space while doing the job almost as effectively as its contemporaries.
The design is reminiscent of a long ruler. It holds a component on the top which you must drag across its line. This is what it uses to punch holes into pages. Most student reports are not that big. Therefore, the Swing line can justify its six pages of punch capacity. Not to mention just how tiny the device is.
However, this unit had to sacrifice some aspects to maintain its sleek and slim design. You cannot use the main body as a binder. Instead, GBC gives you a ProClick binder. To use this, you must first manually align the comb onto the holes of the page.
Then, take the ProClick and drag it down. With that, you will have a perfectly bonded document.
Since the main body's primary function is to punch holes into pages, GBC made sure that you can get more use out of it. For that, the main body is capable of punching documents larger than A4 papers effectively as well. This boots functionalities and viability for personal use.
Also, this is an overall solid investment. They offer a good deal for the use you get out of it. The slim build makes it easy to carry, relocate, and use. Its lack of weight makes it simple to carry and store. The build quality is also great; making it last a considerable amount of time. You cannot go wrong with this one.
3. The Cinch Book Binding Machine
Even from a pure design perspective, the Cinch is something special. The aesthetics and functionalities cater to true creatives. You will find that the unit covers a wide range of features,which makes it perfect for DIY use. The level of depth and freedom you get when you make a punch is astounding.
You can easily adjust how many inches you want to punch. It can be as small as 4 inches and as wide as 12 inches at a time. In case you are handling anything bigger, there is no reason to fear. The device has a movable ruler which you can adjust to punch the extra holes onto your larger pages accurately.
Now, let us go over how elegant the design is. The light blue coloration is easy on the eyes and pleasant to work with. Its design is quite small, but it works excellently. You can use it to make a nice variety of notebooks, calendars or diaries.
For the binding, the Cinch has a wire holder on the side. It works universally with any wire. Place it onto the Cinch and then align it with the holes on your documents.
With the wire now intertwined with your project, you need to tighten it. Manually tightening has the risk of deforming the wire; causing an inferior result. For that, the Cinch has a unique feature called the Cinch guide. You must press and turn the guide to the size of the wire and then push it down.
This will result in a perfectly pressed binding, giving you excellent results. It allows this model to be incredibly useful in a home DIY environment. Consider this if you want something for your arts and crafts projects.
4. TruBind Coil-Binding Machine
In case you are looking for the best coil binding machine, then your search might be over. TruBind has a reputation for making incredibly bound pages. They employ a great number of features and techniques to guarantee the best binding experience. You can see this from how they designed the handle.
In most cases, these are placed on either one side of the machine. That makes it inconvenient for people who are not ambidextrous. For example, if the handle is located on the right side and you happen to be left-handed, you will have to inconvenience yourself to pull it.
TruBind uses a full handlebar that lets you pull on it with any hand you want.Additionally, it is no slouch when it comes to punching pages. It can perfectly punch through up to 20 standard pages. Also, it has a full set of disengaging pins, which gives you full control over where you are making the holes.
This capacity will allow you to punch holes quickly and accurately; giving you complete satisfaction when you finally bind. On that topic, we must mention how incredible its binding ability is. TruBind employs an incredible electronic coil mandatory system. This offers you significant creative freedom when binding.
Whether you want to create a tightly bound book or a report, Trubind will not disappoint. It allows you to use a wide variety of combs. This gives your documents a sense of uniqueness.
5. Fellowes Binding Machine (5227201)
Sometimes, small machines are not enough. They have a difficult time binding lots of pages together. The more paper you work with, the more holes you must punch. In case your device has a low punching capacity, it will struggle to keep up with bigger workloads.
It will also slow you down since you will have to repeat punches more frequently. As such, faster and more powerful devices are favored in a professional environment. That is where Fellowes brings an excellent machine to the table. It is powerful enough to bind 25 pages at once.
That is higher than all the previous entries thus far. This allows you to maximize your time efficiency. Of course, if you have a significant workload, you are also going to have to bind a vast number of pages. Luckily, this device has the astonishing ability to bind up to 500 pages.
This action requires a 2-inch comb, but the fact that it can bind that many pages together deserves respect. It can handle any load you throw at it.Besides all these capabilities, this unit also comes with a good number of features. Most prominent of all is its comb storage tray.
Since we are discussing high workloads, it goes without saying that you are going to need a lot of combs to keep up. Keeping all that in a separate compartment is inconvenient. Therefore, the ability to store these combs inside the binder is beneficial.
6. Binding Machine Perfect for Daily Office Documents
In terms of sheer quality, it is hard to top this masterpiece. This machine is built with the finest of metal. The material allows it to make pristine holes. Out of the entire device, the lever is the highlight. It's metal build will not show any signs of wear any time soon. Also, it moves smoothly to make perfect 3.8mm holes.
The way it moves will make it feel like you are cutting butter. Moreover, the handle is also non-slip. This removes risks of losing your grip; letting you make the best punches possible.
Storage will not be an issue, as the aforementioned high-quality handle is removable, not to mention the device is incredibly compact. It has a lot of power despite its size. The unit can punch holes through 12 80gs sheets of paper. The capacity varies based on the density of the article.
Need to bind a vast number of pages? Worry not, for this unit can bind up to 450 sheets together. TIANSE is reliable when it comes to the quality of the binding as well. They make sure that each group makes the best binds for a considerable period.
It is also very beginner-friendly. The device is unbelievably easy to use for just about anyone. Even if you have never used one of these binding machines before, it will feel like you have been using them for a long time. Each purchase also comes with a large number of combs to help you get binding as soon as possible.
7. Kenley Binding Machine Paper Punch Binder
What happens when you want something powerful, reliable, but also cheap? You get a superb Kenley unit. Trust us when we say this is a very reliable unit. The build and size make the device especially convenient. It is easy to carry. The unit barely occupies any space when left on a desk.
That kind of convenience is vital for a generally viable machine.Despite its size, it is also powerful.
It has the power to bind 450 pages at a time. You will be hard-pressed to find a device that can bind that many pages for this kind of price. That, along with its small size, allows it to be an incredible option for school and home use.
Let us not forget how easy this unit is to use. The design invites you to use it. And the moment you place the paper onto its adjustable ruler, you will know how to bind it. Yes, this device has a ruler.
So, if you are working with larger pages where 21 holes will not cut it, you can use the ruler to add up the additional holes without misaligning them.
Once you make a cut, you will notice that each rectangular hole will be expertly punched. It will be pristine without any jagged edges. This is because of the Kenley unit's oiled cutting blades. These offer high-quality cuts made to satisfy. Just make sure you clean them before use for maximum results.
8. Fellowes 5218301 Galaxy 500 Electric Comb Binding System
We return to another excellent Fellowes model for this entry, and we will state this bluntly; this is maybe the best binding machine for office use. Do not believe us? Well, you will, after you see all the things this can do. From the ease of installation to high capacity, this is indeed an excellent binder that every office must-have.
Starting off, let us talk about its power. It is very similar to the Fellowes model we have discussed before. It can bind 500 pages at once; being able to cut 25 pages at a time. This lets you punch and bind sheets faster; ensuring time efficiency.
However, there is a certain feature that makes the Galaxy E distinct from the previous Fellowes model.
This can be first seen from its lack of a handle. It is because the unit has an electric comb binding system. Instead of having to pull down a lever each time, all you have to do is push a button. The unit will immediately punch holes without you having to do anything. This really maximizes its efficiency.
Speaking of efficiency, we are not done yet. It has an enhanced accuracy edge guide. This lets you align your pages quickly without much interference. The binding mechanism can also be removed and used separately.
9. Fellowes Binding Machine Helios 60 Thermal (5219501)
When it comes to office binders, Fellowes always comes up with the best machines. They have earned their reputation with innovative devices like the previous Fellowes entries. However, the Helios puts them in a new dimension entirely.
It is a must-have for any office, allowing you to bind a massive 600 pages at once using the best of page binding technology.
Unlike the previous entries, the Helios does not use combs and wires to bind. It instead uses thermal binding. This means that you do not have to worry about cutting through lots of pages since there is no need to punch through pages. All you have to do is insert your pages and let the machine bind them together.
Surely, it cannot be that simple, right? It genuinely is. You must wait for it. It even uses smart binding technology to determine the thickness of your documents and automatically chooses the best settings. Each work will take up to 7 minutes to bind, so it is best suited for use with lots of pages at once.
Since it uses heating, you may be concerned with your safety. Of course, if you came in direct contact, you will experience burns. However, Fellowes has really thought things through. They have put up a heat shield. This barrier prevents contact with the heating plate; keeping you nice and safe at all times.
10. YaeKoo Binder Binding Machine
Let us return to the roots and talk about a superb manual binder. Although it may not be as high-tech as the previous entry, it does what it does perfectly. Its speed at punching and binding makes it a great choice for home and academic use.
This device can punch up to 12 pages at a time. It is great when examining its price. Also, it allows the binding machines to be used at homes due to its power within an affordable amount. Let us not forget to mention that these binders are light. They can be easily carried from one place to another.
The fuselage is even foldable for the purpose of maximizing portability and space utilization. This aspect can be capitalized if you work in a small office.
You can see it was meant to be used lightly with its punching capacity. However, it has a respectable binding capacity of 450 pages. This allows it to tie a lot of pages with relative ease effectively. The device itself is easy to use, so you can get a lot of work done quite easily.
Finally, let us discuss its value. It is astounding how YaeKoo can shove in so many astounding features in such a low-cost device. That, along with its portability, makes it an excellent choice to buy in bulk for your office.
11. Akiles WireMac-31 Model AWM31 Wire Punch & Binding Equipment
The moment you lay eyes on this masterpiece, you will know that this is something special,and the full metal construction screams premium. It feels pristine to touch and better to use. Akiles has ensured that you get a binder that is worth every penny. This is most evident from its premium design, high-quality, and heavy-duty capacity.
Additionally, this model focuses almost entirely on wire binding. It comes with a wire holder to effectively attach it to your work. There is also a wire master selector. This helps you meet the perfect size requirements and needed specifications for your wires.
It also helps with finding accurate margin depth and finally closing the wires together to secure the document.
You might have noticed that this unit comes with two handles. The long handle is for punching through more material at once, and the shorter hand is for when you do not need the added leverage for deeper punches. This system makes WireMac-31 more efficient and longer-lasting.
The cutting capacity is also worth mentioning. This unit comes with a Die disengagement pin. You will not be punished for making mistakes due to this wonderful feature. It helps you make perfect punches for whatever sized pages you are using.
12. Flexzion Binding Machine
We have thrown around the word 'efficient' quite a bit. However, little binding machines embody that word as well as this Flexzion model. It is an incredible model if you need to bind a larger number of documents, but a lower number of pages.
Meaning, if you are working with a lot of 12-pages or documents, then this may be the perfect machine for you?
How can it be so good? Well, it employs a full handlebar that lets you use the machine ambidextrously. The handle is not just for punching. You can push it to tie up your pages immediately. As such, you can quickly punch and bind with a few motions. This lets the device be the perfect model for bigger volumes of work.
Are you still not convinced? Maybe the open punching throat can convince you. Flexzion decided to keep the throat open rather than closing it off like a lot of other models. This lets you adjust the ruler to punch pages of all sizes. It increases the variety of pages you can work with; offering you more versatility as a result.
Since this unit focuses on working fast, it has to deal with a lot of paper debris. Thinking ahead, Flexzion has installed an effective scrap drawer. This way, you will not end up making a mess regardless of how much you work.
What to Look Before Purchase The best Binding Machine
Knowing about different models will not do you any good if you do not know what to look for. So, here are a few things that you should keep an eye out for before you buy your binder.
Punching and Binding Capacity
The capacity is probably the deciding factor for most users. However, it all depends on what you need. Do you need something that can handle a lot of paper, or something that can do it fast? Or, do you need something that can bind 300 pages at a time or 600?
Ask yourself these questions when looking through what to get.
In case you are working in a big office setting, you will need something that can bind a lot of pages together as fast as possible.
On the other hand, if you need a binder for small home projects, then a high-end machine is not necessary. It all depends on what you need, so make sure you use that to determine what would be best for you.
The Type of Binding
There are multiple methods to bind documents. The methods include coil, comb, spiral, or thermal binding. However, in a lot of cases, these machines are not able to deliver more than one type of binding.
Because of that, you must know how you intend to tie your documents. Based on what you need, you should get a machine that specializes in your desired method.
A lot of this also depends upon your type of work. Thermal binding is suited for large office environments. Spiral binding is great for academic purposes. So, as you can see, the type you need is dictated by the purpose you want to serve. Hence, you should consider that before you choose.
Size and Weight
Nobody wants to have a large and chunky binder. They want something compact and light. As such, you should try and get something that fulfills your purpose while also being as light as possible.
In-home settings, it is best to look for something light and small. Something that takes up too much space seems unnecessary for this setting. For work, something efficient and heavy-duty is preferred.
This is because the purpose dictates that the machine should be capable of handling loads of work.
Supplementary Features
Each binder has a myriad of additional features that make it better than its contemporaries. These features are distinct and offer a lot to make the product the best.
These include features like a ruler to accurately punch pages larger than the machine's capacity, to features like a scrap drawer that lets you dispose of scraps of papers that fall off while you punch.
These supplementary can raise the value of a machine considerably. They are often distinct from each other. Therefore, it would be wise to look into them thoroughly before you buy.
Handle Positioning
Your orientation is something you should always consider. You will be punching a lot of pages with your machine. If it is located on the wrong side, it might inconvenience you.
This is probably the least important function. However, it is still something you should consider if you plan on using your device a lot. If you are an employer, it is best to go for full handles.
HOW TO USE BINDING MACHINES
Using a binding machine is not as hard as it may seem. Although each unit is unique in the way that they bind, they all usually follow a general guideline. So, for the unaware, here is a guide that will help you use these devices with skill.
Step 1 – First gather an amount of paper equal to or less than the max punching capacity of your machine.
Step 2 – Place them into the punching throat of the device. This is the small gap that is usually located on the base of the machine. They could also be placed on a vertical stand if your machine punches that way.
Step 3 – Once placed, pull on the lever to punch holes into your paper. Repeat this process until you have punched holes in every page you need.
Step 4 – Take a comb or wire (depending on the type) and place it on the dedicated holder (if any).
Step 5 – Take out the pages from the throat and organize them appropriately.
Step 6 – Place the pages onto the comb holder and align the holes with the points of the comb and place it there.
Step 7 – Place the cover page and back page onto the set of documents placed on the comb holder.
Step 8 – Push on the lever to have the comb coil around the documents to bind them accurately.
Of course, not all of them work equally. Electric binders need to press a button rather than pull a lever to punch and bind. Thermal levers are the same, except you do not need to bother punching your pages.
Now that you know the general steps, and what to do in case your unit is a bit different; you are now ready to operate the even the best binding machine.
Frequently Asked Questions
1. Do all of these come with comb storage?
Unfortunately, some do not. A lot of the entries on this list favor focusing on making the device compact over keeping a tray for the combs. For those, you will have to store them elsewhere.
2. Do I have to clean these?
These machines do not require much heavy cleaning. However, it is best to perform some level of maintenance to improve its longevity.
3. Can I use all of them to make spiral binding?
As common as spiral binding is, not all binding machines were made to perform them. Make sure to check the specifications of each machine to find out whether it is capable.
4. Is it impossible to punch all my pages at once?
It is unrecommended if all your pages exceed the machine's max capacity. This can damage the blades of the binder and produce unsatisfactory results.
5. Do I have to buy combs separately?
In most cases, yes. Some units exist that provide some materials for free when you buy. However, in most cases, you will have to buy all the other material separately.
6. What is the difference between coil and comb binding?
Coil binding doesn't have any moving parts, while comb can come open.
Conclusion
Binders are practically a necessity for work purposes. They enrich documents and make them much more suitable for your boss or teacher. These are also great tools to help you craft your own books and notepads.
Hopefully, this guide will help you choose the best binding machine for your purpose. Good luck, and happy binding!