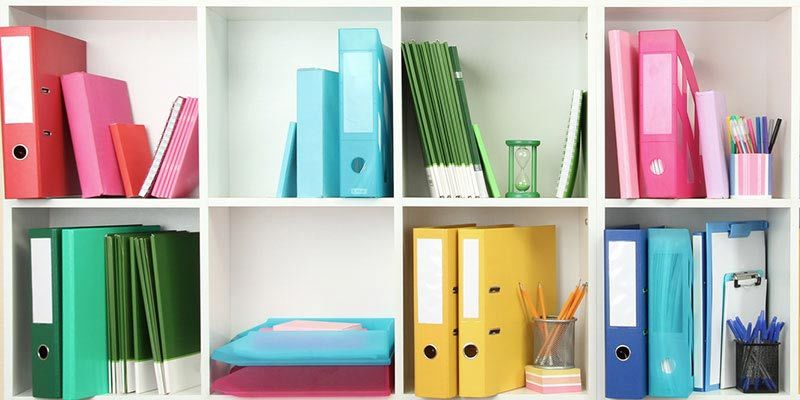 Best Binder For High School And College In 2023
We are right around the corner for the next school year. Amidst all the excitement and fun of going back to school, there is also the need to get organized.
Schools can be hectic with needs for every day carry as well as fumbling through sheets and documents. Organizing all of these documents can make school life a lot easier.
Now how can you get organized with all these? The simple answer is getting a binder for the sheets. It might not seem like much but a binder can make your life a lot easier because you can organize everything without a hitch.
There are a lot of choices out there when it comes to binders. To make things easy for you, here's our list of the best binders for high school and college.
| | | | |
| --- | --- | --- | --- |
| | | | |
| | Samsill Vintage Hardback Ring Binder | | |
| | | | |
| | Samsill I008530C Economy Ring Binder Organizer | | |
| | | | |
What To Look For Before Buying A Binder For School And College?
To identify a good durable binders for school and college, you need to know about some of the basic characteristics first. Knowing these will help you to make an informed purchase decision as well as making sure you get the value for the money.
Functionality
This is an important aspect when looking for the best binders for high school and college. The binder should be multifunctional so that it can serve various purposes.
Sometimes the student will need to keep loose papers in their binder. Make sure whether there's a separate compartment or not. If your child is someone who takes direct notes on the binder, make sure that the sheets sit flush with the binder.
Depending on the use case, there might be a need for tabs as well. All of these are important functionality concepts that you should keep in mind before purchasing a college or high school binder.
Personalization
We're talking about high school and college goers here. This is an age where style gets more priority than functionality. And there is nothing wrong with it.
Make sure you're choosing a binder that goes with their preference and style. It can be a choice of color or design or size even. Whatever it be, make sure you get the one that best personalizes with the user.
Durability
When it comes to binders, several materials are used. It can be kraft board, plastic, or polypropylene material.
Since kids have to move around a lot, it's better to get a binder that will ensure durability. For that reason, kraft board makes the best school binders for long term usage.
Depending on the use case you can choose other ones we have featured in this article as well.
Additional Pockets
The last one you should look for before buying a binder is whether they have additional pockets. Additional pockets are important to store classroom and study materials like pens, pencils, calculators, and whatnot.
Depending on the usage, make sure you get binders with additional pockets. This might add a bit of heft to it but it'll make things a lot easier for you.
Top 10 Binder For High School And College Reviews
1. Case-it The Mighty Zip Tab Zipper Binder
The first one in the list is from Case-it. This 3 ring binder for school comes with some quirky and unique features.
The binder itself is made from a kraft board. The binder has a standard O-ring design which is 3 inches in diameter.
The zipper binder can hold up to 600 sheets of pages. The zipper system does an excellent job of keeping the dimensions of the binder compact. The zipper protection ensures that all the document remains compact inside and the case can be expanded when needed.
Another handy feature of this binder is that there is no shortage of pockets in it. There are so many pockets that storing all the class essentials should be a breeze. The pockets are placed on both the inside lining as well as the outer shell.
The binder can be carried as a side bag. There is a useful handgrip on the middle of the outer shell to carry it as an executive bag. An added strap also comes attached with it if you're looking to go full side bag mode with it.
The gusseted zippers make for seamless zipper movement. The product is made from the finest material, which makes it one of the best binders for college.
Highlighted Features
Stylish side bag like design
Seamless gusseted zippers
Several pockets for all types of classroom carry.
Comes in a range of color option.
2. Samsill Vintage Hardback 3 Ring Binder
The next one on the list is from Samsill. If you are on the look for a folder like binder, we have the right pick for you.
The outer covering of the binder is made with faux leather which gives it a stylish look and premium hand feel. The binder itself has three O-ring clasps which can hold up to 200 sheets of paper.
The faux leather has a rugged look on the outside, giving in more of the vintage appeal. The inner and outer flap of the binder has extra pockets. These pockets are purpose-designed to hold unpunched papers. So even if you don't have access to a punch machine, storing pages won't be an issue in any way.
The inner side of the binder is lined with hard plastic for added rigidity. Regardless of how you carry it, the binder will not bend or flex. As a result, the paper inside the binder will remain completely secure.
Samsill included a two-sheet protector on the front and back of the binder. Since the binder is folder type, the sheet protector does an amazing job of keeping away accidental spills or dust.
However, our only issue with this binder is that it can only hold up to 200 pages which is a bit less compared to its peers.
Highlighted Features
Professional faux leather design
Added protection for the pages
Added space to store classroom utensils
Easy to carry
3. Cardinal 1.5 Inch 3 Ring Binder
This binder from cardinal isn't exactly a portable option. It's rather something that you can easily store on the shelves.
There's a unique design choice on the outside with this one. Cardinal tried to keep uniformity on three sides of the binder.
As a result, the outer shell is completely customizable where you can put a sheet on the front, back, and spine to identify the content. This arrangement is great for easy identification from shelves.
Another great feature of this binder is that it doesn't come with any external mounting mechanism for the rings. Rather, the rings are simply mounted on the back of the binder for a seamless and clean look. You won't even notice the base of the ring unless you're paying attention.
The PVC and anti-ink coating keeps the binder looking new for years. It's completely eco-friendly, made from 100% recycled fiber and 98% of it comes from recycled binders.
On the whole, this is a best binder for college. It also comes in a pack of 4 for added value.
Highlighted Features
Customizable front, back, and spine
Perfect for shelves
Made from 100% recycled fiber
Anti-ink coating.
4. Samsill I008530C Economy 3 Ring Binder
If you are looking for an economic solution to binders or a set of binders for multiples use, this one from Samsill should be your go-to choice.
It comes in a bulk package of 12 which is perfect for multiple uses. The main material used in the binder is plastic with strong propylene and a chipboard base. It's perfect for lightweight use and carries.
The binder comes with a clear overlay on each of the three sides. You can easily customize the binder as per your choice. The polypropylene material ensures anti-stick and anti-acid coating. You don't have to worry about your binder catching or spilling ink from paper to paper.
This binder has a plastic protecting sheet for each of the pages. The included rings for binding are meant to be rust-resistant. There are two separate storages on the inside to store unpunched sheets.
The rings are mounted in such a way that each of the pages lays flat without any distortion. So no matter how many pages you are storing, there is no worry of distortion.
The company used 100% recycled fiber out of which 75% are post-consumer content. It's not only good for the environment but also ensures durability in the long run, making it the best binder for school and college students.
However, just like the other Samsill one in our list, this best binders for high school students can hold only up to 200 pages.
Highlighted Features
Perfect for bulk storage
Easy to mount and dismount pages
Individual sheet protection
Fully customizable outer shell.
5. DocIt 4 Pocket Binder
Looking for colorful best school binders for girls and boys? Here is a perfect page binder for the casuals out there. If you are looking for a binder that can do more than just hold your punched papers, this is the one for you.
The design of the binder is made with the students in mind. The DocIt binder features a 3 ring binder along with three low-profile expanding pockets. Combined, the binder can hold up to 300 pages simultaneously.
The polypropylene material is visible both outside and inside of the binder. There are two separate lock mechanisms to hold the paper in place. The dual button elastic closure is perfect to easily open and close the binder.
The ring binder can hold up to 200 pages. The three separate compartments can hold up to 100 loose pages. You can organize the compartments subject-wise or in any way preferable to you.
The border of the binder is covered with tear-resistant stitching. Hence, the binder will last you a long time.
The DocIt 4 Pocket binder comes in a range of different color options to choose from. It's perfect for classes, outdoor uses and even meetings.
Highlighted Features
Polypropylene material
Durable and professional design
Innovative protection mechanism and compartments
Range of color option.
6. Case-it Open Tab Hook Loop Closure 2-Inch Binder
The binders we have featured up until now can serve a single purpose with some additional features. But what if you could get more out of your binder?
This is where the Case-it Open Tab binder comes. While most binders are minimal in design, this one is anything but that. And there are good reasons behind it.
The binder is designed as a functional tool bag for schools and colleges, meaning you can use it as an all-purpose carry.
Inside of the binder, there is a compartment for punched pages with three 2-inches O-rings. In addition to that, you are getting 5 colors tabbed compartments to properly organize loose papers of different subjects.
There are also inner zipped mesh pockets as well as inner folder pockets. You can use them to store class items or everyday carry items. You have the freedom to use it, however, you like.
The binder itself is constructed from high-quality Kraft board material with ripstop nylon. Whether you use it along with your school bag or a standalone carry, this one will surely get you through your day without worry.
Highlighted Features
Rigid construction
Additional flash drive pocket and pen holders
Multiple-use case scenario
Added internal pockets for better usability
Specially positioned rings to lay the pages flat.
7. Amazon Basics Binder
In addition to being one of the largest marketplaces in the world, Amazon also makes handy tools. Here is one from their long line.
The Amazon basic binder is just like the name suggests, a simple and basic binder that just does just the thing it's supposed to do. This binder doesn't come in a huge flap board or file-style system. Rather the single flap design sits flush with the paper inside.
This binder is not designed to hold too many papers. You can hope to fit in around 50 sheets at most. But that is the whole purpose of this binder, to be slim and minimal.
The cover is made from high-grade polypropylene material. This is a thin design that is easily flexible. There is a three-hole punch for O-rings but there aren't any actual O-rings attached to it.
This binder can be used with storage or large-scale binders. If you want to separate sheets in groups, this binder will do an excellent job at it.
In addition to several great color choices, the binder comes in a pack of either 5 or 25 packages. If you are someone who goes through a lot of pages during your studies and needs some organizing to do, this should be a convenient choice for you.
Highlighted Features
Basic and minimalist design
Ultralight and thin
Polyjacket ensures the proper protection of the pages
Can be used inside O-ring binders.
8. Five Star 1-1/2 Inch Zipper Binder
If you're looking for the best binders for high school, this is it! This binder from Five star makes it to our list for all the good reasons. It does all the job a binder should do and much more.
This zipper binder has the highest storage capacity among all the binders we have reviewed. It comes with a standard O-rings folder to keep all your punched sheets organized. The O-ring folder can hold up to 300 sheets.
There are three separate compartments for loose sheets. You can organize them whichever way you want without any hassle.
There is an added mesh pocket on both inside and outside of the binder for you to store class utensils like pen and pencil.
The zipper binder for school comes in all sorts of color ranges. However, that's only the upper flap of the binder. The actual binder itself is all black.
The ring binders are slouched a bit backward. As a result, no matter how many sheets you put in, it will lay flat.
However, there are no individual protective covers for the sheets. But you won't be needing a protective cover as the entire binder is zipper locked. You can use this binder as is or as part of your school bag.
Highlighted Features
Guaranteed to last an entire year.
Multifunctional use.
The plastic binder has a soft flap for easy grip
Pages sit flat on the O-ring.
9. Amazon Basics 3-Ring Binder
This binder is from Amazon as well. Amazon has always produced some of the finest minimal binders out in the market.
The basic three-ring binder is different from the other one from Amazon. The other worked great as a protector only. This one has tabs on it, so you can easily identify the sheets with the added tab.
There are a total of 8 tab dividers and the binder itself comes in a pack of 6. It's made from super-thin PP material which is lightweight as well as durable in long and rough use case scenarios.
The three-ring holes are purposefully built so that they can fit every standard three-ring binder. Just like the other one, this one is also made to be used either separately or as a part of a large binder.
The PP cover does an amazing job of protecting the sheets within the binder. As it is essentially a single flap sheet holder, there aren't any security lock mechanisms here. You will get a range of color options with this one.
Highlighted Features
It has tab system for better organizing
Durable PP material
Slim profile
A stylish, yet professional appearance.
10. Oxford Filler Paper
So far, we've reviewed only binders. But this one is going to be a bit different as the best binder for college.
What's the first thing you need for a binder? Paper of course. What's the point of getting a binder if you don't put papers on it, right?
We all have papers in our homes which we can use. But the problem is almost none of them are punched for the binders, and sometimes there is no punching machine around to make the holes. And even if it's there, there arises a problem with uniform punching.
To skip all of these issues, you can simply get the filler paper set from oxford. The set of 500 sheets can be your perfect and uniform filler for the binder.
The sheets come with ruled lines. This is perfect for old-school people looking for something that will keep the writing neat and organized.
The high-quality paper is certified by Oxford grade. Writing on this will be a breeze thanks to the amazing texture it provides.
The set of 500 pages makes it easier to shop ahead. You won't have to worry about running out of pages anytime soon. The set can comfortably fit inside any cover or hard case paper holder that doesn't make use of the ring holes.
Highlighted Features
A set of 500 punched papers
Textured letter-sized sheets
Ruled design for study and professional use
Standard fit for diverse usage
Comparison Chart
| | | | |
| --- | --- | --- | --- |
| Case-it The Mighty Zip Tab Zipper Binder | | | |
| Samsill Vintage Hardback 3 Ring Binder | | | |
| Cardinal 1.5 Inch 3 Ring Binder | | | |
| Samsill I008530C Economy 3 Ring Binder | | | |
| | No, but has a rubber binding. | | |
| Case-it Open Tab Hook Loop Closure 2-Inch Binder | | | |
| | | | |
| Five Star 1-1/2 Inch Zipper Binder | | | |
| Amazon Basics 3-Ring Binder | | | |
| | | | |
Frequently Asked Questions
1. Can A Binder Fit Inside A Backpack?
Answer: it depends on the type of binder and backpack you're getting. While most of the binders come in a standard size, a backpack doesn't. However, a typical backpack should easily fit a binder in it.
2. Are Binders Waterproof?
Answer: Most of the binders are waterproof. However, you can play it safe by consulting with the supplier or checking the Amazon page information before purchasing.
3. How Many Types Of Binders Are There?
Answer: There are different binders for different use case scenarios. However, the most common ones are O-ring shaped, zipper binders, and D-ring shaped binders.
4. How To Clean A Binder?
Answer: Most of the binders are dust and ink-resistant. So cleaning them should be easy. Just wipe it with a wet cloth and you're good to go.
5. What size binder is best for college?
Answer: There are many binders that you can choose from and a lot of college students like the 3 ring 1.5 inch binder that has D rings. The D rings are good because they are more durable and the papers in the binder will be less likely to curl back.
Final Words
There you have it, our comprehensive take on the best binder for high school and college.
While there are tons of other binders out there, many of them are of mediocre quality. The ones featured here are some of the cool binders for school and college that we could find.