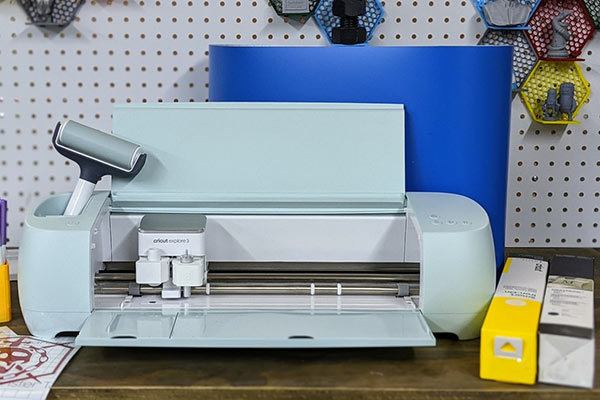 How Does A Cricut Machine Work?
If you're into craft making, especially with papers and fabrics then a Cricut could be one of the most interesting tools to have in your collection. It's a versatile tool that's easy to learn and can get you up to speed in building beautifully crafted materials in no time. But how does a Cricut machine work?
In this guide we'll try to learn how a cricut works and major ways you can use this machine. This tool is easy to use but knowing the proper know-hows can really be effective if you want to make non-trivial craft projects with it.
Learning how to use a Cricut Maker isn't complicated if you take enough time to learn the basics first.
What is a Cricut machine?
A Cricut is basically nothing but a cutting machine. Think of it as an alternative to a scissor but with enhanced precision and increased cutting capacity.
It's a tool to cut paper, fabric, vinyl and other materials. As a matter of fact, you can cut leather or thick, solid materials with more powerful Cricuts. This tool makes cutting and making crafts so much easier that it becomes a fun task to do them.
How does a Cricut machine work?
Have you seen an industrial laser cutter? If you have then you know how that machine cuts through materials. A Cricut works in the same way. There's a flat surface and a set of blades on top of that. You put the material you want to cut on the surface and the blades will cut according to the designs you provided.
So how do you give the machine cutting instructions? It's easy. You do it through the Cricut software that you'll need to install on your PC. There's a mobile app too. Use whatever you like to create designs and patterns. Once you're done with this step, send the instructions to the machine via the application.
As soon as the machine receives cutting instructions, it'll start working with its blades. The blade, unlike normal scissors, is extremely sharp and highly precise. This is the reason why Cricut cuts look so standard.
Using the Cricut software
Since using the machine itself is simple, let's talk a little about its software. Don't worry, it's not that complicated but you'll likely need some time to learn it.
You can easily create shapes in this app. You can create different variations and have real previews of them so you can know what the designs look like before they're finally printed/crafted.
In the initial stage, creating basic designs won't be hard. But as you dive into complex designs, they'll start to take more time to design and in the process you'll understand the software inside-out. Other than this, using the design app is actually very easy.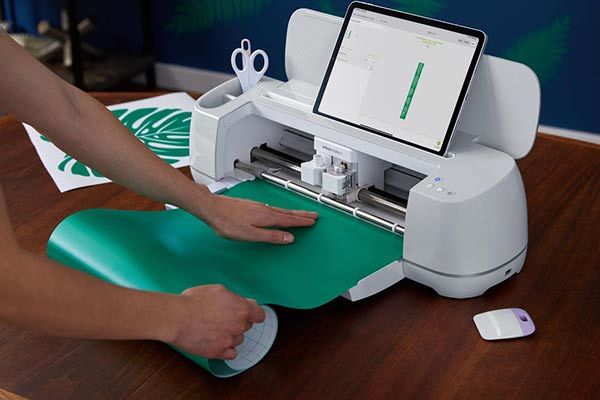 A few ways you can use a Cricut machine
There are countless applications for a Cricut machine. We'll try to talk about some of the most popular and useful ways a Cricut machine can add value to your material cutting projects now.
Logo Making
One of the most popular applications of a Cricut is making logos or decals out of fabric or paper. You can use many different types of papers with varying thicknesses. This idea also applies to fabrics similarly.
However, not all logos are the same and thus, their cutting and shaping processes aren't similar to one another. Suppose a logo is simple and has only a few layers in it, such as 2 or 4 layers. It won't be too complicated to design and cut it in a Cricut.
But if there are more sophisticated layers involved with unique patterns then it might not be easy to make with a Cricut. First of all, the machine won't design the logo layering for you.
How the logo should be cut is your task to design first and only then you can use the machine to help you cut the material into shaped layers.
Tags and Labels
Product tags, kitchen labels – these are some of the common stuff people use a Cricut to build. You can, for sure, cut them with scissors or blades but it's hard to reach precise cuts with these ways. A Cricut can easily provide high-quality finishes.
Small custom craft business
Many people want to start a business of custom printed t-shirts, decals or printed papers. But getting those crafts done in a big factory setup isn't possible for all. Also, making them manually by hand is impractical to do on a large scale. There has to be a balance between these two.
A Cricut machine can be just right for that. It's cheap and enough to get someone started with craft building. It can produce fast and can make a large amount of crafted products within a short time.
No need for large machines or manual work. Also, the quality of the finished goods looks decent enough.
This set of benefits and features this tool has can be quite helpful for people who are just starting a business and lack funds to use industrial machinery.
Shirt Printing
Other than selling crafted shirts, you can create unique designs and print them on your shirts and dresses using a Cricut. Starting from basic, thick lines to thin, sophisticated patterns – you can design whatever you want with this.
Getting designs printed on a dress from professional services isn't cheap. If you want complex patterns then the cost can get pretty high. A Cricut can produce high quality results easily without making you spend much money on your crafts.
Greeting Cards
Manually cutting greeting cards is a hassle, plus it's not the best process for this task. A Cricut has a set of blades designed for a variety of materials of different thickness levels. Also, you can purchase additional blades if you need to cut extra thick materials. This is a tool for a lot of tasks and can get work done easily.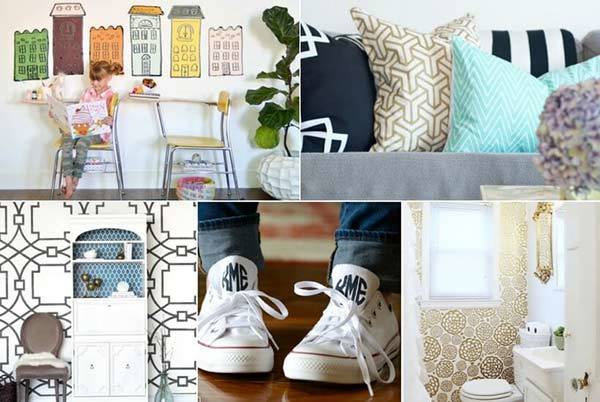 Other Things You Can Make with a Cricut ?
You can use a Cricut to make a huge variety of different craft projects. There's no way I could even list all the possibilities, but here are a few popular projects you can make with a Cricut:
Make custom, handmade Greetings cards for any special occasion
leather earrings and bracelets
Make Vinyl decal ( How to make Vinyl decal )
Create your own stencils for painting
paper banners and party decorations
custom stickers
Make a vinyl sticker for your car windows
Decorate a mug, cup, or tumbler
address envelopes and invitations
custom painted wooden sign
quilt blocks and applique shapes
Make buntings and other party decorations
Which Cricut should I Buy?
You will get three types Cricut machine available on the market: Cricut Explore Air 2, Cricut Maker and Cricut Joy (The latest one). Which machine is perfect for you? Depends on what types of project you are going to work.
All machines come with Cricut's free Design Space software. The best Cricut you can get is the one that meets these 3 things:
The one you can afford.
The one you can cut the materials you want to cut.
The one that will leave you with spare money to buy materials.
Do You Need a Computer To Use a Cricut Machine?
To run Cricut's design software and send your design to the Cricut cutting machine, you need a computer or a smart phone.
The Cricut Explore and Cricut Maker can connect to a laptop or desktop computer via USB cable or wirelessly via Bluetooth. The Cricut Joy connects via Bluetooth.
Final Words
Hopefully you've got the answer for how a Cricut machine works as well as the basic ideas behind the workings of this machine.
Owning a Cricut will be more fun after you learn about its tips and tricks deeply. Once you get a Cricut, your craft customization ideas are unstoppable.