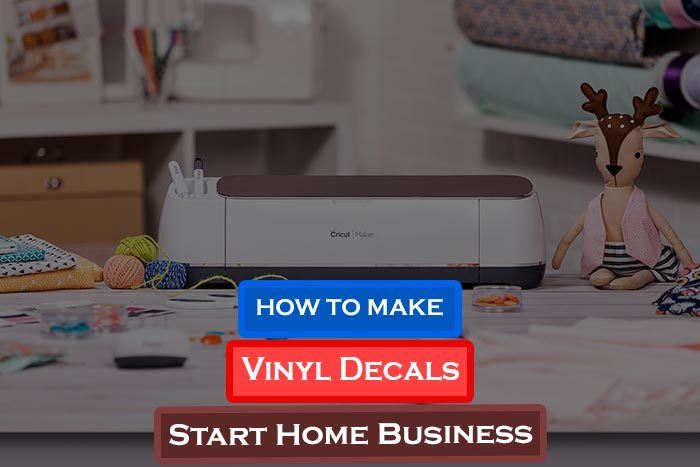 How to Make Vinyl Decals and Start Your Home Business
Well, that was long ago when having such eerie hobby of collecting stickers and vinyl decals were rare.
But in present days, we have a large number of communities where people are conversant about its perks.
And, it's not constrained into a pastime anymore as you can plant your creativity, artistic resemblance, and doodle making skill for generating money.
Wait! It's not just a few bucks!
Be consistent till the end and you will see your business taking off and making a boatload of money!
So, if you are good at crafting vinyl decals and you can make sure to distribute rare editions without any plagiarism, then you might hit the bull's eye!
Thus, if you are really caught into it, then check the outlined article below about vinyl decals and start your home business from scratch!
Before Anything Else
If you want to start making vinyl decals as a side hustle, then first you have to take a moment on understanding what it really is and how much effort it takes to get it done.
So, a decal is basically a special piece of paper where numerous compelling designs are illustrated and can be transferred to another object. Thus, when you speak of vinyl decals, it typically refers to stickers that you extract from the vinyl cutting machine.
Besides, you need a vinyl cutting software to give it precision and more obvious appearance.
What Has Persuaded You to Get into This Business?
The sudden intrigue for making vinyl decals seem like jumping on the bandwagon because, in recent days, the harness of these customized stickers is almost everywhere.
From the space of personal, academic to sales and promotion, the presence of vinyl decals is a common sight.
Perhaps the online noise of using vinyl decals on various aspects is what's triggering you to come up with a business. But is it even a plausible purpose to invest your money and time?
Certainly no! you should make up your mind on working heart and soul with utmost dedication and efforts when it comes to business and earning your bread!
Moreover, there's no process of starting a business with a quick fix or any secret formula, but expertise, diversity, and creativity.
Hence, make sure you are somewhat invested in the plan and drill down the things you need to develop in yourself to start the business.
And I am saying it once again, "you will end up nowhere if there's no exception that you can offer."
Perks and Seat backs of Vinyl Decal Business
No wonder, weighing up the pros and cons will benefit your decision-making process.
Hence, when I started my vinyl decal business from home, the first thing I contemplated was the possibilities of both success and failure. Because being a single mom, it takes a lot to run a business, make money, and also pay all the bills all by yourself.
Thus, I needed to make sure that will it be enough for my survival or whether my endeavors would be fruitful or not.
Here are the pros and cons of vinyl decal business that you need to once-over before getting into the business.
Perks of Vinyl Decal Business
Affordable
The expenses of setting up a decal business are inexpensive. Mostly, if you have already owned a laptop, then half of your work is done. Because now, the only significant investment you have to make is to buy a vinyl cutting machine, and the rest of the materials are easily accessible and affordable.
There's certainly a boatload of money that you can make, but remember, "consistency is the key," hence if you are ready for such commitment towards the business, then hopefully, you won't be needing another spare business.
Easily Accessible
It's a flexible self-attributed work, more like freelancing. You can run this business from sitting anywhere on the planet, and you don't need to rush against the clock as you can do it anytime you want.
Eases Your Mind and Soul
Making vinyl decals is a creative craft work that gives you mental bliss and nurtures your psyche. Because if illustrating or drawing stuff is one of your passion, then what could be better than having a job, earning money, and enjoying it too?
Hence, if you are tired of your corporate job and you want to give yourself onto something you dear, then this is definitely for you!
Less Time Consuming
Lastly, it doesn't demand a lot of time unless you are willing to provide a mass supply.
Setbacks of Vinyl Decal Business
Requires Tough Grind
You can't make thousands of dollars a year, spending two hours a day. In other words, it's not an overnight get-rich scheme. If you aren't down for hard-work and determination, then making a sizable revenue might remain in your dreams.
Need to Be an Outgoing Person
Even if you are running the business from home, there will be events when you need to go out, communicate with people, promote your business in person, affiliate with investors, and handpicking the essentials.
Thus, you must be an outgoing person no matter how much you enjoy self-isolation or hate chaos when it comes to business; you ought to come out of the shell. So, it can be an issue if you are an introvert.
Trouble for Full-time Workers
If you are expecting to keep it as a spare business while having another full-time job or responsibilities, then it can be a real pain in the ass. Because trust me, after getting home from a tiring day, you will barely have that eagerness to work. Also, you might not have a clear state of mind to come up with compelling content.
Must Have a Laptop
Vinyl decal business is unquestionably inexpensive comparing to other home business, yet there are a whole lot of tools that you will need to accumulate. On top of that, if you don't have a laptop already, then it might derail your operation as well as your budget.
So, these were the pros and cons of vinyl decal business to help you perceive the underlying facts and the possible consequences.
Knowing Who'll Be Your Potential Customers
Before you start the business, you need to recognize your audience or the consumers as in the people who are buying your product. Well, you might wonder how it's relevant, right?
See, if you can't connect with your customers and fail to know their choice, demands, and preferences, then how are you supposed to distribute the item they want?
Let me give you an example. Suppose the first order you get is from a local businessman, and he wants you to deliver vinyl decals in bulk.
Now, the first thing you'll be asking is what's his business genre, what he is expecting, or what's his business trademark or either his business team has any name or not, etc.
By breaking down these questions, you will get a crystal-clear vision of the exact thing he is anticipating to have from your service.
Initially, you can write down all his requirements, share your sample works, scrutinize his business genre, and finally, with all the information, you can get into action!
Now, let's see who else can be your customer except your family and friends!
People who need labels on their supplies
Various social or political organizations
School and other institutes where vinyl decals are needed for events
Event managers or party throwers
Entrepreneurs for their personal use or product categorizing
Wedding planners for labeling the caterings, etc.
Kinds of Vinyl Decals
There are various kinds of vinyl decals that you can make. However, if you aspire to have variation, then you need to extend your budget for getting the appropriate machine for all kinds of decal crafting.
Because of the size of the decals, the designs and detailing everything have to be done conscientiously, and it verily depends on the type of machine you are going to use.
So, here are some types of vinyl decal stickers you can make and stick,
To personal belongings such as mobile phones, laptops, iPads, etc.
To school bindings and backpacks
To your motorbike, SUV or car
To your water bottle and other stationaries
To kitchen mason jars, beer bottles, and refills
To letter envelopes or handmade cards for closing the flap
To the refrigerator, washing machine, or other home appliances as sticky notes, etc.
So, these are the things that you need to know before starting to make vinyl decals.
How to Make Vinyl Decals on Vinyl Cutter- Step by Step
Probably you are a novice in this field, and you've barely known anything about vinyl cutting machines. So, needless to say, the first thing you will need is the vinyl cutter or the cutting machine.
It's the part of your investment which you can't just cut off. Hence, it's a legit necessity and a must-have addition for your business.
So, how does a vinyl cutter look like? Well, it's more like a computer-controlled machine that very much seems like your desktop printer.
Now without farther ado, let's glance over each step of making vinyl decals on vinyl cutter precisely.
Step 1 – Stock Up The Ingredients
Here are the ingredients that you will need,
Computer
A software for crafting designs
Vinyl cutting machine
Vector art program
App tape or transfer tape
Tweezers, trimmer or scissors
Putty-knife or squeegee
Step 2 –Craft The Design
The quality of your design will decide the stability of your business.
If you are potentially making original and relevant artworks for your customers, then "authenticity" and "uniqueness" will become the benchmark of your business. Initially, it ensures that your company will have a long run.
Hence, having exclusive graphics software, such as Ink scape, Adobe Illustrator, will help you to create classic and neat designs where you'll have choices to alter the shapes or add fusion backgrounds, signatures, fonts, etc.
Once you are done with the design, it's time to convert it in vector art as it's the only type vinyl cutter endorses.
Step 3 – Relocate Your Artwork in the Vinyl Cutting Program
You need to design an image on your computer then load them onto the vinyl cutter. And to load the design from your PC to your cutting machine, you will have a wired connection such as Bluetooth or wifi.
When you succeed in loading the vinyl design into the computer, it will automatically progress feeding itself inside the cutting program. Once it starts running through, it begins to trim the following design set.
Step 4 – Determine the Blade Setting and Start Cutting
First, you need to determine the blade's depth and expected exertion. If your blades run manually, then you have to shove the blade by applying pressure. On the contrary, automatic ones do the job through a single press of a button.
To start with the cutting, you will have a sheet of design that you need to cut, right?
So, the vinyl cutter incorporates a compact and pointy knife where sharp teeth are suppressed. When you intend to cut through, it provides precise cuts to the design outlines that you have crafted on a paper sheet or template. But it doesn't release the liner.
The blades or knives that are used on the cutter moves and turns from the x-axis to the y-axis of the vinyl when you move the blades under it.
Step 5 – Select a Vinyl Cutting Software
There are numerous cutting software that you can link to your computer via USB ports. When the vinyl cutting software is installed on your computer, it's time to switch the vinyl cutter in online mode and start cutting.
You can use software like Corel Draw, easy cut studio, SCAL, or Inkscape as well to do the job in a matter of hours. However, simple and basic designs require less than an hour. After the cutting is done, start chopping off the cut section from the design sheet using a tweezer.
Step 6 – Weeding the Artwork on Vinyl Cutter
Well, the term "weeding" manifests the process where you have to weed out the excess parts of your design figures from the release liner. Here, the blade penetrates side to side, and turns during the vinyl is moving under the edges.
Weeding is essential to declutter the unnecessary parts of your image. So, make sure you don't miss this step.
Step 7 –Attach Transfer Sheet
Lastly! You have to attach a transfer sheet or application tape to the vinyl cut-outs to divert them as stickers. Always make sure to choose a flat, clean, and sufficiently sticky transfer sheet so that they can be laid easily on the vinyl sticker surface and pulled out smoothly during use.
So that was all about making Vinyl decals at home step by step!
Starting The Business
Once you have mastered how to make vinyl decals, it's time to start the business!
Now two things should be taken under consideration, which is either you want to take orders first, then start making stickers, or you create some sample works focusing on a specific audience and wait till you make a sale!
Well, in both circumstances things can work out, but I suggest you follow these steps.
Make a few samples works on different genres.
Do some free photo shoot with good enough lighting of your products, or you can also stick them to the places where it's supposed to be.
Now either promote your product locally by seeking help from your friends and neighbors, or you can do online marketing on any social platform which seems right for the job.
Start promoting your product to the targeted audience or the people you want to reach.
Be consistent and try to approach as many people as you can through convincing them to have a glance over your product or ask them to suggest their other friends and relatives to check on your goods.
So, through these steps, you can have the jump start of your business, but there are still a few things that are left to bring in conclusion. Let's check them out!
Fix a Competitive Wage
The core aspect of all your hard work is for nothing but generating money, and to have it done, you need to price your vinyl decals.
Here you need to ensure a competitive market price, which will be neither expensive nor cheap. Your motive is to provide "reasonable" or "affordable" decals, not "cheap" ones.
Hence, make sure the price merges fairly with your customer's expectation. And it can happen only when you know who your customers are.
If you are selling your vinyl decals to the students, then it's obvious that they can't afford anything expensive, or even if they can, they probably don't usually rush after costly stationaries.
Thus, to make a sale to the teenage students, you need to keep the price reasonable. Moreover, it should be pretty much less than the current market price yet not too low to make a loss.
Consider White Labeling
White labeling is basically a term where many companies remove their brand name or any resemblance of their superiority.
And it allows the entrepreneurs to have the particular product without any labels on it and use it on their vinyl business for making a sale.
For instance, you have got an order for the bulk of coffee mugs where you have to attach some vinyl decals. In this case, firstly, you will need to buy white-labeled cups where there will be no brand name or any design, wholly blank! Then you will embed your artwork onto it and sell them to your customer.
It's a cogent business tactic that thousands of home entrepreneurs associate with.
Copyright Issue
Firstly! Be aware of copycats! Don't share your ideas or your artworks to anyone before you start making sales. Because if you publish your artworks on a social platform, then you never know who ghosts you or keeps an eye on your work and later steals your idea to benefit themselves.
Secondly, use copyright tags under your products so that people know where it's coming from and can't impose upon your products.
End Quote
Alright!
That's a wrap!
I hope that was helpful in clearing your concerns, and soon you will be making amazing vinyl decals from your home! One thing I would like to remind you that "be consistent."
Nobody becomes rich overnight; neither a business takes off within a couple of days.
Hence, it's advised not to solely depend on this business for financial backup. Meaning, before investing all your attention into this business, make sure that you have enough capital to subsist.
Also, keep working to enhance your skill and craft creative artworks every time!