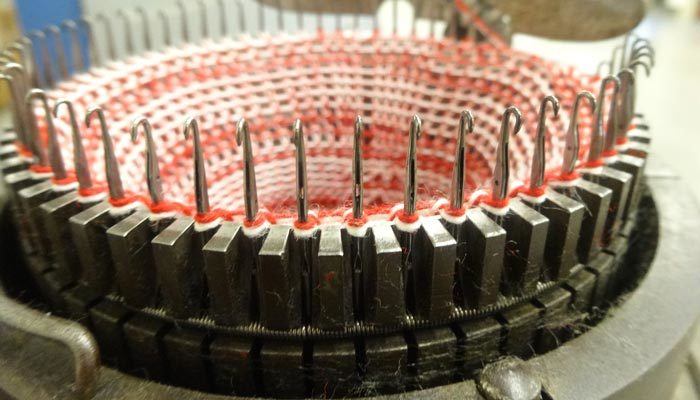 10 Best Knitting Machines Reviews: Recommended by Experts
Knitting is a wonderful art which is both useful and fun! It has been the favorite past-time of many women over the centuries, and not for nothing.You see, knitting is a great outlet for creativity, and the products can be used in a variety of ways.
Sweaters, socks, scarves, stuffed animals, and a lot of wonderful things can be knitted.As you are probably aware, knitting can be done both by hand and by using a machine.Since you are reading this article, chances are, you are looking for the best knitting machine for you.
So today, we are going to review the best-rated knitting machines available in the market.
Read on, and enjoy!
---
What Is a Knitting Machine?
Let us begin by considering what a knitting machine actually is. As the name goes, it is certainly a machine used for knitting! There is a rumor going around that these tools are very easy to use. Well, that certainly is not true!
Knitting machines are used to get a large amount of work done in a shorter time than hand knitting, but they require quite a bit of skill. Even though they are amazing things, these machines cannot be used to reproduce all hand knitting techniques.
They do, however, have a lot of new techniques of their own, to be used for creating completely different knitted products. As for the types, there are two types of knitting machines according to the configuration- flatbed or circular, which can be used for getting different results.
10 Best Knitting Machines and Looms
Now that we have the small talk out of the way, let us take a look at some great products in order to find the ideal knitting machine for you!
1. Addi Express King Size Knitting Machine: Best All-Around Knitting Machine
As the name indicates, this unit is king-sized, meaning it has a large diameter. This enables larger items to be knitted, making it very convenient for making knitwear. It can perform both flat and circular knitting. There is no need for separate machines, as the circular knitting is far superior to other machines.
On top of that, the Addi Express will be in no danger of slipping off the table. Why you ask? Because it directly clamps onto the table. Adding to the efficiency of this machine would be the fact that just inserting the yarn into the circle would make you ready to start spinning!
This unit uses winding, and is very fast, making it a very useful tool for when you need something done quickly. As for the needles, it contains 46 of them, along with an electric counter for rows. The items to be plain-knitted using this machine can be up to a width of 45 cm, and the items to be circular knitted are 35 cm.
For any knitting machine, the yarn to be used is very important. The Addi Express uses yarn with a thickness of 3.5 to 8 mm, and it does not perform well with bulky yarn, so that is something to keep in mind. This machine is great even for those who have some weakness in their hands, as it is so easy to use.
Overall, this unit is great for some fast work to make everyday items and at a good price, making this the best all-around knitting machine available. This unit produces amazing round knitted items, it also happens to be the best circular knitting machine in the market.
2. Addi Express Knitting Machine
Another machine from Addi, you can be sure that it's great. Once again, a very fast and efficient unit, it is really a fun and easy tool for making hats, scarves, socks, and sleeves. Just like the former product, this one can be used for both plain and circular knitting, which is very convenient.
As this unit is also a winder rather than a knitter, it is very easy to just insert the yarn and have fun. The plus point of this machine is that it is very easy to get used to so that people with all levels of experience with knitting machines can learn to use it quickly.
There are 22 needles in this machine, and it enables a width of 10-15 cm of circular knitted items. As for plain knitted ones, they can be 15-20 cm wide. Just like the Addi King Size knitting machine, this unit also contains an electric row counter, which is a convenient feature to have.
And another similarity is the recommended yarn thickness, which is 3.5 to 8 mm. All this allows for the easy creation of nice vests, scarves, and patchwork, as well as leggings and arm cuffs.
Even though this product is easy to get used to, it does require some trial and error to get exactly what you want, so there is a learning curve to it. Another plus point of this unit is that it is quite affordable, so it won't put a hole through your pocket.
Since this is a great machine for both beginners and more advanced knitters alike, it is certainly worth buying!
3. Prym Knitting mill Maxi
The Prym Knittingmill Maxi happens to be a very inexpensive machine. It can lay down flat panels as well as tubes quite well. The width of the flat panels can be up to 43cm.As for the tubes, it can be of a diameter up to 33 cm. Hats can be made very efficiently using this unit, especially children's ones.
As the circle made by this unit is too small for making adult hats, two flat panels can be easily sewed together to compensate. The product comes with an instruction manual for convenience of use, and even though they might be a bit unclear, it is not hard to learn to use it.
Other things that are conveniently provided with this product are a plastic needle and a crank, along with a handle, a tension piece, and a yarn guide. A great plus point of this unit is that it works decently with most yarns, including fashion yarns.
Another good feature would be that hand knitting is supported by this machine. It contains a covering made of nylon, which is backed by foam, marking and pinning can be done very easily with this unit.
Some things to note would be that it does not contain a row counter or claw weights, though these can easily be compensated for.
4. Addi Express Professional Knitting Machine Extended Edition
This product, as the name suggests, is a new and improved version of the Addi Express Professional Knitting Machine. It was released in August of 2018, with a lot of new and modified features, in order to make knitting more convenient and fun.
One such addition is the mechanical counter, which, even though convenient, makes a loud clicking noise, which may bother some people. Another addition is the pattern book. This book has been provided with in-depth instructions.
The quality of this book is very top-notch, making it a great attraction. On top of that, it contains models that even newbies can construct! This extended edition also comes with a hook, which is highly compatible with all the machines of Addi express.
As it can be used for crocheting and very complicated knitting techniques, it is a great feature for the adventurous knitters. Knitting both flat and round is supported by this unit, and it can be very quickly too! How? Just by turning the handle, of course!
And the items which are plain knitted can be up to 15 to 20 cm wide for this machine. As for the circular knitted ones, they can be 10 to 15 cm. This product also comes with a free pack of replacement needles, so you won't have to run to the shop to get some.
All this, along with the fact that even beginners can create beautiful knitwear with this machine, make it a valid contestant as the finest knitting machine out there. Something to remember would be that this unit is not suitable for soft yarn, and dropped stitches will ensue if it is used.
5. Caron The Ultimate Sweater Machine
This is a wonderful unit that comes in a colorful packing! If you are looking for a gift, this would be great for knitters. The best part is, even beginners will be able to use this product as it contains detailed videos and instructions.
Even though the learning curve might take a few hours, it is worth the time as soon afterward, you will be making things very quickly. This is possible due to the fact that The Ultimate Sweater Machine can pull off about 1000 stitches per minute!
The needle bed of this machine contains a hundred needles that it uses for such quick work. As the name suggests, making sweaters is quite a breeze with this unit once you get the hang of it. Not only that, any other large pieces like coats and skirts can be made very fast.
So all this makes this machine a great tool for big projects, like making Christmas gifts, as a lot of work can be done in a short time. The yarn used on this one makes a difference, and this machine is compatible with most of the common yarns.
It should be noted that this unit does not handle thicker yarn very well, so those should be avoided. As a bonus, Caron's The Ultimate Sweater Machine comes with a hand-tool set that can be used for doing some fancy work.
All in all, this is a great machine for beginners and more experienced knitters alike, and can be quite fun to use!
6. NKOK Singer Knitting Machine: Budget-Friendly Knitting Machines
The NKOK Singer is a great product for beginners. It has been made for ages 8 and above and will make a great present for children and anyone interested to start learning how to knit. Straight off the bat, you will notice how easy it is to use this machine.
As it is made for beginners, it is great for making simple and small projects like socks, scarves, and leggings. Conveniently enough, a tension arm and a plastic needle are provided free with this product. This unit equips you with two ways of knitting, so it is a fun way to experiment.
And as this machine is operated by a hand crank, batteries are not required, which makes it eco-friendly. Due to its lightness, it's also very easy to carry around and is very child-friendly. Another attractive feature happens to be the color combination of this unit.
It is so pretty that children will surely like it! Yet the best part about this product happens to be the price!. It is one of the least expensive products in this review, making it one of the top-most budget-friendly knitting machines available in the market.
Due to the price, however, this unit is not made for big projects or complicated techniques. So if you would like to buy a very pocket-friendly knitting machine for simple and fun tasks, then this is the one for you!
7. Caron 20293 Embellish-Knit! Machine Kit
The Caron 20293 Embellish-Knit! Machine Kit happens to be an amazing product for adding extra decorations to your work. It can be used to add various types of fancy closures and cords to knitted products, making them nicer. This unit can be used to knit cording of about 18 feet within just 10 minutes!
And the speed makes it great for knitting a lot within a short time, making it a handy tool to keep for time-sensitive projects. Setting up this machine requires a bit of time and effort, but once the initial set-up is done, it runs very smoothly.
Also, the build of this unit is very sturdy, and it will not come apart quickly, giving it a very premium feel.
This machine takes up very little space due to its small dimensions, so it is very easy to carry around in your bag, making it a very handy travel companion. As for the yarn, this product works best with medium ones. It does not fare well with worsted yarns.
8. Knit's Cool- Knitting Studio: Best Knitting Machine for Scarves
This is another great product for beginners, within the age range of 8 to 15.As the title says, it is a 'knitting studio'. This makes it different from the other knitting machines. Instead of needles, it contains poles of various sizes, which make it fun and easy to make knitwear.
The studio contains adequate space for storing the poles, making it a very convenient all-in-one package. A notable plus point, this machine comes with a lot of free yarn, which would be enough to make some small knitwear. The Knitting Studio also comes with free charms and buttons, which are great for decoration.
Other free products provided with this unit are different colored yarns, a sewing needle, and a row counter, along with a crochet hook and a yarn holder. Learning how to use this product is quite easy, made convenient by the instruction guide provided with it.
However, watching videos in addition to reading the instruction guide can make the process even easier. It comes with tubes of 3 different sizes, it can be used to make very versatile projects. This feature also helps make great scarves, making this unit the best knitting machine for scarves.
Even though it was made for kids, those who require a knitting machine which will do easily on the hands can greatly benefit from it as well.
So if you are looking for a present for your child or anyone looking to begin knitting, this is a great choice. They will have all the fun of making amazing products yet with less hard work.
9. MIAOKE 48 Needles Knitting Machine
This is a great tool from both a practical and fun standpoint. It has been designed for beginners and provides a great way to spend time with your loved ones. Making scarves, socks, hats, and other knitwear is very easy and joyful with this product.
Along with the machine, a crochet is also provided, adding to the fun. On top of that, some very practical things like yarn and a hand needle are also provided, not to mention a screwdriver, weaver, and a suction cup. This unit can be used for both plain and round weaving, adding to the versatility.
The items to be plain weaved can be 17.8 inches wide, whereas the ones to be round weaved can be 9.8 inches in diameter. As for the yarn to be used, it is recommended that they are within the 1.5 to 4 mm range. The machine itself is made of plastic, but not just any plastic!
It is made of plastic, which is odorless and of very high quality. Not only that, the material is very durable as well. As an additional surprise, a free wool thread is also provided with this product.
Also, the machine runs very smoothly and is very quiet as well, so it will not disturb you in any way during usage. The only down-side might be the row counter, which might not always work.
10. Silver Reed SK-280 Standard Punch Card Knitting Machine
This product, though very expensive, can produce some amazing results. It can be used to make very fashionable pieces that will be valuable additions to your wardrobe.
As the name suggests, it is a standard punch card knitting machine that can be used to make various stitch patterns like weaving and fair isle with automatic stitches. The pattern of the punch card is 24 stitch, and it is a repeating pattern as well.
And as for the needle bed, it is single and made of stainless steel, holding 200 needles. The needle gauge is 4.5 mm, and it can use fingering yarn as well as sport weight ones.
A lot of different knitwear and patterns can be easily made by this unit, and you can even create your own designs with the plain punch cards! It truly is a wonderful machine for letting your creativity loose. This unit also happens to be very sturdily built and is quite durable as a result.
For the ease of use, the SK-280 comes with an instruction manual that is easy to follow, and hence it does not take long to learn to use the machine. The product comes with a row counter, which makes it even more convenient to use.
Overall, this is a great machine for experienced knitters, and can certainly be considered the best knitting machine out there in the standard punch card category.
Knitting Machine Buying Guide
Now that we have looked at some of the top knitting machines available in the market, it is time to consider some important factors. These are necessary to consider before making your purchase.
User Level
First and foremost, it is very important to assess the experience level of the knitter who is to use the machine. Those who are new to machine knitting should buy machines dedicated to beginners. This will make the learning curve easy and fun.
Knit's Cool, NKOK Singer, and Caron's The Ultimate Sweater Machine are all great for newbies. The Addi Express Professional Knitting Machine is a great product for all levels of knitters, including beginners, so that is another product to consider.
If you are a more experienced machine knitter, however, then the other products in the review will be better suited.
Type of Knitting
The type of knitting you want to be done also matters a lot when you are in the market for buying a knitting machine. Plain and circular knitting requires different mechanisms, as does punch card knitting.
So it is important to look for the machine with your particular needs. The good news is that there are many products available with multiple functions, so it is easier and more convenient to get more functionality out of your machine.
If you are looking for a machine that will give you all-round functionality, then the Addi Express King Size Knitting Machine is perfect. As for punch card knitting, the Silver Reed SK-280 Standard Punch Card Knitting Machine is a great choice.
Knitting Projects
Big projects have different requirements than smaller ones. For small projects, a machine that can work at a moderate pace and whip out simple knitwear usually suffices. Projects that are more ambitious, however, require a very fast working machine, and sometimes one that can make larger products.
So make sure to check the speed and other capabilities of the machine before making your purchase. Caron's The Ultimate Sweater Machine is a great unit for big projects, whereas the NKOK Singer Knitting Machine is decent for smaller ones.
Price
How much the unit will have a toll on your wallet is, of course, another important factor to consider. All the products mentioned above are good ones, and you will not be disappointed with whatever price-range you go for. You do have to consider your budget, however.
So, if you are looking for a budget-friendly machine, then the NKOK Singer Knitting Machine is a great choice. If money is not a problem, then you can consider any of the other products according to your requirements.
Frequently Asked Questions
Here we have some of the most commonly asked queries regarding the best knitting machines:
How does a knitting machine work?
Knitting machines usually contain a needle bed and a knit carriage. The needle bed contains lots of needles on which stitches are placed. When the knit carriage is run over the needles, they knit, making the clothing.
Why use a knitting machine?
Simply put, knitting machines can be used to produce stitches much faster than hand knitting, so they can save a lot of time. They are also great for big projects, which would take days or weeks with hand knitting.
Another plus point of machine knitting would be that the texture of the clothes produced is evener.
How does a circular knitting machine work?
Circular machines contain a needle bar which moves to and fro to create a stitch. This is possible as another bar presses down on the needle bar to free the yarn. As these machines typically contain a lot of needles, a lot of stitches can be produced in a very short time.
How does a flat knitting machine work?
Flat knitting machines contain needle beds. A needle will be in the exact front bed. That will transfer loops into the needle, which is situated in the backside bed. You can also do the opposite of making stitches and patterns.
Is it necessary to learn how to hand-knit before buying a knitting machine?
No, learning how to use a knitting machine does not have much to do with hand knitting skills. Instruction manuals and videos are usually enough to learn how to use a knitting machine.
Final Words
Now that you have all this knowledge about knitting machines, you are finally ready to get one! Each product in the above review is great, but you need to consider your particular needs before getting one. So we hope this article has helped you pick the best knitting machine for yourself!