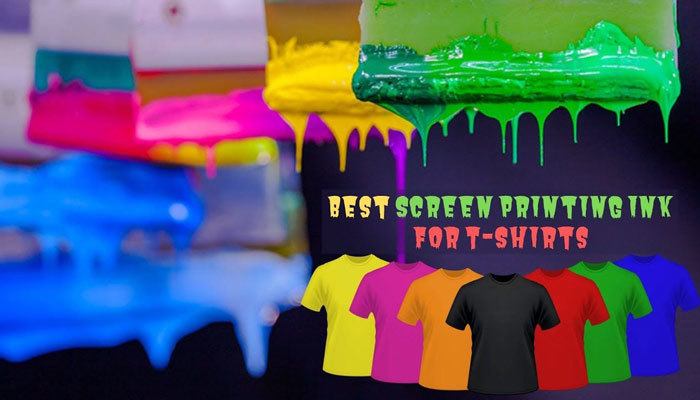 Best Screen Printing Ink Reviews In 2022
Are you having a hard time deciding the best screen printing ink to get for your upcoming project? If yes, we have crafted this guide to help you make a more informed decision.
Below, you'll discover the most common types of screen printing inks available, secret tips to choosing the right one for your unique needs, and our TOP picks for high-quality, most popular inks you can purchase today.
Top 10 Best Screen Printing Inks Reviews
1. Speedball Art Products 4560 Fabric Screen Printing Ink
Opening our list is this screen printing ink from Speedball. For starters, Speedball is a great brand that boasts an extensive line of top-performing screen printing inks at affordable costs. All beginners, art educators, and professionals swear by their inks!
This ink from the manufacturer is a water-soluble type that's designed for use with a wide variety of fabrics, paper, and even cardboard. It's quite easy to use, even for the absolute beginners who have never used any type of ink for screen printing. It applies smoothly through your screen, and you'll not experience problems with screen clogging.
Once you apply this ink on your garments, it dries pretty quick. Ironing it also helps it set pretty quickly. All the t-shirts you print on with this ink will stay vibrant and fade-free wash after wash.
For your own safety, this ink is 100% non-flammable and non-toxic. It contains no offensive smells and solvents. And it easily cleans up with just soap and water. The ink comes in an 8-ounce jar, which you can use to do approximately 10-15 prints.
2. Speedball Fabric Screenprinting Ink Starter Set
Also made by Speedball, this ink is ideal for all types of fabric, including cotton, linen, polyester, rayon, blends, and even paper and cardboard. It comes in an assortment of up to 6 colors—red, yellow, green, blue, black, and white—and will make an excellent choice for a starter working on their first-ever screen printing project.
The included colors are genuinely vibrant and rich. They are perfect for all types of designs, images, texts, and logos on various fabrics. Just a little amount of think will offer you greater coverage, and offers a softer feel on your garments. Unlike most of the inks out there, this ink permanently settles on the fabric once you apply them and will not easily fade or break with repeated washing.
Using this ink is super-easy for you! It offers you smoother workability, eliminating screen clogging issues. Once you're done with your work, you can easily clean up the ink with soap and water.
Above all, this set of inks from Speedball is 100% non-flammable and non-toxic. It features NO offensive smells or solvents that might affect your health. It even meets the ASTM D-4236 standards.
3. Speedball Opaque Fabric Screen Printing Ink Starter Set
If you're working on dark fabrics, this is the best ink for you. It's specially made to output outstanding results when used on dark fabrics such as cotton, polyester, linen, rayon, blends, and other known synthetic fibers. You can also use it on paper and cardboard.
The complete set presents you with a total of 6 beautiful, pearlescent colors ideal for printing on your dark fabrics. These colors include silver, blue topaz, early white, black pearl, citrine, and raspberry.
You can choose to either screen-print or paint this ink with a brush. All the ink colors will permanently settle on your garments when correctly heat set. Cleaning up the ink is hassle-less as you just need water and soap.
As it's standard across all Speedball screen printing inks, this set is also made using non-flammable and non-toxic ingredients for the sake of your health. No offensive smells, and no solvents are included in these inks.
4. Speedball Art Products 004551 Fabric Screen Printing Ink
If you're on the hunt for the best water based screen printing ink, you can't think of a better brand to buy from than the USA's Speedball. Owing to their reputation, it's a no-brainer that this water-based ink from the manufacturer will do wonders when you use on your project.
The ink also works with a variety of garments, paper, and cardboard. It comes packed in an 8-ounce jar, which is quite a reasonable amount for the price.
You can use this ink with total confidence knowing that it'll give you REAL vibrancy (in color) and opacity (in coverage) in your project. It also boasts smoother workability and softer hand than most of the water-based inks you'll get out there.
The Speedball screen printing ink is also non-flammable and non-toxic to assure you of your safety when working with it. It doesn't contain any offensive smells or solvents that might endanger your health. When you're done using the ink, you can clean up with only soap and water.
5. Speedball Opaque Fabric Screen Printing Ink
If 'value for money' dictates your buying decision, then this is the ideal ink for you. Its quality is pretty amazing, and it offers you professional results, all at an affordable cost.
The ink comes in super-bright, beautiful gold color, so we highly recommend it to anyone looking for good gold for their screen printing work. It comes packed in an 8-oz jar, unlike similar products within the price range that come packed in smaller amounts.
We also like that this ink is pretty easy to apply, even for absolute beginners. You can apply the ink with screens or by painting it on your garments with a brush. Either way, you'll enjoy smooth workability and the great coverage it offers you. Likewise, cleaning it up is a breeze as you just need to use soap and water.
Note that you can use this ink on various fabrics, cardboards, and papers. It produces professional quality results. And you'll be surprised at how well your prints will hold up after countless washes.
6. Ecotex Plastisol Ink Starter Kit
Ecotex is another respected name in the screen printing ink industry. The US-based manufacturer has some of the best inks you can find on the market today. And this Ecotex Plastisol ink starter kit is just an excellent example of their high-quality products.
Shipped to you as a complete plastisol ink kit, this package comprises a total of bold and vibrant colors, each packed in a sizeable (8-ounce) jar. The colors include flash white, black, scarlet red, lemon yellow, royal blue, and green.
This ink is superior to other plastisols out there. It's formulated to be vibrant, bold, and creamy. The ink is also highly opaque and allows you to get quicker on the press, helping you save time and money. If you want the best performance and color design in your next screen printing project, choose this Ecotex plastisol ink!
7. Speedball Art Products 4559 Diazo Photo Emulsion Kit
This is a photo emulsion kit, made by Speedball to help you create detailed or photographic type stencils for your screen printing project.
The complete kit presents you with 6.6oz Diazo Photo Emulsion, 8oz Diazo Photo Emulsion Remover, 2.12g Diazo Sensitizer, and a set of instructions. This ensures you have everything you need to get the job done! You must mix the sensitizer with water and then add it to the solution, which is incredibly easy to do with the included instructions.
Because this sensitizer isn't sensitive to light, you don't need to prep your work in a light safe environment or dark room—which is a huge plus, considering most kits require you to work in the dark!
Unlike most of the emulsions out there, this one is formulated to apply smoothly and dry quickly. It also exposes evenly and quite accurate to the time guide included.
When you purchase this emulsion kit, you'll also get a large bottle of screen cleaner emulsion remover) inside the box. This does an exceptional at cleaning up your screens; it can even clean screens that have been left emulsified for a year!
8. Ecotex AP-Blue All Purpose Screen Printing Emulsion
This is an all-purpose, beginner-friendly that works with UV, plastisol, and solvent-based inks. It comes pre-sensitized and ready to use, so you don't need to do any mixing to start using it.
Suitable for both textile and graphic applications, this ink boasts excellent image quality, superior coating, and unmatched durability. As a hybrid dual-cure formula, the ink gives you sharper edges and unprecedented resolution for overall professional results.
The emulsion is pretty easy to use/apply if you follow the included directions. For the best results, Ecotex recommends you use this ink with a good light source such as exposure unit. Although it comes pre-sensitized, you can still mix it with diazo if you want to.
Overall, this is a tough emulsion and will make your screens last longer.
9. Ecotex White NP Plastisol Ink for Screen Printing
Whether you're looking for the best plastisol ink for your first ever project or you're a seasoned printer, this Ecotex will match your needs. The ink comes nicely packed in a pint, and it's ready and easy to use.
As a premium plastisol ink, its formula is characterized by desirable characteristics, including super-brightness, boldness, and high opacity. The formula is also creamy to help give all your prints a soft hand.
Note that this is a pretty versatile ink that you can print on virtually all textiles that can withstand the high curing temperatures of up to 320 degrees. Unlike other plastisols out there, this ink is non-Phthalate and environmental-friendly.
The white plastisol ink produces quite good results on your t0-shirts, and any other fabrics you print on and its toughness enables it to withstand multiple washes without fading or cracking.
10. Ecotex Marigold Plastisol Ink for Screen Printing
Ecotex Marigold premium plastisol and a perfect choice for both the newbies and seasoned printers. It comes packed in a quart to ensure you have enough ink for all your printing needs.
This ink boasts of bright, bold, and highly opaque look and feel. It's a creamy formula designed to give all your prints a soft hand. And yes, think can be printed in virtually all textiles—provides they can withstand the plastisol's ink curing temperatures of 320 degrees C. So if you're looking for the best black plastisol ink, you should consider this marigold color ink.
For the best results, Ecotex suggests that you use their Plastisol Press Wash for cleanup after you're done printing. For the environment-conscious printers, you'll appreciate the fact that this ink is Non-Phthalate, eco-friendly formula.
Buying Guide For Best Water Based Screen printing Ink
In this section, we'll take a closer look at the key factors to keep in mind to help you choose the best screen printing ink that matches your unique screen-printing project needs and requirements.
Durability
One of the most important considerations to make when looking for screen printing ink for your new project is its durability. In other words, you want to ensure the ink you pick will last as long as the t-shirt or the garment you print lasts. Avoid inks whose prints tend to break, crack, flake, or peel with time. The perfect ink should also resist fading with repeated washing.
Ease of use/application
You should also ensure you get an ink set that's pretty easy to apply—especially if you're a beginner. Inks that have smooth workability are generally easy to make screens. If you go for plastisol ink, consider getting one that comes pre-sensitized and ready to use to save you the hassle of having to mix it on your own. Plastisol ink with a user guide will also make your work easier.
Types of Screen Printing Inks
BEFORE you go shopping for ink for your next screen printing project, you must familiarize yourself with the various kinds of inks out there to help you decide which one suits your needs.
Coverage
The perfect screen printing ink covers your shirt better. Inks with good coverage require you to make a few passes and/or print-flash-print, enabling you to print your t-shirts faster, make your work easier, and save time and money.
Feel
Most people would prefer a garment that feels soft, comfortable, and looks great. With this in mind, you should ensure that the ink you choose whose prints feel smooth on the garments. Best water based screen printing ink usually produce softer prints as they get absorbed right into the fabric, unlike plastisol, which sits on top of the fabric.
Brightness
Another important consideration you need to make when shopping for screen printing ink is the richness and vibrancy of its color(s). You don't want an ink that makes your design or print look dull as soon as you apply it on your t-shirt. The brightness should also be long-lasting, not one that fades after the first few washes.
It's, however, worth noting that the brightness can be affected by the material you're using. Bright inks maintain their vibrancy on 100% cotton tees while, but they tend to become subdued when used on cotton/poly blends.
Other considerations:
Other important factors you should keep in mind when looking for the perfect screen printing ink include the color of garments to be printed on (dark fabrics might require specific inks), no of prints you plan to make, the colors/pigments you need in your design, and your safety (think non-flammable and non-toxic inks).
Water Based vs. Plastisol ink: Which Works Better?
As we mentioned earlier, water-based inks are designed to be wholly absorbed by your fabric and completely dye your garment. This means the paint becomes part of your garment, and you can't feel anything on the fabric's surface.
For this reason, you should see this ink on t-shirts and garments that are comfortable and don't feel harsh against your skin. Though they can work on both light colored and dark fabrics, they tend to produce better with the former.
Plastisol inks, on the other hand, tend to form a thick layer on top of your fabric instead of getting absorbed into it. If you're looking for color and consistency in your design, then you should consider using plastisol ink. As they settle on top of your fabric, they give you the exact design and accuracy you want. Plastisols are also generally bright and easy to use.
There's no direct answer on which of the above two types of inks works better than the other. The best type for you will depend on your unique needs and the type of project at hand.
Final Verdict
Now that you have learned the tips and secrets for choosing the best screen printing ink, you should have an easy time deciding which ink to use for your next project. Whether you're a beginner or experienced printer, this guide will help you make a more informed decision.
Our top picks for the most popular inks features the top-rated inks you can order today. These products will give you superb looking, long-lasting prints in your next project.