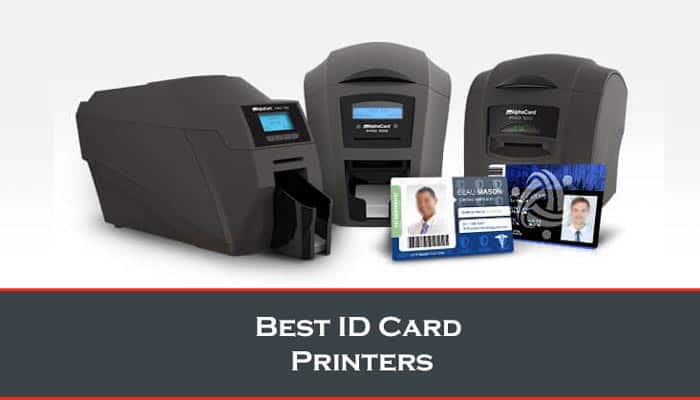 14 Best ID Card Printers of 2023 | Review And Intensive Buying Guide
ID cards have now become the most reliable way of authorization. As a result, printers designated for printing them are growing. The ID card printer is used to make badges and ID cards for a wide variety of applications. In fact, almost all companies that employ the use of IDs usually own an ID card printer. It is a staple at this point.
Gone are the days you order IDs from a specific company. The technology is advanced and cost-effective enough to simply own one. It is also a good way to save costs in the long run. The best id card printing machine will provide you with smooth and professional quality printing, saving time and money.
That's why, in this post, we are going to review the best ID card printers available out there.
Let's get the show on the road.
| Image | Product Name | Our Rating | Price |
| --- | --- | --- | --- |
| | Magicard Pronto ID Card Printer | 5 Out of 5 | |
| | Magicard Enduro 3E | 5 Out of 5 | |
| | Evolis Primacy ID Card Printer | 5 Out of 5 | |
| | Magicard Enduro 3E Dual Sided Printer | 4.5 Out of 5 | |
| | Fargo DTC1250E Plastic Id Card Printer | 4.5 Out of 5 | |
Why Buy An ID Card Printer?
Here, I'll touch upon some benefits of using an ID printer. When you place an order for IDs, you have to go through the motions of scheduling and give specifications, the whole nine yards. And obviously, it's going to cost you a couple of extra bucks.
With a printer, you can pick your designs and execute them by yourself. You don't need to worry about scheduling or extra costs. You are given the luxury to take your time and get IDs you want. Hence, less chance of error. You also save time and have more options when it comes to customizing.
Top 14 Best ID Card Printers Review
While the number of IDs printers out on the market are plenty, you have to weed out the bad ones. Otherwise, you end up with a bad investment. Luckily, I'm here to guide you through our narrowed down list of best ID printers.
1. Magicard Pronto ID Card Printer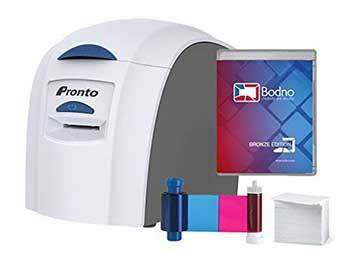 Specifications:
Brand: Bodno
Printing Technology: Dye Sublimation
Card Thickness: 20-40 mil
Input/ Output Hopper: In:1 / Out:1
Printer Speed: 7 Seconds (B&W),  35 Seconds ( Colour)
Print Media: Glossy photo paper
Weight: 9 pounds
This model from the long line of ID printers is unique because of its combination of small size and yet convenient and adaptable features. The setup is quite easy, you just plug it into the power outlet and turn the software interface on. The preloaded software is also pretty easy to use.
However, while the templates provided are easy to implement, adding and customizing new template can be quite confusing. In fact, you might need to hire a graphic designer to get things done. It wouldn't be such a hassle, but the default designs aren't anything special either. You could use the internet to do some rudimentary designs.
The capacity on this device is quite good too. It can do quite a few cards, and in a short amount of time. This makes it suitable for small companies. The investment is small in this, at least comparatively, and the output is good so you could print out about a hundred IDs for your employees.
While the speed of this machine is definitely commendable, I'd like to focus more on its print quality and let me just tell you that it is amazing. The printout is very clean and flawless, without flecks or any peppers spots. It's also very vibrant and clear, especially the fine print.
And, even though it is a single-sided printer, it is adaptable. Just be resourceful. You can make it work just like a double-sided printer simply by flipping it over and printing again. And don't worry, the printed side is totally unaffected and gives you a beautiful double-sided card.
The most interesting thing is: Everything you need to get printing is included, so get started right out of the box! You will get a Magicard Pronto printer, the MA100YMCKO color ribbon and 00 high quality durable white Bodno PVC cards.
Highlighted Features
Setup is easy
Can be used to print both sides manually
Good for a small company Clear print, no flecks
Can print a hundred in one go
2. Magicard Enduro 3E Single-Sided Id Card Printer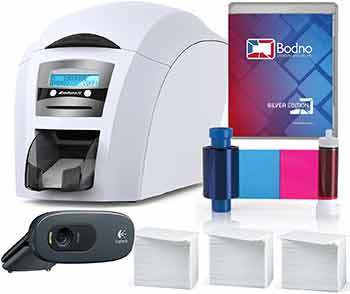 Specifications:
Brand: Magicard
Printing Technology: Dye Sublimation, Thermal
Resolution: 300 x 300 DPI
Max Print speed: 10 Monochrome
Card thickness: 20-40 mil
Dimensions: 17.99 x 7.99 x 9.02 inches
Weight: 12 pounds
If you want an elaborate color print, this is the right ID card printer for you. It's because of its vast range of colors. While many other ID printers can print out colored cards per se, they often have a limited palette to work with. This device has an elaborate palette and intricate software to combine colors effectively.
The effective combination of all the colors gives out a great print quality as well. The colors produced are vibrant and look very attractive. Color printers often have the issue of printing out washed out colors, and these can seem rather drab. This one makes sure the colors stand out, and the ID looks great.
While the print is pretty, it is also very fast. Monochrome prints come out at about seven seconds per card and color cards run at twenty-five seconds a piece. In Layman's terms, very speedy. You could pile on a hundred and bet done in less than an hour, even if they are colored.
The software provided is easy to operate, as well. You can make your own customized design and even play around and experiment until you find the right design for you. The interface is user-friendly, and even someone with minimal computer experience can do complex designs.
There is one limitation that might slow things down, and that is the fact that it can only print out one side at a time. And while you can try printing on the other side, it does have the chance of ruining the printed side. Make sure that enough time has passed between the first and second print to minimize that risk.
Highlighted Features
Vibrant color print
Fast printing
East to operate
Software is user-friendly
3. Evolis Primacy Dual-Sided ID Card Printer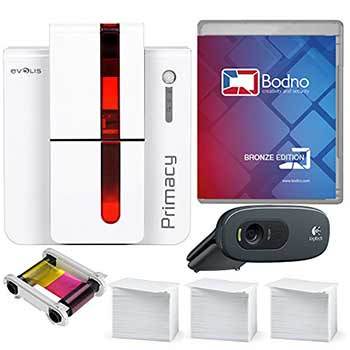 Specifications:
Brand: Bodno
Printing Technology: Dye Sublimation, Thermal
Connectivity Technology: USB
Print media: Card stock
Supplies Included: Color ribbon, 100 PVC cards, Card Imaging design software
Product dimension: 8 x 15 x 10 inches
Weight: 15.92 pounds
Manufactured by Bodno, this model lets you appreciate your very own, freshly printed ID cards whether monochrome or in full color. While the monochrome function and color function are both there, they are separate modes that let you conveniently choose which option you prefer.
One of the reasons that this very well might be the best pvc id card printer is because of its seamless technology. It can print a piece of the card out on both sides. And yes, the whole process is automatic. Edge to edge it is all done in the machine. So, you don't have to worry about doing anything manually.
It's a high performing device and the speed that it boasts definitely shows just that. For all kinds of prints, and for printing both sides, the time it takes is a staggering maximum of eighteen seconds per card. With that, you could print almost a thousand cards in a couple of hours.
The software that it employs is phenomenal as well. It is also very user-friendly. Anyone can effortlessly use it to make customized cards. Not only that, but it is compatible with both Windows and Mac, so whatever one you use, you'll be able to make your own personalized changes and get the ID card you want.
With all of these specs, you'd expect it to be a high capacity device, and you'd be right. It can churn out card after card seamlessly and that also at great speed. And hence it is very suited for a large corporation where the count for cards might reach over a thousand.
Highlighted Features
Has auto double-sided print feature
Fast printing capacity
Works with both Windows and Mac
High capacity Software easy to customize
Can do full color or black on either side
4. Magicard Enduro 3E Dual Sided ID Card Printer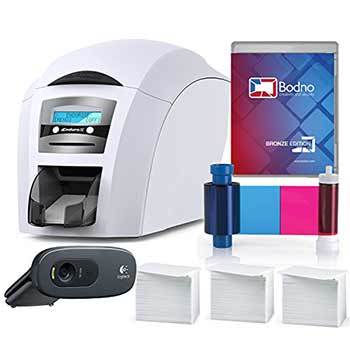 Specifications:
Brand: Magicard
Printing Technology: Dye Sublimation, Thermal
Resolution: 300 dpi
Max Print speed: 7 Monochrome
Card thickness: 20-40 mil
Compatible Devices: PC, Laptops
Scanner Type: Photo
Yet another product from Bodno and this one is somewhat medium in both size and capacity. The setup is easy and simple. You just plug the device in, and it'll run, just like that. It'll take about five minutes tops. Using it is also pretty easy, just press the buttons, as simple as that. Almost anyone can do it pretty easily.
Not only is the setup easy, keeping it running is easy too. No extra maintenance needed. You don't need to get any specialist or anything like that. It'll keep at its job for a long time. Time to time, all you need to do is clean up the machine with a cloth, to get rid of the dust that might collect.
Speed is excellent on this. It can pump out a card every second, and it does so with consistent output rate. That means printing out a couple hundred takes a few hours. While that can be a bother to some, you should know that you can load up to a hundred cards into it and leave it to work.
Just because it is fast, don't scoff at its quality. It pours out some amazing prints. Prints that'll make you marvel. The quality is excellent, and on top of that, the colors come out looking absolutely amazing. You would like to see such bright and beautiful colors.
The more compact size and good output make it good for commercial use. In fact, it might very well be the best ID card printer for small and medium-sized businesses. Usually, the number of cards you might need for those companies are about a couple hundred, so id badge printer is perfect. School and college authorities can use this as a student id card printer.
Highlighted Features
Easy to use
Maintenance is easy
Good for small to medium corporate use
Fast print action
5. Fargo DTC1250E Dual Side Id Card Printer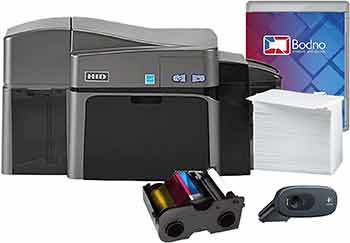 Specifications:
Brand: Bodno
Printing Technology: Dye Sublimation, Thermal
Input/Output Hopper: In: 100 / Out: 30
Card Thickness: 9-40 mil
Field Upgrades: Dual Sided
Connection: USB
Print speed: 6 seconds (Monochrome) and 16 seconds full color
Recommended Uses For Product: Office
This is yet another double sided ID printer from Bodno, and this one carves its niche in the marketplace with its extremely high printing speed. It can put out a card every sixteen seconds. Only sixteen. That means you get four a minute and almost a quarter of a thousand in an hour.
As I mentioned before, it is double sided, and as such, you need not risk putting in a printed card in. While some plastic card printers do print both sides manually quite well, the cost you have to put out is time. With this, both sides of the card are printed automatically, so all you really have to do is input the software.
The setup, again, as with other Bodno ID printers is easy and anyone with an even rudimentary knowledge of hardware can set everything up perfectly. Using it is just as simple as it uses user-friendly controls that are only as complicated as they need to be. Perfect for an office setup.
It is programmed with a very easy to use the software. The interface, comprising of the menu and options are quite easy to comprehend. This lets you easily alter and modify different templates and design different patterns and marks for your customized plastic id card.
There is a little bit of nitpicking that I have to mention. It isn't compatible with the Mac operating system. While this might seem like a minor issue, many of the customers in this market, perhaps even yourself are a user of Apple products. Not everyone has a spare Windows device lying around so it can be a problem.
Highlighted Features
Fast printing, only sixteen seconds per card
Prints both sides
Setup is simple
Easy to use software
User-friendly interface
6. Evolis Zenius Single Side ID Card Printer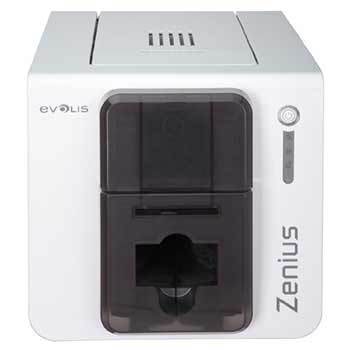 Specifications:
Brand: Evolis
Print Technology : Direct-to-card dye-sublimation, Resin thermal transfer
Connectivity Technology:  USB, Ethernet (on the Expert version)
Print media: Card stock
Supplies Included: Color ribbon, 100 PVC cards, Card Imaging design software
Product dimension: 8 x 15 x 10 inches
Weight: 15.92 pounds
Card Lifespan: 1 to 3 years
While a more compact version, don't underestimate the model by Evolis. It isn't something to scoff at. While unable to dish out printed cards like many of the powerhouses above, it can provide a humble output. And for a small scale project, it is perfect.
The device is meant for small businesses, but it can also be a home device. It is the best ID printer for fake IDs, and no, not for anything shady! I mean, fake IDs for costumes and apparel for plays and such.
If you run a stage play, this might be for you. There are endless possibilities- fun pranks, or halloween costumes, so much more.
And again, don't think it can't do a good job. The printed out ID cards are just as beautiful and bright as those that come from fancy double-sided printers. The smaller prints come out without a single smudge, and all the letters printed are clearly legible.
Some complaints that do come from consumers is that the ribbon for the id card maker machine isn't included in this set. And yes, I do admit that that is a glaring flaw. However, any ribbon can fit on it. That does give you the option to pick the one you like. It depends on how you look at it.
I wouldn't call this last one a flaw, rather a sort of disadvantage, or rather the lack of an advantage. It has the same old "one side only" issue like most of the other lower end ID printers.
You can still run the risk and flip it over but remember what could happen. Wait until you're sure that one side is dry before you do the other.
Highlighted Features
Suitable for home use
Ideal for small scale projects
Prints good quality cards
Inexpensive
7. Alphacard Pilot ID Printer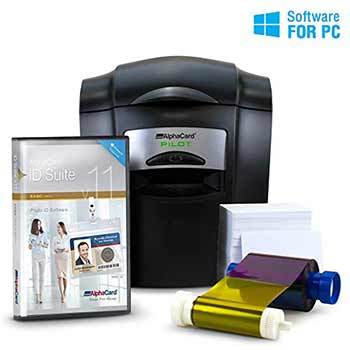 Specifications:
Brand: AlphaCard
Printing Technology: Dye Sublimation printing process with hologram-like watermarks for extra security.
Connectivity Technology: USB
Print media: Glossy photo paper
Supplies Included: Color ribbon, 100 PVC cards, Card Imaging design software
Print Speed: 7 ppm
Weight: 15.92 pounds
Sheet Size: 3×5
Alphacard, while having a few items on the market, has a pretty solid product in this device. It is fast, quite fast actually as it can print out one colored card every thirty-five seconds. And its monochrome printing speed is phenomenal, with a card every seven seconds giving it the fastest print rate here.
The monochrome and color functions are separate. That's the secret to its fast printing speed. If they're mixed into one function, the time taken is the same regardless. While that can be easier on the manufacturer, it does cut out the time that could be saved if one opted for a monochrome print.
This plastic card printer is single sided and thus prints only one side of the card at a time. However, that shouldn't stop you. It can reliably print the other side too if you flip it over. So, while it is a bit cumbersome to flip it manually, you get your dual sided print at the price of a single-sided printer.
Setting the machine up is simply common sense, and you can get it done pretty easily and with little time. You just make sure that the USB port is connected to your computer correctly. Using it is super easy too, and you'll feel like a pro designing and customizing the ID pattern that you want.
The software is also pretty easy to get the hang of, and the preset templates are fun to experiment with. There are limits to using the free version, however. The better and more intricate features come in a premium software pack, a pack that many of the consumers think is too expensive.
Highlighted Features
Fast monochrome print
Can be flipped to print both sides
Setting up is simple
Compact device
8. Fargo DTC4500E Dual Side ID Card Printer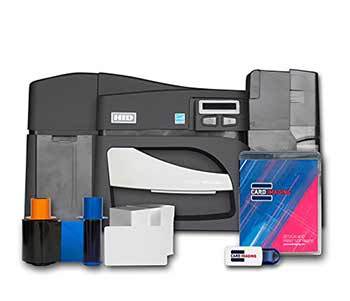 Specifications
Brand: Fargo
Printer Technology: Dye Sublimation, Thermal
Printer Speed: Color: 4, Monochrome: 10
Print media: Card stock
Print Quality: 300 DPI
Connections: USB and Ethernet
𝗦𝗨𝗣𝗣𝗟𝗜𝗘𝗦 𝗜𝗡𝗖𝗟𝗨𝗗𝗘𝗗: Color ribbon (500 images), 100 PVC cards, Card Imaging design software
This model has unique merit in that it can print pictures very well. It is particularly important for ID cards as they usually have a photo of their respective wearer. The photos come out very bright and vibrant, and the quality and definition of it are very high. The details are sharp with no smudges.
One other thing that this device excels at is printing barcodes. Now barcodes need to be absolutely exact to actually be scannable. You can't blur in one with the other. Luckily this machine has you covered. The codes it prints are discrete, and you can make out every other thing very clearly.
This is most likely the best inkjet printer for PVC ID printing. The chief reason is that it works really well on PVC cards. The ink sprayed by the nozzle inside has excellent adhesion to the card, so there is no chance of smudging or smearing happening. You can rub the card to see for yourself.
The identification card printer has a simple design, and you don't need a manual to get it going.  Setting it up isn't exactly rocket science. Pretty much anyone can do it. Plug in the power and the USB for the program to function, and you're done. The software is also easy to customize and work with.
Maintaining this small, nifty device isn't a big deal either. You don't have to open up any parts or get a mechanic or anything. All you have to do is occasionally clear out some dust that might accumulate from prolonged use. Use a dry cloth. That's about all the maintenance you need.
Highlighted Features
Prints images well
Prints barcodes
Easy maintenance
Setting up the device is simple
Suitable for small businesses
9. Badgy100 Color Plastic ID Card Printer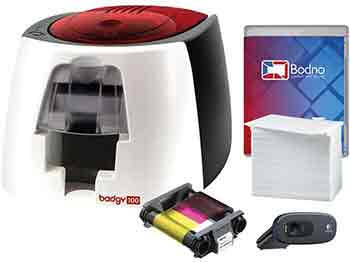 Specifications
Brand: Bodno
Printer Technology: Dye Sublimation / Thermal Transfer
Printer Speed: Color YMCKO Print Speed: 80 Cards/HourMonochrome Print Speed: 180 Cards/Hour
Print media: Glossy photo paper
Print Quality: 300 DPI
Connections: USB and Ethernet
An ID card printer does not always have to be expensive. You can get ones that are affordable but work great as well. You just have to look for them a bit. The first product on our list is a printer that can print a color badge in just under 38 seconds and is reasonably priced!
Whether you're a beginner or a pro, you can use this printer with ease. The Bondo Bronze Software is easy to learn even if you don't have any prior experience.
The software comes with pre-made templates that you can drag and drop images into to make an ID card.
With the ease of use and affordability, this truly is the best id card printer for small businesses.
Highlighted Features 
Bondo bronze software has pre-made templates
Recommended for both professional and beginner users
Can print a colored badge in under 38 seconds
Compatibles with cameras
10. Fargo DTC1250e Single-Sided ID Card Printer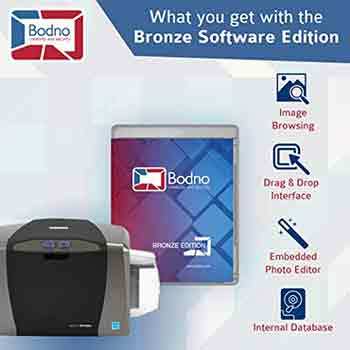 Specifications
Brand: Fargo
Printer Technology: Dye Sublimation / Thermal Transfer
Printer Speed: Color: 6, Monochrome: 16
Print media: Glossy photo paper
Card Thickness: 9-40 mil
Input/Output Hopper: In: 100 / Out: 30
Connections: USB and Ethernet
Weight: 7.5 lbs
𝗦𝗨𝗣𝗣𝗟𝗜𝗘𝗦 𝗜𝗡𝗖𝗟𝗨𝗗𝗘𝗗: 251 PVC CARDS , BRONZE EDITION SOFTWARE,
Looking for a kit that includes everything you need for printing ID cards? You can give this printer from Zebra a shot.
The kit comes with all that you need for a successful and smooth ID card printing session. You get a Fargo 45000 full-color ribbon and 300 white Bondo PVC included with the printer.
During printing, the machine ensures that the cards don't get bent. This is the Best plastic id card printer for you if durability and the overall finish are a priority to you.
You only need a few seconds to get a hold of the machine. It's very easy to use. The software allows you to make edits and add photos to the template as you wish.
Highlighted Features 
Comes with 300 white Bondo, high quality, PVC cards
Full Fargo 45000 color ribbon included with the printer
Connects to devices using the USB port
Thermal, dye sublimation printing technology ensures professional-grade prints
Great for printing on PVC or plastic cards
11. Zebra ZC100 LT ID Card Printer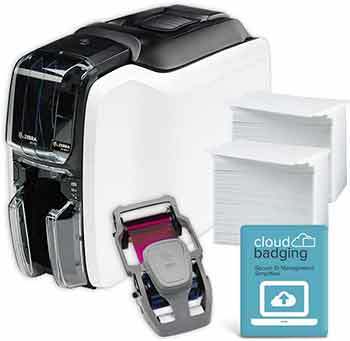 Specifications
Brand: ZEBRA
Printer Technology: Dye Sublimation, Thermal
Printer Speed: 145 cards an hour
Print media: Card stock
Print Quality: 300 DPI
Connections: USB and Ethernet
𝗦𝗨𝗣𝗣𝗟𝗜𝗘𝗦 𝗜𝗡𝗖𝗟𝗨𝗗𝗘𝗗: 200 Print full color ribbon (200 Prints), blank PVC cards, & software
A card printer is not something that you will use regularly. It can be annoying if the printer takes up too much space on your table.
You need a printer like the Zebra ZC100. It does not take up much storage space; you won't even notice that it's there. With a professional design, the printer does not look too out of place in an office environment either.
The easy-to-use program allows you to use the printer right away. Setting up the device will take you just a few seconds.
Using the dye sublimation method, the printer ensures high resolution and vibrancy. Pictures are kept as close to the source file as possible.
Highlighted Features
Easy printer to device connection using USB
200 blank PVC cards available with the purchase
Drag and drop features added for ease of editing
Cloning tool allows faster printing
Can print badges that are 5.5″ x 3.46″
12. Fargo HDP5000 Dual Side High Definition ID Card Printer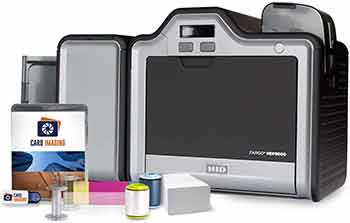 Specifications
Brand: Card Imaging
Printer Technology: Dye Sublimation, Thermal
Printer Speed: 145 cards an hour
Print media: Card stock
Mag Stripe Encoder: Programmed for granting access, making payments etc
Connections: USB and Ethernet
𝗦𝗨𝗣𝗣𝗟𝗜𝗘𝗦 𝗜𝗡𝗖𝗟𝗨𝗗𝗘𝗗:  YMCK Color ribbon, Transfer film, Card Imaging design software, 100 PVC cards
Most Id cards that we see have pints on both sides. Getting a printer like the Fargo HDP5000 will make your job of printing on both sides easier.
It offers automatic dual side printing, so you don't have to manually change the card to get the prints!
Also, the edge-to-edge printing features give you professional-grade ID cards printed in under a minute. No need to reshape or cut off the edges of the card when you're using this printer!
Offering enhanced card durability, this is truly the best dual sided ID card printer. Included in the set, you get transfer films, 100 PVC cards, and a YMCK color ribbon as well. The card image design software is easy to use and quite fast as well.
Highlighted Features
Offers automatic dual side printing
Does not keep white borders on the prints
Offers enhanced card durability
Edge to edge printing ensures better quality ID card prints
Can be used to print MAG-Stripe encoder cards
13. ID Zone 31S Badge Express ID Card Printer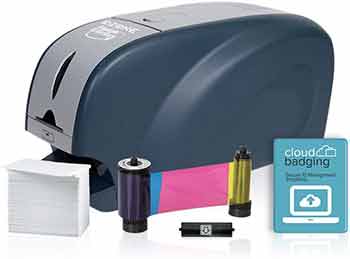 Specifications
Brand: ID Zone
Printer Technology: Dye Sublimation
Printer Speed: 23 seconds per card
Print media: Card stock
Card Thickness Accepted: 15-30 mil
Card Size Accepted: CR8030
Input Hopper Size: 80 cards
Connections: USB and Ethernet
𝗦𝗨𝗣𝗣𝗟𝗜𝗘𝗦 𝗜𝗡𝗖𝗟𝗨𝗗𝗘𝗗:  Card Imaging design software, 100 PVC cards
If you are looking for an ID card printer for the office, you need to look for one that is versatile. The ID zone 31S can be a great office ID card printer.
This unit can be used with a lot of different kinds of card stock. Therefore, the printer can be used to print ID security cards and even membership cards.
The CloudBadging software can be used for faster Id card designing. Cloud-based software makes the task easier and more efficient.
Other benefits that you can get from this printer are larger storage capacity and fast speed.
If you are a beginner, we would highly suggest this printer as it's affordable as well.
Highlighted Features
Can be used for different kinds of card stock
Cloudbadging software makes designing easier
Offers larger storage capacity
Speed of 156 full-color one-sided prints per hour
300 DPI resolution
13. Datacard SD160 ID Card Printer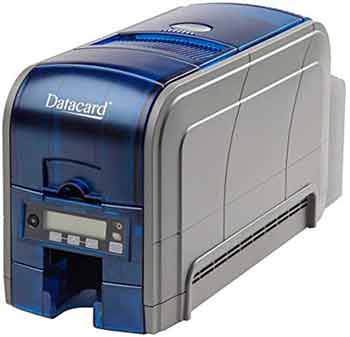 Specifications
Brand: Datacard
Printer Technology: Dye Sublimation
Printer Speed: 80.00
Print media: Card stock
Card Thickness Accepted: 10 -37 mil
Connections: USB and Ethernet
𝗦𝗨𝗣𝗣𝗟𝗜𝗘𝗦 𝗜𝗡𝗖𝗟𝗨𝗗𝗘𝗗:  N/A
One thing that is quite important to check before you invest in a printer is the resolution. This printer from Datacard has a resolution of 300 x 300 DPI which ensures image vibrancy and clarity.
You can connect the printer to your computer using an Ethernet or a USB connection in just a few seconds.
Installing and setting up the printer is also quite easy. The unit rarely ever jams. So you can get the cards printed quickly without much hassle.
It has a thermal and dye sublimation printing technology for good quality prints, even on PVC cards. This is the best PVC ID card printer to get as it does not bend the cards during printing.
Highlighted Features
Has thermal and dye-sublimation printing technology
300 x 300 DPI image resolution
Can be used with Adobe software
Can print on HD0009p proxy cards if needed
Your Definitive Buying Guide For Id Card Printer
Now that I've enlisted quite a few potential buys, let's talk about the ID printer features. Here, we'll talk about the factors that you need to take into account before purchasing an ID card printer machine.
Print Capacity
You should have a basic idea of the number of cards you will be required to print. This depends on the kind of organization you're working with.
If you run a small business, or simply want to use it at home, get something that prints out a couple of hundred cards. For bigger companies, you could get a higher capacity device.
Appearance and Design
When it comes to appearance, there are a couple of sub-categories to those from.
Single or dual side print
This is definitely something that can influence your decision. The single side print needs to be flipped over and printed again. It takes time, though. With an auto flip, it's faster, but those types are more expensive.
This should speak for itself. Typically, most cards are color, but if you want to save a couple of bucks and some time, go for a monochrome print, as they are often cheaper and faster.
Speed
Speed should be self-explanatory, but you should know that the speedier ones are often expensive. So, aim for one if you can manage it.
Software
The built-in software must be of top-notch quality and easy to use. There's no point in getting a printer with complex software as it will eat up your time. On the other hand, an easy to use software can make things a far lot easier for you. Keep in mind that the software should let you customize your own templates.
Otherwise, you'll be limited and won't be able to get the best out of the device. Also, if the device has the option to connect with wi-fi, then it would be amazing. However, a USB 2.0 port would also do the trick.
Id Card Printer Type
What Type of Printer is Used for ID Cards? There are 2 main types of ID card printers: Direct-to-card printers and retransfer printers.
Direct-to-card printers print the text and images onto the plastic card itself. These printers do not print all the way to the card's edge, and thus leave a small, visible margin around the edge of the card.Retransfer printers transfer an image from a roll of film onto a blank sheet of paper or transparent material (such as PET film). The retransferred image is then cut out to make individual cards. This process leaves no margins at all on either side.
Technology
You may ask what type of technology is used to transfer the images on the cards. For this task, either DTC or reverse transfer technology is employed. Though you can print cards with DTC efficiently and fast, they create a small border around the image.
However, it's not the case with the reverse transfer as it can transfer the images without creating a border. Print quality is quite impressive as well.However, it works a bit slower than DTC technology. So, if you don't have any issues with spending a few extra minutes, then the reverse transfer can be a good option for you.
Encoding
If you wanna ensure security 100%, you will need encoded cards. So, if your work involves security risk, then you should get a printer that can print encoded cards. They may be a bit expensive, but they are certainly worth the money for best id badge printer.
Benefits of Using ID Card Printers 
Using an in house printer comes with several benefits that we have listed below:
Convenience
The strength of a company is determined by how self-sufficient it is.
Buying an ID card printer will give the company such strength.
An ID card is something that a company regularly needs to make. Some companies are constantly hiring employees or they have a policy that an ID card has to be renewed every year. For them, buying an ID card printer will be a great decision. This will help them make ID cards whenever they want.
Eliminated Third Party
Companies usually have to depend on other companies for printing ID cards. Some companies even hire individual employees who will deal with these third parties because the whole process is a hassle.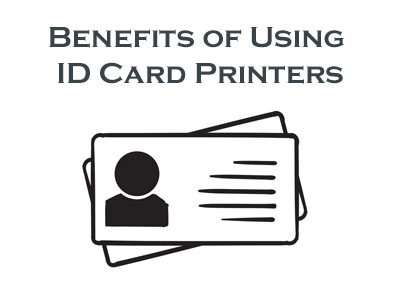 These parties can create a problem for the company if they delay their delivery date. If a third-party Id card printing company delays the date of delivery, it will be a very big problem for your employees.
This simple delay can completely change the image and efficiency of your company. Therefore eliminating these third parties by investing in an ID card printer is the better route for the company.
Cost
A company always needs to keep its expenses in check. They always try to minimize their expenses.
If a company hires a third party for their ID card prints, they will keep a profit for themselves, for which they will charge more from the company.
Now if the company buys an ID printer, the company will not require a third party to do make ID cards. So the charge for making ID cards will be less since they do not have to pay the extra profit to the third party.
Safety 
This is the most important point of all. The company's most valuable asset is data. When it involves a third party to make its ID cards, it is sharing data. This data can easily be leaked or stolen through a third party. The third-party company can also make duplicates of the ID cards codes and get access to the offices.
Useful Tips for Taking Care of ID Card Printers 
You must take good care of your printer. If you maintain your printer properly it will give you better performance. Here are some tips to maintain your printer:
Follow the Manual
Any electronic you buy comes with an instruction manual. This is true for printers as well. When you open the printer box, you will find an instruction manual that will entail all the details of the printer, including its usage.
The manual will tell you what you should or should not do with the printer. So reading and following the manual is very important for you.
Sometimes people do not read the instruction manual since they believe they are already familiar with the kind of product. Eventually, they end up using the product in the wrong way, which reduces the lifetime of the product
Use the Recommended Parts
The company manufactured the product to be used with certain parts. These are known as company-recommended parts.
The reason company recommends this part is because the product will give optimum performance if you use these parts. However, some users do not give much importance to this factor. They use cheap inferior quality parts, which in turn ruin the whole thing.
The case stands for printers as well. When you use a printer, there will be times when you need to change certain parts. At that time, always go for the company-recommended parts regardless of the price.
Even if the price is a bit high, you can trust that it will not damage your printer. You can go for cheap alternatives; however, as we have mentioned before, it will not serve you well.
Saving a few bucks here might result in you having to buy a whole new printer.
Cleaning
This goes without saying that dirt is not good for electronics. You will notice that even if you keep electronic items indoors, it collects a lot of dirt. You will be amazed how dirty your computer gets if you do clean it for a week. This dirt can disrupt the flow of electricity within the electronics and create a lot of problems.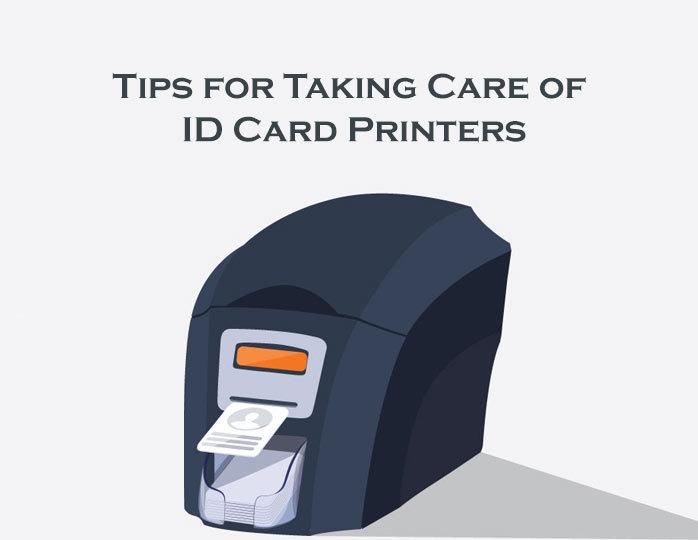 A good example of this is chargers, you will notice if your charger is old, it might malfunction. Then when you open the USB cable and clean it properly become as good as new. Printers are also like that. You need to properly clean it on a regular basis.
We recommend that you do not wait for it to malfunction. Because then, if you need an ID card urgently, the printer will slow you down.
Apart from the dirt, spilled ink might also create a problem. That is why cleaning your printer is very important. It will fasten up the printing process, and you will have a longer lifetime.
Ink Quality
The printer needs to process the ink to print it on a card. This is much smoother if you use good quality ink.
Bad quality ink will affect the condition of your printer. Always use the company-recommended ink to keep your printer in good health.
Frequently Asked Questions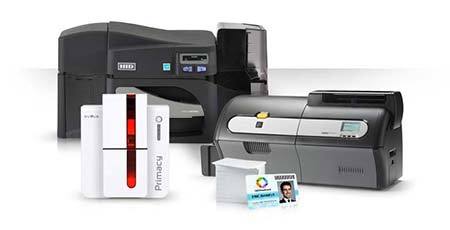 How Many Types of ID Card Can You Print?
While there are many types, PVC and magnetic cards are mainly the ones that are used. For laminated cards, you have to have the paper card printed first.
How to Program HID Proximity Card?
You have to find the correct format to work with, and you have to choose the correct programming information. Then you code it with the correct programming format.
How to Make Your ID Cards Last Longer?
Use them with care. Make sure you don't rub against them or anything like that.
What is the best ID maker machine?
The best ID maker machine is the Magicard Pronto ID Card Printer. With this special machine can make photo IDs, membership IDs, fake ids and loyalty cards as well.
How to Load New Ribbon?
You have to disable the locking system and pull out the old ribbon. Put the new one inside and lock it in.
How to Read Printer Ribbon Names?
Monochrome ribbons are usually of one color. Colored ribbons have the respective streaks on them.
What is the Best id Printer for Fake ids ?
Already, We have provided you with the basic but essential information you'll need to choose the best id printer for fake ids. Anyway, if you already forgot it, Evolis Zenius ID Card Printer is in number one position for your purpose. Go and get it. Cheers !
Final Verdict
Any electronic items you buy nowadays require a looking around. The whole process can get a bit overwhelming and tiresome, especially when it's something a common as a printer.
Luckily here we have compiled all the things you need to know about an ID card printer and its maintenance. We have even listed the top ones, so you don't have to surf through thousands of printers to find the best ID card printers for your needs.
So without any further delay, choose the printer you like and make your ID cards in seconds!