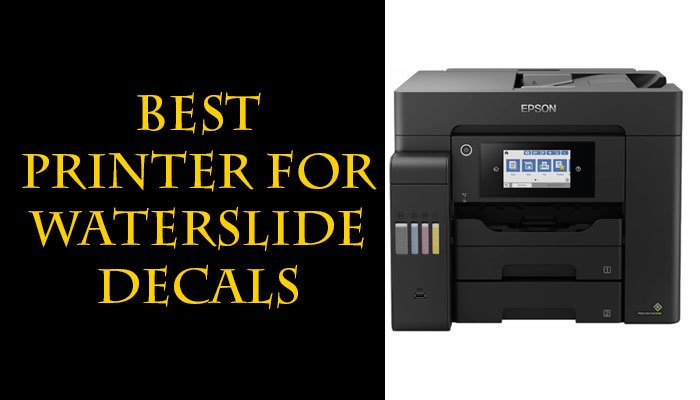 Best Printer for Waterslide Decals- Reviews and Buyers Guide
Waterslide decals are a fantastic way to transfer graphics on mugs, glasses, and tumblers.
However, the soul of a waterslide decal can often be lost due to a poor printer. An ordinary printer has a high probability of ruining an image's design. Again, it may not furnish the details and spread of colors. Your craft project will eventually be useless.
A high-quality water slide decal printer is the most important requirement for starting a DIY project to address the concerns. As a result, we've tried to find the best printer for waterslide decals that is both economical and excellent.
Continue reading until you find the perfect option for you.
| Image | Product Name | Our Rating | Price |
| --- | --- | --- | --- |
| | Canon Pixma MG3620 Inkjet Printer | | |
| | HP OfficeJet 5255 Wireless | | |
| | Epson EcoTank ET-2750 | | |
| | Canon Pixma Pro-100 | | |
| | HP Color LaserJet Pro | | |
What Exactly Is The Waterslide Decal And Its Use?
It may be defined as specially designed ultrathin transfer film that holds an adhesive backing sheet. The only way to activate the sheet is to bring it into contact with water. These transfer films are used to secure images, texts, and prints into smooth surfaces.
It is exhilarating to work with waterslide decals. First, you soak the paper in water. As soon as it is wet, the backing sheet slides off slightly to let you press the decal on a hard surface. Then, gently pull out the sheet and stick the design easily.
The sheet activates by contact with water, hence named waterslide decal papers. The four essential layers of these papers are:
The carrier layer

Glucose adhesive layer

Dextrose corn sugar layer

The backing stock layer
We can find numerous printer models in the market.Several models of these papers vary from opaque, translucent clear to matte paper. Two primary sorts of them are Clear and White. Clear decals are transparent and see-through papers.
They suit best for white or light-colored items. In contrast, white decals have a white background. And, they go well with darker or non-white surfaces.
These modern papers are worthwhile for crafts, arts, and DIY. Using this craft technique, you can give your dull, boring mugs a crispy look.
Waterslide decals can be transferred to any model, including glass, metal, wood, plastic, and mylar. Mugs, wine glasses, and tumblers are the most familiar pieces to do this craft.
Best Printer For Waterslide Decals: Reviews
We can find numerous printer models in the market. Below, we have compiled a list of top-rated printers for waterslide decal. So, Let's get started right away!
1. Canon Pixma MG3620 Inkjet Printer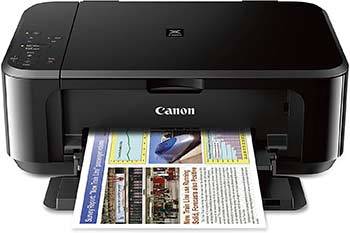 Printing Technology: Inkjet
Print Speed: 9.9 IPM (black); 5.7 IPM (color)
Print Resolution: 600 x 600 DPI (black);4800 x 1200 DPI (color)
Connectivity Technology: Wi-Fi
Functions: Print, scan, copy
Do you think a waterslide decal printer is costly and would only be a dream for you? Let's make your dream come true with the Canon MG3620, the lowest price on this list.
Now, you may start to think it is a cheap and useless product, but its specifications are worthy of raising eyebrows. A unique feature is its quiet mode, which offers a noise-free experience that helps protect concentration.
This printer delivers a wide range of resolutions. It works at 600×600 DPI (B/W) and 4800×1200 DPI (Color) for printing and copying. Plus, scanning resolution is relatively high (1200×2400 DPI).
Again, the printing speed is entirely satisfactory. You can effortlessly print pages at a speed of a maximum of 9.9 IPM (B/W) and 5.7 IPM for color prints.
This device is compatible with NFC, Mopria, AirPrint, and Google Cloud Print. You can do your job sitting anywhere and using any of these apps. Likewise, the Canon PRINT app adds convenience in printing and scanning documents directly from smartphones.
Another attractive feature would be; borderless photo printing. It enables you to merge several smaller images and create a big one. This multifunctional printer holds an Energy-Star certification. In a nutshell, this is a cheap printer for waterslide decals that suffice DIY needs.
Pros:
Special quiet mode offers noise-free operation
Versatile resolution
Impressive borderless photo printing feature
Saves energy as promised by Energy-Star certification
Compact design; space-savvy
Cons:
Connectivity can be improved
Tech support is not satisfactory
2. Hp Officejet 5255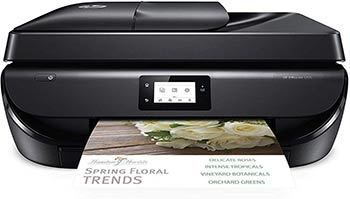 Printing Technology: Inkjet
Print Speed: 10 PPM (black); 7 PPM (color)
Print Resolution: 4800 x 1200 DPI (color); 1200 x 1200 DPI (black)
Functions: Print, scan, copy, fax
Like the first piece, we are back with another low-budget yet premium quality printer, Hp Officejet 5255. Not only does this device top in printing, but also it can scan, copy, and fax at a fast speed. Therefore, this machine is best for people searching for versatility in a single device.
Next, we find this device comes with an auto document feeder. And, this ADF contains as much as 35 sheets per turn. Plus, you will not need to handle double-sided printing manually, thanks to its auto-duplexing feature.
Furthermore, a companion app known as Hp Smart adds extra comfort. Using this app, you can print photos as well as images directly from social media and the cloud.
Moreover, this color printer supports a wide range of paper sizes. Whether you use letter, legal, or No. ten envelopes, this printer delivers fine and smooth print.
Similarly, it offers an excellent resolution. 1200×1200 DPI for colorless text-based prints. And, it stands up to 4800×1200 DPI in the case of colored images.
Finally, this printer is very lightweight, and its elegant design will impress you to make a purchase right now!
Pros:
Overall good printing quality
Low price
35-sheet ADF and auto-duplex
Lightweight and compact design
Exceptional Hp smart app
Cons:
Printing speed is slow
Hp ink is expensive for those who use a lot of inks
3. Epson Ecotank ET-2750 Printer with Scanner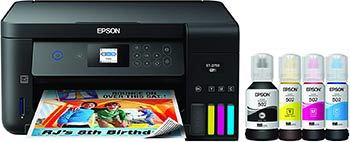 Printing Technology: Inkjet
Print Speed: 10.21ppm
Print Resolution: 5760 x 1440 dpi
Functions: Print, Scan, Copy
If you want a high-resolution print for a waterslide decal, opt for Epson ET-2750. It can satisfy you with clear, detailed, professional printouts working at 5760×1440 DPI.
Interestingly, this printer uses a large ink tank instead of ink cartridges. Even more, this printer primarily comes with ink that may last even two years, thus saving money. These vast amounts of inks can perform the job for 6000 (B/W) papers or 5200 color papers, equivalent to 30 ink cartridges.
Moreover, this printer supports different paper types, including plain paper, levels, and envelopes.
Though it uses 30 sheets ADF for copying, it lacks this feature for scanning. It may disappoint some customers. Plus, printing is a little bit slow. But, these issues could not be a deal-breaker if you're using this device at home.
Once you start using this printer, you can print, copy, scan seamlessly. And you have to look at the price too.
Pros:
Large ink tank substitutes ink cartridges
Contain enough ink to print enormous pages once refilled
RoHS compliant
Perfect size touchscreen display
Reduce costs through using its inexpensive ink refill bottles
Cons:
Epson ink sometimes becomes dull
Non-Epson ink usage may lead to damage
4. Canon Pixma Pro-100 Inkjet Printer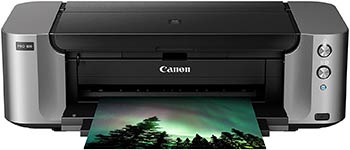 Printing Technology: Inkjet
Print Speed: 20ppm
Print Resolution: 4800 x 2400 dpi
Functions: Wireless Printing
Canon Pixma Pro-100 is a high-end professional printer, best for commercial usage. Eye-catchy features made it outstanding at the same time a little bit expensive.
A unique feature for which this printer stands out from the rest is, using eight individual dye inks. As a result, this device can print vibrant, vivid images like a pro. Hardly you may find any difference between the print and your captured image! Plus, 4800×2400 DPI is an incredible resolution. Both the Fine Technology and high-resolution guarantees pro prints.
Huge 150 sheet paper capacity surprisingly reduces refilling tasks. And, save you from extra hassle! Besides, there lies a manual feed at the back. You can load thicker papers through it.
Though this inkjet printer looks like a bulky instrument, it does well as the top-notch printer for waterslide decals, especially in offices.
Pros:
Uses eight individual ink systems to offer the best quality
Compatible with a wide variety of paper up to 13″ ×19″ size
It comes with a rear tray
150 sheet paper capacity
Supports CD and DVD printing
Cons:
Professional help may be needed for proper setup
Some complaint about connectivity issues
5. Hp Laserjet Pro M479FDW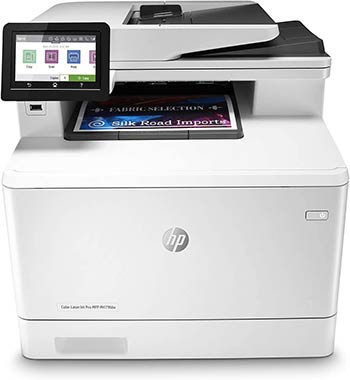 Printing Technology: Laser
Print Speed: 28 ppm
Print Resolution: 4800 x 2400 dpi
Functions: Printing, Scanner, photocopier
Now, let's talk about another Hp choice. It is Hp Laserjet Pro M479. Exceptional print quality and printing speed made it envious in the industry. Thus, it is unbeatable regarding the best laser printer for waterslide decals.
This printer can boost the productivity of your business through breakneck printing speed, 28 ppm. Plus, 50 sheet ADF, 250 sheet input tray aids in fast performance.
Though it can print rapidly, it doesn't compromise quality. Moreover, a massive monthly volume of 4000 pages capacity delivers as many decals as you want in an office.
It can be connected via Wi-Fi or Ethernet. Even when these connections are not available, you can still print through WiFi Direct.
This business printer protects your company data against cyberattacks with built-in protection in printer hardware, firmware, and OS. Furthermore, this printer is environmentally friendly and saves about 18% energy over prior products.
These series of stunning features made this printer an exceptional unit. Finally, we can recommend this printer to make awesome waterslide decals.
Pros:
Fast printing of 28 ppm
4.3-inch touch screen for easy navigation
High efficiency and monthly volume
One year warranty
Cons:
Build quality is not excellent
6. Canon 2986COO2 Pixma TS6220 Photo Printer with Scanner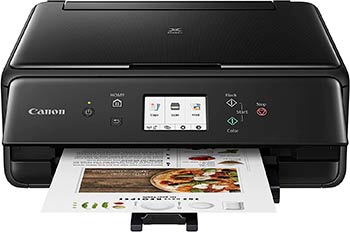 Printing Technology: Inkjet
Print Speed : 15 PPM (black); 10 PPM (color)
Print Resolution : 4800 x 1200 DPI
Functions : Print, scan, copy
This budget-friendly printer excels at many features compared to expensive products. Ideal for home and small office uses.
First and foremost, this printer is committed to offering the best quality images. For this, it uses five individual ink cartridges. Printing resolution is also admirable, which counts to 4800×1200 DPI in number. Also, it is pretty fast and helps you save money through the Dash Replenishment program.
Next to the sequence is, this printer is compatible with Alexa. That means this printer can answer your voice command. Inconceivable, right?
Furthermore, this printer also prioritizes user convenience. So, it comes with a three-inch LCD screen. You can easily monitor ink level and image quality through this digital window. In addition to it, this unit comes with IFTTT (If This Then That) support. It protects you from any significant problems.
Lastly, there are several options to connect here. You may use wireless or Bluetooth connectivity. A traditional USB port is an alternative. These choices enable you to take advantage of this device.
Pros:
Five individual color cartridges for premium quality images
3 inches LCD touchscreen to monitor ink level
Allows voice-activated printing
Optimum resolution to print any decals
Automatic on/off
Cons:
7. Canon TS9120 Wireless Printer with Scanner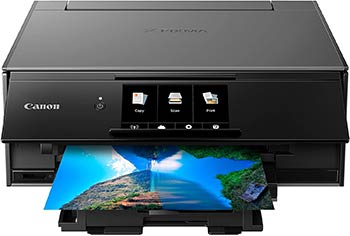 Printing Technology: Inkjet
Speed: Black: 15 ppm Color: 10 ppm
Print Resolution: 4800 x 1200 dpi
Functions: Wireless Printing, Scanner
Again, it's Canon! Because Canon TS9120 is an all-rounder to meet all demands of your work. You get superior quality images as they use six individual ink systems.
It is easy to use as you can get prints sitting anywhere in the room without connecting a wire. Comprehensive connectivity options range from Bluetooth to Wi-Fi, Cloud, USB even Ethernet. Moreover, we like their companion App- Canon Print.
Other impressive characteristics are- 5.0 inch LCD screen, auto-duplexing, high resolution (4800×1200 DPI). Plus, an additional memory card slot made it a great choice in this industry.
Finally, you can add effects to images to decorate them before printing. So, if you want to have fun with decal printing, switch to Canon TS9120.
Pros:
It comes with a fantastic 5-inch touchscreen for easy navigation
Approve voice-printing
Allows Auto-duplex printing
Uses six individual ink systems to print superior quality
It comes with a memory card slot
Features two input trays to improve efficiency
Cons:
Bulky size- 14.6 pounds
Not suitable for large offices
Lacks ADF
8. Epson Workforce WF 7710 Wide-format Inkjet Printer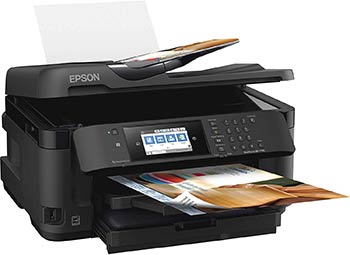 Printing Technology: Inkjet
Speed : 10 PPM (color); 18 PPM (black)
Print Resolution : 4800 x 2400 DPI
Functions : Print, scan, copy, fax
We end our list of the eight best printers for waterslide decals with Epson Workforce 7710. Epson makes one of the best laser printer for waterslide decals. And this All-in-one printer can effortlessly print, scan, copy and fax. Indeed, this device is embedded with great features.
If your concern is about printing speed and resolution, it exceeds your expectations. A resolution of 4800×2400 DPI will create detailed prints. Again, its printing speed is 10 and 15 ppm for color and black images, respectively. On top of it, the machine is furnished with 4x DURABrite Ultra ink cartridges to ensure vibrant images.
This is a robust printer to take a load of 20,000 prints per month. But, we recommend 1300 pages which is also a considerable amount to meet your needs.
However, attractive characteristics are still alive. This is energy STAR certified, so expect to use 80% less energy than regular color laser printers which makes it one of the best color laser printer for waterslide decals.
By the way, with all these outstanding characteristics, this printer sheds pocket. But, you can't complain about the high price as it made printing decals a breeze.
Pros:
Gigantic capacity to print 20,000 pages in a month
Five persons can use it at a time
Energy-efficient
Low maintenance cost
It comes with an NFC feature
Cons:
Not a cheap printer for waterslide decals
Waterslide Decal Printers Comparison Chart
| Product Name | Specialty | Resolution (DPI) | Functions | Speed (Black) |
| --- | --- | --- | --- | --- |
| Canon Pixma MG3620 | Best Small Scale Printer | 4800×1200 | Print, scan, copy | 10-15 ppm |
| Hp Officejet 5255 | Low price with good Quality | 1200×1200 | Print, scan, copy, fax | 7ppm |
| Epson Ecotank ET-2750 | Lowest Overall Cost | 5760 x 1440 | Print, scan, copy | 5ppm |
| Canon Pixma Pro-100 | Quality long lasting photos | 4800 x 2400 | Print only | 20ppm |
| Hp Laserjet Pro M479FDW | Fast printing | 600×600 | Print, scan, copy and fax | 28ppm |
| Canon Pixma TS6220 | Most Affordable | 4800×1200 | Print, scan, copy | 15 ppm |
| Canon TS9120 | Voice-activated printing | 800 x 1200 | Print, scan, copy | 10ppm |
| Epson Workforce WF 7710 | Best Overall | 4800×2400 | Print, scan, copy, fax | 18ppm |
Who Should Get This?
The hungry needs food, and the thirsty needs water, and a craft enthusiast needs the best printer for waterslide decals. If you want an extra touch in crafting, having a printer will make you more competent and skillful. You can easily give a vibrant look to your mugs, glasses, or tumblers using the prints from decal paper.
Not only that, you may need a decal printer for several purposes. Then, our recommended products act like a pro to meet all kinds of your demands. The printers we discussed here are perfect whether you are a hobbyist or a professional.
You may craft occasionally, or you have a business where a vast amount of decals are needed every month.
As we mentioned earlier, our listed printers can do best for decals. In addition, they come with standard specs. Consequently, these printers can perform day-by-day jobs effortlessly. So, you can purchase any of these printers entirely for crafts or as a day-to-day machine that can also do decals.
Printer For Waterslide Decal Buying Guide
In this section, we will discuss the primary factors that determine which printer is best for you.
Let's kick off with…
Compatibility and Paper Capacity:
First and foremost, ensure your targeted printer can go for printing waterslide decals. Plus, pay attention to what size of paper you can use. So it won't force you to waste paper while using tiny decals. Neither restrains you from using large-sized pieces.
The minimum size of a paper is 3×5″ in a standard printer. You can also find lower than this. On the other hand, maximum sizes of paper are not defined. Some printers are capable of printing wide-formats up to 19 inches. Exceptional some come with a 40″ input tray. It depends on what item you are using.
Resolution:
Opt for high resolution if you're buying a printer for waterslide decals. The print quality or resolution can be depicted by DPI, which stands for Dots Per Inch. Probably, the number one factor of creating the best replica in waterslide decals is high resolution.
One rule of thumb is- The higher the resolution, the better the print. But, if you ask about the standard, we answer it varies according to what you're printing. For instance- a printer with 1200×1200 DPI resolution can offer sharp lines for decals that only include text.
Contrarily, 4800×1200 dpi resolution will be perfect for smaller images. However, we recommend high resolution for larger decals where defects will be apparent.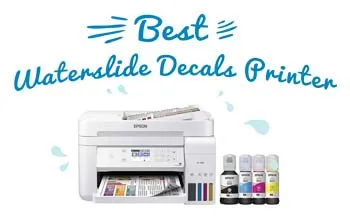 Ink system:
Don't neglect it! It's another crucial part of creating a top-notch waterslide decal. At the very least, you need a two-color ink system. While it fits personal use, this is not enough in an office. A printer for business should have four or more ink color systems.
Speed:
None of us wants to waste a second. Same to the printer. Though it doesn't significantly impact personal usage, printing speed is central to your work productivity in an office.
Ideally, we consider a minimum of 15 pages per minute for color prints. And ten ppm for monochrome images. Our list incorporates printers that can deliver 28 ppm! But, it is valid only for professional crafts entrepreneurs.
Inkjet or Laser?
Both. Well, joke apart, let's explain. Nowadays, modern water slide printers can be either inkjet or laser models. And, you must figure out which one you need. Inkjet possesses its advantages, lasers too.
For example, white laser printers have impressive looks, but they're pricey. But you will find the best color laser printer for waterslide decals costlier than its peers.
On the other hand, inkjets are cheaper, but they use inks instead of color toners, unlike laser models. So, it's your responsibility to understand your preference.
More Connectivity Options:
Nowadays, water slide printers are more competent to connect without wires. Several options exist to connect with the computer, namely- Bluetooth, LAN ports, Wi-Fi, Wi-Fi Direct, NFC, even Cloud. Plus, some brands like Hp, Canon have specific Apps for easy navigation.
Search for these premium features in your targeted device to get a comprehensive product.
Duty Cycle:
If your printer is for a business, you must consider this term. Duty cycle means the workload or maximum pages the device can print in a month. Generally, contemporary printers can withstand average personal and small office workloads. But, if you have massive pressure in your office, see the specification first.
Design:
Although not significant, still, a printer is for long-term use. Hence, bear in mind the aesthetic value of your targeted device. The most pleasant ones are lighter, compact in design, not too bulky. Here, another bonus is lightweight printers are comparatively easier to move.
Budget and Maintenance Costs
To conclude, try to opt for a device that gives the most delicate prints at the least price. However, a printer with the best functionality, high resolution, enormous workload ends in a high initial cost. But, it will last longer.
Similarly, it should be cost-effective as well as energy-efficient. Make sure the printer uses affordable pages and inks. Scrutinize about servicing and maintenance facilities that the provider offers.
FAQ About Best Printer for Waterslide Decals
What Ink Do You Use for Waterslide Decals?
The decals are printed on a special paper and then sprayed with a water solution. The water causes the ink to dissolve and spread out, creating a thin film on the paper.
That's why waterslide decal needs good quality ink to remain waterproof. One particular ink called 7200 Series Lacquer Screen Ink is a great choice for waterslide decal paper.
Can I use waterslide paper in a regular printer?
White Water Slide Paper retains its white background in the same way as regular printer paper. But home printers do not carry white ink. There are specialist printers for this job.
Final Thoughts
Finally, we've arrived at our destination. We hope you have found the best printer for waterslide decals for your needs. After the article, you should have a general sense of the top pieces in the industry as well. In this journey, we try to alleviate your concerns about selecting printers.
This list has been developed based on the best of the finest products. We looked for top results that were feature-rich, affordable, and capable of managing your responsibilities. To summarize, all of the printers described above are dependable and high-quality.