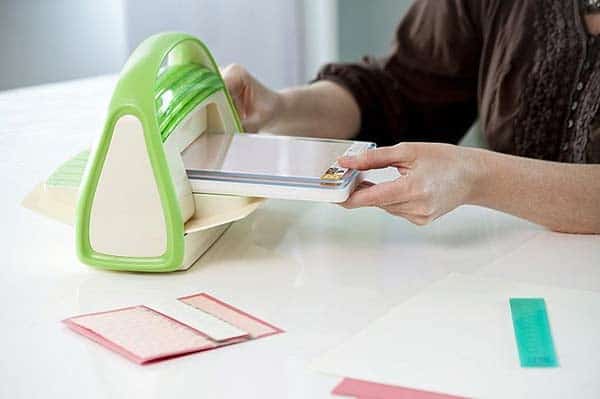 Best Die Cut and Embossing Machine: Top-Rated Picks for 2023
Whether you are a designer, artist by trade, or simply a scrapbooker and hobby enthusiast, the best die cut machine is out there waiting for you. With so many different brands and models on the market to choose from, the search can seem daunting.
We read countless customer reviews, conducted extensive research, and tested out different die cutters to make the process easier for you. In our article, we provide a run-down of the best embossing machine options as well as some helpful tips for newcomers and what makes each machine great.
So what is out there on the market? One of the first things that you should take into consideration is whether the machine needs a computer hookup or if it can function on its own.
Some models are electronic and others are manually operated with a cranking mechanism. The types of models that do not need a computer plugin are much more portable than the others. This allows travelers and those who like to be on the go to work wherever they would like. You really can't beat mobility.
With this said, some of the best die cut machine styles out there require a computer to function. You will recognize this when you log on the internet and have instant access to a wide array of designs on countless websites.
Digital die cut machines have a steeper learning curve than their non-digital counterparts. However, once you master the process, your designs will be just the way you have always dreamt them to be.
| Image | Product Name | Our Rating | Price |
| --- | --- | --- | --- |
| | Cricut 2000293 Cuttlebug Machine | | |
| | Sizzix Big Shot Plus 660340 | | |
| | Sizzix 660425 Big Shot Cutting Machine | | |
| | Spellbinders PL-001 Platinum Cut | | |
| | Brother CM350E ScanNCut 2 Cutting Machine | | |
10 Best Die Cutting Machine Reviews:
1. Cricut 2000293 Cuttlebug Machine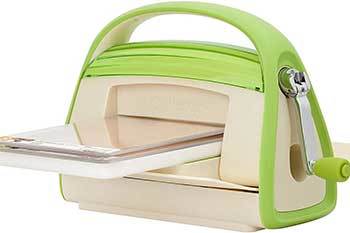 Choosing the Cuttlebug Machine as the best Cricut machine is a great investment if all you need is a small machine for your paper craft projects. It is a handy little machine that will not let you down.
For all your greeting card embossing, scrapbook collection, embossed cards, and other easy to make paper products, this machine is your best bet.
With its one of a kind rolling technology, this machine is best for cutting shapes, embossing shapes and patterns, or for cutting and embossing shapes for added dimension and texture to your artistic creations.
Combine the Cricut Cuttlebug dies and embossing folders and create high-quality designs for school projects, home decor, scrapbooking, and so much more. This machine comes with an A plate, two B plates, and a folder for the embossing.
Highlighted Features:
The Cricut Cuttlebug is versatile and can work with a wide array of materials
Easily folds away for quick storage in small spaces
Comes with a built-in pop-up handle that you can use to operate the Cuttlebug
You receive the Cricut Cuttlebug Die Cutter & Embosser, an A Spacer, two B Cutting Pads, one 5-inches by 7-inches floral embossing folder
2. Sizzix 660340 Big Shot Plus Cutting/Embossing Machine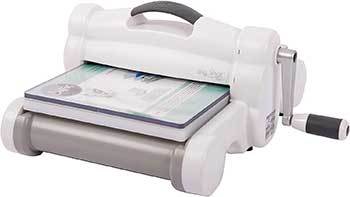 If size matters to you, then the Sizzix 660340 Big Shot Plus Cutting / Embossing Machine is just the ticket for you. With this machine, you can now work with materials that are 8 ½ inches by 11 inches in dimensions.
With the Sizzix 660340 as Big Shot's offer among the best-rated die cutting machine solutions, you no longer have are limited to only small projects. Now you can expand your creativity to bigger projects.It is also a sleek and stylish machine that will appeal to your sense of pride. With this machine also you can access the vast array of products located in the Sizzix library (although you won't be able to access the Bigz Pro dies).
These range from the smallest to the large 9 inches wide plastic coated dies and tools for embossing. On top of that, you can use this portable roller machine to cut and emboss various materials. So, make your very own cards, scrapbook pages, invitations, fashion, home decor, altered art, and lots more!A cool feature of the Sizzix is that it also works with embossing tools and dies from other brands, so you don't need to worry about accepting this brand if you were already a user of a different brand of cutting and embossing machine. Check out the following features that you'll be happy with.Highlighted Features:
Dimensions are about 15 ¾ inches by 11 ¾ inches by 7 ½ inches
Versatile machine that uses large as well as small materials
Supplied with a pair of Standard Cutting Pads and Platform and A&B Adapters for the Big Shot Plus.
3. Sizzix 660425 Big Shot Cutting/Embossing Machine(Manual Option)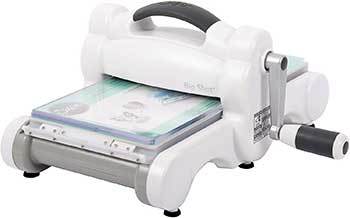 Big Shot is a trusted name for embossing and cutting machines, and this option is no exception to what you can expect from this brand. The Sizzix 660425 Big Shot Cutting / Embossing Machine provides versatility at your fingertips.
With this machine, you can make unique scrapbook pages, cards, fashion art, quilting, and even more designs. When you order a Big Shot you'll receive a pair of standard size cutting pads, a multipurpose platform you can adjust, dies and embossing tools.The combination of style and versatility may easily make this the top die cutting machine that suits your purpose. Also, the Sizzix 660425 measures about 14 ¼ by 12 3/8 by 6 5/8 inches and includes rollers made of solid core steel and gears made of solid steel.
The exterior is made of ABS plastic for long-lasting use. A great feature of this flexible machine, also, is that it works well with dies from other brands. When you're selecting the top class graphing calculator read this review carefully.So if you are an owner of other embossing machines and are considering a Big Shot, you won't be stuck with dies you cannot use again because of your new machine. You'll also find these features useful:Highlighted Features:
Easy to carry around and use.
Effective in cutting shapes and embossing a wide array of craft items from paper to fabric
Compatible with other embossing and die-cutting tools
Uses almost all the products in the Sizzix product library
Comes with a 3-year limited warranty.
4. Spellbinders PL-001 Platinum Cut & Emboss Machine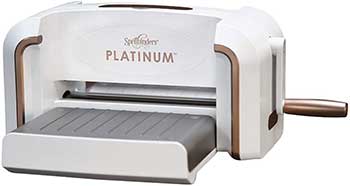 To achieve the most intricate embossed designs, one machine you can trust is the Spellbinders PL-001 Platinum Cut and embossing machine. Not only will you be able to create such intricate products easily with this best Cricut machine, but you also won't need so much space to do it in.This machine is versatile that anyone can use it, no matter their skill level. This machine is made to emboss and cut with the Spellbinders Die templates, but you can use dies from other brands.
With your purchase, you will receive one machine, a crank handle, a cutting plate, a base plate, embossing mat and plate, and an instruction manual. One thing about this machine that will appeal to you is the capacity to work with material that is as big as 10 inches by 12 inches.Also, you can recreate the intricate designs on the dies in a single pass. Nothing embosses better. Compared with other embossing and cutting machines in the market, the Spellbinder is ahead with its user-friendly design, ease of use, and portability. Highlighted Features:
This is an improved design from older models
Machine can cut over 40 different materials including wool, Balsa wood, chipboard, craft metal, leather etc.
It enables you to use lots more die templates on bigger plates through a two-pass process.
The Die cutter works well with most leading folders and dies which you can purchase separately.
5. Brother CM350E ScanNCut 2 Cutting Machine with Scanner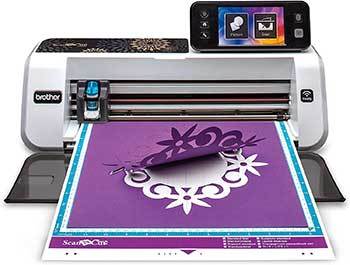 Do you want the ability to create one-of-a-kind products with the push of a button? If your answer is a resounding "yes," then prepare for the Brother CM350E ScanNCut2 Home & Hobby Cutting Machine!
This cutting edge machine is your best craft cutting machine solution for giving you the freedom to create awesome craft items, easily and pain-free. This is an electronic cutting machine that will raise the bar regarding what you can make with it.Although you can use the Brother ScanNCut2 by itself with no problems, you can also connect it via wireless to your PC, or smartphone. You don' t need cartridges, dies, or to subscribe monthly to use this machine.
Also, unlike those other machines on the market, the Brother ScanNCut2 makes it possible for you to scan almost anything – from what you drew by hand, family photos you love, designs for home décor, and so much more. You can make your shapes or patterns to match your project.The Brother ScanNCut 2 Home and Hobby Cutting Machine also come equipped with a top-quality 300DPI scanner that is built-in. You also get an LCD touchscreen display that is 30% bigger than those of other machines.
You can read SVG data files, and more than 631 already created designs with this ScanNCut machine. You will also get 100  quilt designs and 7 lettering fonts.  How can you resist that? You will, however, need to buy the ScanNCut Online activation card separately.
Till not satisfied? You can add your own SVG design files and additional free patterns through a free CanvasWorkspace account using the USB port and wireless capability.
Take the time to learn as much as possible about this machine and its features, and you will get the best from it. Some key features that make this machine so outstanding.Highlighted Features:
The machine is ready for use on any wireless network. Connects to your PC or use it by itself
Craft with 631 built-in designs, including 100 quilt designs and 7 lettering fonts.
You can add your own SVG design files and additional free patterns via a free CanvasWorkspace account using the USB port and wireless capability
Built in Scanner for
Recognizes RGB colors
The machine uses free web apps that are cloud-based. Edit your designs from anywhere you choose.
Its new project gallery offers easy to follow instructions as well as cut files you can download to make your own creations.
6. Cheery Lynn Designs S174 Big Sister Die Cut & Emboss Machine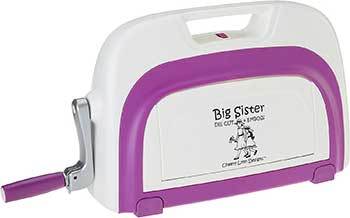 If your preference is a hand-cranked embossing and cutting machine, then the Cheery Lynn Designs S174 Big Sister Die Cut & Emboss Machine may just fit the bill. With this die cutting machine for beginners you can crank out high-quality cards and embossed designs easily to your heart's desire.You will also get additional accessories including a full sized 8 ½ inches by 12 inches base and plates for cutting your materials. Plates are either extended full-sized magnetic sheets or the optional metal adaptor plates.
One noticeable feature of the Big Sister machine is that it also flips out at the sides so you can rest platforms when you die cutting. It also carries a fold-up magnetic handle as well as an adjustment wheel that is conveniently located on the top of your machine.
The inside of the machine is full metal, and four gears allow you to use this machine with little stress.It's a small machine that is also quite strong and durable. You will get the best use of it when you stick to paper crafting and related projects. You'll notice that it is designed for thin etched dies and steel rule dies that are of the older type. Consider these features in selecting your embossing and cutting machine.Highlighted Features:
The machine is heavy and sturdy
Versatile machine for all types of paper craft projects
Size of the platform is 6 inches by 12 inches. Compatible with most small projects.
A wide variety of dies can be used with this embossing and cut machine.
Compact and easy to store machine that takes up little space.
Platforms can be extended, and rollers can be adjusted to suit your projects and to allow balance.
7. Brother Sewing ScanNCut Cutting Machine Draw CM250 (Electronic Option)
This next solution for the best Cricut machine allows you to scan and cut your designs in one go. With the ScanNcut Scanner & Electronic Die Cutting machine you can also add your personal touches to anything you want to create. It is so versatile you can turn any photo or sketch into a cutting file that you can use again and again.It comes ready to use so that you immediately start doing projects from home decor to greeting cards! It is also a user-friendly machine that is designed with an 11.7-inch wide LCD screen you can touch to edit anything before you make the final product.
Take your creativity to another level with this flexible machine that you can use to produce awesome craft and designs from paper, fabric, leather, and other materials. You feel like you're cheating every time you produce awe-inspiring crafts in seconds at the tap of a button.Even if you are terrible at cutting shapes and patterns, this machine is so simple to use. Enjoy making any cut-outs and patterns you like.
The only thing that will hamper you is your imagination. To get the best out of this machine, read the manual carefully. There are other features of this machine that will also appeal to you.  Highlighted Features:
With your machine, you will receive a standard blade holder, a standard blade, a holder for the deep cut blade, standard and low track mats measuring 12 by 12 inches, a spatula, and six color pens.
More than 600 designs are available to you to use with this machine
Two standard mats and one low tack mat are also provided
Read Another Review:Best Paper Cutter
8. Silhouette America Curio Crafting Machine(Electronic Option)

You might have another embossing machine and needed a back-up, or you are fond of the Silhouette brand. Whatever your reason, this new Silhouette Curio Machine offers a solution that may bring joy to your crafting activities.
The top-rated die cutting machine for beginners not only comes with many accessories to make your craft projects so much easier and more fun, but it also offers many functions that you will certainly enjoy.The Silhouette America Curio Crafting Machine stipples, etches, scores and embosses, prints and embosses, and path embosses, among other functions. This machine also features a carriage that allows you to perform embossing along with cutting and etching at the same time.
How can you beat that? You can also use this Curio machine to cut thick materials, up to 2mm, using its new deep cut blade.You can also feed thicker material through your Curio embossing machine, thanks to its 5 mm clearance! You may, however, need to spend a good deal of time learning how to get the best from this machine.
Once you get the hang of it, though, you'll be producing lots of cool embossed and cut items like a pro! Here are some other features you'll love:Highlighted Features:
A vinyl kit for starters –vinyl sheets, premium transfer paper , Silhouette scraper, hook, and a booklet with cool ideas.
Base measures 8 ½ inches by 12 inches and includes four platforms; cutting and embossing mats measuring 8 ½ inches by 12 inches; an 8 ½ -inch by 6 inches base with four platforms. Cutting and embossing mats measuring 8 ½ inches by 6 inches.
Everything to get you started: Deep cut blade, Premium cutting blade, stippling, and etching tools, fine and wide emboss tools, pick me up the pen, hook tool, scraper, Spatula tool, microfiber cloth, ruler, and Sketch pens (24).
One year warranty
9. Cricut Explore Air 2 Machine: Best Electronic Die Cutter

For those who love to produce creative art and craft items, the Cricut Explore Air 2 Machine is your solution. Here is an embossing and cutting machine that is easy to use. You can produce awesome pieces in no time, and the results are nothing short of professional. With the Explore 2 machine, you can cut your patterns and write much faster and more accurately.This cutting edge machine is perfect for the DIYer who is not afraid to explore her creativity to the fullest. Take for example the ability to put your images on your sites for free.
This option allows you to access your designs from anywhere on your smartphone, PC, or tablet. Alternatively, choose from among 3,000 done-for-you projects for great images that you can use again and again. This machine is so versatile you can work with over 100 different types of materials – from paper to leather.The options are endless! The Cricut Explore Air 2 Machine offers one of the best electronic cutting machine designs that also provides the capability to cut patterns using Bluetooth wireless technology.
So you can enjoy even greater flexibility in your artistic production. Get the job done fast with the machine's dual tool holder that makes writing and cutting as well as scoring and cutting in one easy step quite possible.
You have the tools and features that allow you to design, personalize, and create products that showcase your abilities to the fullest. Here are some key features of this machine that you can also appreciate.Highlighted Features:
Learning to use this Cricut machine is very simple and easy. Instructions are clear.Very small, it takes up very little space.
Users can create designs from anywhere thanks to the free access to Cricut's easy to use design software.
Very precise. You will always achieve perfect cuts. Use the Smart Set Dial to make your machine cut at the right pressure and depth on any material.
Cricut works on a wide array of materials designed and tested for its machine. Materials such as Iron-on Vinyls, Cardstock, Adhesive Foils, Vinyl colors, Faux Leather, Poster Boards, Specialty Paper, and much more.
10. Silhouette CAMEO 3 Wireless Cutting Machine: Electric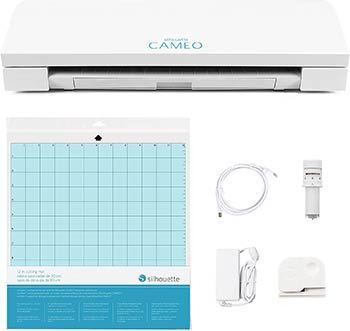 Your business needs a reliable cutting machine. The Silhouette Cameo 3 Wireless Cutting Machine is, therefore, your best bet for the best electronic cutting machine. Consider this machine as your constant go-to tool for producing your best work at a fraction of the cost. Your results are also quite convincing that few would think you are using a do-it-yourself machine.With a small blade, this machine is capable of cutting into more than 100 different types of materials such as cardstock, paper, the fabric of to 12 inches wide, and vinyl.
The Cameo also can record and cut printed materials and is compatible with pixscan that you can use with your smartphone to capture and import any image. The Silhouette has the largest cutting space and is flexible enough to cut various materials.Sporting a sleek design compared to the other models in the Silhouette brand, this cameo features a dual-carriage to allow you to use two tools at the same time. Canadian, US and EU residents can also enjoy the Bluetooth technology that allows the use of smartphones, tablets, and PCs to control Cameo's activity.
Also, this machine is the only one that is compatible with Silhouette's innovative auto blade technology that automatically adjusts its cutting depth. You can let the machine set the right blade depth for what you need to do, and voila! It does this from the material you select.Highlighted Features:
A 2 mm clearance for cutting thicker materials.
Comes with a Silhouette CAMEO cutting machine, Studio software, USB and power cables, a cutting mat (12 Inch inches long), and the AutoBlade cutting blade
Your design options are endless – simply locate the best design for your project from the 100,000 pre-made designs available at the Silhouette design.
Buying Guide: Best Embossing Machine
Reliable embossing machine reviews also include tips on what to look for in choosing your machine. Even as embossing and cutting machines present endless possibilities, the following are crucial features that will help the success of your business or project.
Versatility
The ability to produce high quality embossed products and to cut a wide range of materials is a crucial quality. Such versatility is not present in all embossing and cutting machines on the market. Carefully look at any brand you encounter. The best embossing machines offer a wide range of possibilities. They relate to the dyes they can use, the materials they can work with, and the cutting patterns you can produce.
Capacity
When it comes to the best embossing machine, size matters. That is, machines that you can use to produce large and small items are preferable to those that only limits you to small projects. The best embossing machines you can find online allow for materials that are up to 12 inches wide. The adequate clearance that allows you to cut through multiple layers of material at a single pass is a feature that the best cutting machine also offers.
Cutting Ability
When looking for an embossing and cutting machine to buy, one thing you would need to be sure of is its ability to cut various materials. The cutting blades should be sharp and have the capacity to create deep cuts as you desire. Not all embossing and cutting machines have the same cutting capabilities so careful examination of each brand is a good idea. The top die cutting machine options also allow for adjustable blades that make deep cuts possible.
Embossing Ability
As with the cutting ability of the best embossing machine, the embossing abilities are just as important for you to look at. While many brands claim to be the best at embossing, the real test for your machine is its ability to consistently produce high-quality embossed products. The best embossing and cutting machines on the market are able to produce high-quality embosses consistently without breaking down.
Now that we have gotten the preliminaries about the best embossing machine out of the way, let us take a closer look at ten recommended machines.
What Resouces Are There for the Best Die Cut Machine?
Whether you stick with a simple model or invest in a digital one is up to you. Are you worried about learning all the nuances of a machine? Check out Bluprint.com.
You'll find fun full courses covering a myriad of topics all relating to die cut machines and the creative process you go through. For example, "Cutting Foundations" is an excellent starter course. Keep in mind that even the best die cut machine styles will vary between brands.
The Best Die Cut Machine: Final Review
Our embossing machine reviews are not exhaustive. There are simply so many other machines you can lay your hands on. We have, however, combed the market and brought you some of the best die cutting machines that get the job done easily with professional results.
You won't be dissatisfied with these options although, for some, you may need to read the manual and watch the instructional videos before you start.
The majority of these ten machines are quite easy to use and will allow you to begin producing awesome creative products in almost no time. Start with the best embossing machine for your money.