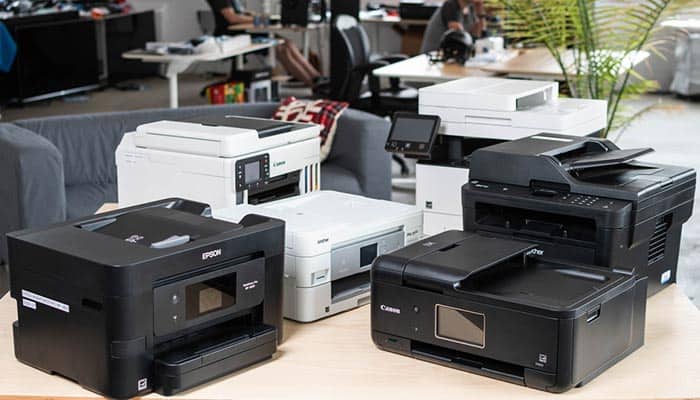 Best Printer For Hydrographic Film: Recommended By Expert
Imagine being able to add different types of graphics to nearly any 3-D object you might think about. It can be so much fun, right? Well, guess what! This is actually possible through a process called hydro dipping while using a hydrographic film.
However, you need the best printer for hydrographic film to help you print your preferred graphics on the film. We are talking about a wide-format printer with fast printing speeds.
But with so many printer brands and models, how do you tell which one works for hydrographic printing? Because, your standard printer might not provide you with the best results.
Below is our review of some of the best products on the market and everything else you need to know about hydro dipping.
| | | | |
| --- | --- | --- | --- |
| | Epson EcoTank Pro ET-16650 | | |
| | Canon imagePROGRAF PRO-300 | | |
| | | | |
| | | | |
| | | | |
What Is Hydrographic Film?
This is a clear and water-soluble type of sheet that you can print multi-color prints, different patterns, colors, and graphics on it. It is used for decorating clothing, all-terrain cars, vehicle dashboards, bike helmets, and other accessories. Even better, you can use the film on various substrates such as wood, plastic, metal, ceramics, and even metal.
Also referred to as a water transfer printing film, this film features special inks and is made from Polyvinyl Alcohol (PVA). So, when you place it on the water's surface, the ink dissolves but the pattern is left floating on the water. The pattern will then curve around any surface you want regardless of its shape.
Top 6 Best Printer for Hydrographic Film Reviews in 2023
When looking for the best hydro dipping printer, you will come across a wide range of products that you can choose from. But because we want to make things easier for you, we have compiled a list of some of the top-rated options. Check them out.
1. Epson EcoTank Pro ET-16650 All-in-One Printer
The Epson EcoTank Pro ET-16650 is our top pick and for good reasons. First, you will love that it is an all-in-one printer. This means that besides using it for hydrographic printing, you can use the printer to copy, scan and even send faxes. And for ease of operating the device, it incorporates a 4.3" color touchscreen.
The best part about this product is that it allows you to produce wide-format prints at fast speeds. Simply, it enables you to print up to 13" x 19" at 25 ppm for both black and color prints. Therefore, you will find it excellent for handling heavy workloads.
In addition, you will be pleased to know that this wireless printer incorporates heat-free technology. Therefore, you will be able to print out your hydrographic films as soon as you switch your device on. No need to wait for it to warm up.
On top of that, the printer is built to use DuraBrite ET Ink which is pigment-based. The beauty of this specific ink is that it produces crisp and vibrant prints. It does not matter whether you want black-and-white or color prints, what you get are professional-quality prints.
Highlighted Features
Produces wide-format hydrographic prints up to 13" x 19"
Fast 25 PPM black and color print speeds
Boasts a 500-sheet capacity making it ideal for heavy workloads
Powered by PrecisionCore Heat-free technology for fast and quality printing
2. Canon imagePROGRAF PRO-300 Wide-Format Printer
Coming in second place is this Canon wireless printer designed to produce professional-looking prints with its 9-color ink system. For most printers, you only get 4 inks. However, this product comes with 9 of them, thereby making it easier for you to bring your prints to life.
Additionally, this Canon hydro dipping printer utilizes Professional Print and Layout (PPL) software. This software allows you to adjust the size and color of your film. The best part is that it comes with separate nozzles for the matte black and black inks. So, no need to change the nozzles of this pigment-based printer.
Being a wide-format printer, it allows you to produce up to 13" x 19" hydrographic film prints. Even better, you can print sizes up to 14" x 39" long thanks to its built-in paper roll adapter. In addition, the device is equipped with a 3.0" colored LCD screen that allows you to monitor ink levels and printer status.
It also boasts fast printing speeds which vary depending on the size of the print. For instance, if printing 11" x 14" bordered color prints, it will take you around 2 minutes and 50 seconds per page. A smaller size print will be much faster to produce. Unfortunately, compared to our top pick printer, you will find this product a bit slower.
Highlighted Features
Built-in chroma optimizer system delivers long-lasting prints
Compatible with laptops, smartphones, and PC
Utilizes a 9-color ink system for ease of meeting different printing demands
Can print up to 13" x 19" prints or custom 14" x 39" prints
3. Epson WorkForce WF-7720 Wide-format Inkjet Printer
Here is yet another high-quality printer for a hydrographic film from the Epson brand. The printer utilizes precision Core technology to help you quickly print quality borderless films up to 13" x 19" wide.
When it comes to printing speed, it boasts 18 ppm for both black and white prints. You might find this speed a little on the lower side compared to the Epson EcoTank Pro ET-16650. However, the speed is superb if you will be printing large volumes of media.
Another thing we love about this wireless printer is the fact that it also allows you to copy, scan, and even send faxes. Best of all, it is equipped with dual trays that can handle 500-sheet capacity. So, you will find it powerful enough to handle heavy workloads.
The best part is that it is designed to work with DuraBrite Ultra ink. So, you can expect to end up with smudge-resistant prints, which is not the case if you were using dye-based inks.
Highlighted Features
Powered by Precision Core technology to ensure high-performance printing
Prints black and white films at speeds of 18 ppm
4.3" convenient color touchscreen for ease of controlling
Prints up to 13" x 19" films on both Mac and Windows operating systems
4. HP DesignJet T210 Large Format Printer (8AG32A)
Looking for a compact and portable printer for the hydrographic film that can print both large and wide-format prints? This product is worth the money. You can use it to print wide-format films up to 13" x 19" and large-format rolls up to 24".
You will also find its print speed good since it takes up to 45 seconds per page to produce an A1/D size (23.39" x 33.11") film. And on average, the maximum speed it takes to print out black and white media is 1.3 ppm. So, compared to the Epson water transfer printing printers, its printing speed is not fast enough.
Another outstanding feature of this device is its HP Click software that delivers hassle-free printing. You will find the software handy when you have a large volume of sheets but no time to manually print them out.
Even better, the printer uses HP Bright Office inks designed to provide you with up to 31% better accuracy. You will also be able to print out high-quality and crisp films. On the flip side, though, its color touchscreen is a bit small. The good thing is that it still allows for easy control.
Highlighted Features
Prints wide-format films up to 13" x 19" and large formats up to 24" wide
Impressive print speeds of up to 1.3 ppm for black and white media
Free HP Click software for ease of printing multiple films in one click
High-quality print resolution of 2400 x 1200 DPI (dots per inch)
5. HP DeskJet 2755 Wireless All-in-One Printer
If you are on a tight budget but looking for a reliable all-in-one printer for hydrographic film, the device is worth the money. Not only can you print and scan with this printer but also copy. And the best part is that you can do it from virtually anywhere via your smartphone.
But here is the best part; besides being compatible with dual-band Wi-Fi, it also boasts Bluetooth connectivity for added convenience. It also comes with an LCD screen integrated with simple buttons for ease of navigation while operating the device.
Additionally, you will be pleased to learn that this printer boasts printing speeds of up to 7.5 ppm for black prints. But for color films, the speed is around 5.5 ppm which is on the lower side. Even so, you will find the printing speeds outstanding considering the price of the device.
In terms of print size, the maximum size of film or media you can produce is 8.5" x 14". This is also good enough compared to higher-end printers. However, this printer is not best suited for heavy workloads as it boasts only 25 sheets output capacity and 60-sheets input capacity.
Highlighted Features
Uses HP Smart app for ease of printing and fast setup via your smartphone
Fast print speeds of up to 7.5 ppm for black prints and 5.5 ppm for color films
Prints high-quality large-format films of u to 8.5"x 14"
Boasts Wi-Fi and Bluetooth connectivity for more reliable connections
6. Canon PIXMA PRO-200 Wireless Professional Printer
Yet another reliable and easy-to-use hydro dipping printer from the Canon brand. However, this model does not use pigment-based ink but rather 8-color dye-based ink. As such, your films will have more vivid and bright colors compared to those featuring pigment ink. On the flip side, though, dye-based ink is not smudged or water-resistant.
Furthermore, this device works with a range of media and in many sizes. Basically, you can print wide-format borderless films or fine art up to 13" x 19". And if you want a custom print, the printer allows you to print sizes up to 13" x 39". This makes it ideal for different kinds of printing jobs.
What's more? This printer features a built-in 3" color LCD screen so you can easily check printer status and ink levels. It also allows you to initiate printer maintenance directly from the device.
Another thing that makes this product one of the best water transfer printers is its fast and efficient printing speed. For bordered media measuring 11.7" x 16.5" and above, it will take you 90 seconds to print a single page. But if you are printing 8" x 10" bordered films, it takes just 53 seconds to print out a page.
Highlighted Features
Delivers professional-looking bordered A3+ media in just 90 seconds
8-color dye-based ink system produces films with vibrant colors
Produces up to 13" x 19" borderless films or up to 13" x 39" custom prints
Skew Correction technology automatically corrects crookedly placed films
Printer for Hydrographic Film Comparison Table
| | | | |
| --- | --- | --- | --- |
| Epson EcoTank Pro ET-16650 | | | Paper, Films, Hydrographic Films, Carbon Films |
| Canon imagePROGRAF PRO-300 | | | Paper, Hydrographic Films, Carbon Films |
| | | | Paper, Hydrographic Films, Carbon Films |
| | | | Paper, Hydrographic Films |
| | | | Paper, Films, Hydrographic Films, Carbon Films |
| | | | Paper, Hydrographic Films, Carbon Films |
Buying Guide for Printer for Hydrographic Film
Printers come in all sizes, prices, and with different features. So, knowing which is the best printer for hydrographic film can be daunting. Not unless you know what to look out for. That is why we created this buying guide.
Type of ink
When it comes to hydrographic printing, you can choose a printer that uses either pigment-based or dye-based ink.
Generally, the best devices use pigment-based ink because it is known to produce long-lasting prints. Also, this type of ink is resistant to fade, smudges, and even water. It also delivers better print quality if using black ink.
Dye-based ink, on the other hand, is equally good if you want a film with softer colors that look more bright and vivid. However, it is more susceptible to smudges and water damage compared to pigment-based ink. It may also fade faster when exposed to UV light than pigment ink.
Printing speed
Hydrographic printing is a little more complex than standard printing. Therefore, it may take more time. The good news is that some water transfer printing printers can print faster than others up to 25ppm.
Essentially, the printing speed of a printer is normally expressed as PPM (pages per minute). However, the speed matters more only if you plan to use the printer for business purposes.
But if you will be using the printer for your personal projects, you can as well go with one featuring slow print speeds. This is because a device that can print at fast speeds is also a bit expensive.
Connectivity options
Most printers you will find on the market feature wireless capabilities. Simply, they boast ethernet connectivity for high-speed internet. This allows you to connect your printer directly from either your laptop, smartphone, or tablet.
On the other hand, some printers come with both Wi-Fi and Bluetooth connectivity for added convenience.
Purpose of the printer
Another thing to consider is the purpose of your printer. This is because some printers can handle heavy workloads with ease than others. For example, the Epson EcoTank Pro ET-16650 Printer boasts a 500-sheet total paper capacity. Therefore, if your printing needs are extremely demanding, you will find this particular product an excellent choice.
On the other hand, some products such as the HP DeskJet 2755 Wireless All-in-One Printer feature less than 100-sheet capacity. Such products are best for home use or light-duty tasks because they cannot handle heavy workloads at once.
Additionally, you must consider if you want a printer only or an all-in-one device. Overall, an all-in-one is the best choice because it will allow you to send faxes, scan, and even copy.
Print size and quality
The best water transfer printers are designed to let you print out wide-format prints. And for most of these printers, you can print up to 13" x 19" media, which is the perfect size for a large-scale design.
However, some products will allow you to create custom-size prints of up to 14" x 39" long. This makes them more convenient to use for a wide range of tasks.
Meanwhile, a product like the HP DeskJet 2755 Wireless All-in-One printer can only print a maximum size of up to 8.5" x 14".
Besides the print size, you must consider the print quality of your printer. A good device should provide you with crisp and professional-looking results no matter what.
LCD screen
Last but not least, you should consider what type of LCD screen it comes with and its size. Generally, the best hydro dipping printer should come with a color touchscreen for ease of use.
The screen size, on the other hand, should not be less than 3-inches to allow ease of control and navigation. A bigger display will also enable you to quickly check the printer status and even ink levels at a glance.
How do you Hydro dip a print?
It is easy if you know what steps to follow. So, below is a step-by-step procedure on how to go about it.
Step 1: Get a plastic container and fill it with warm water. The water should be at a level high enough to allow it to submerge your print without the water spilling over. Alternatively, you could use a hydro dip tank.
Step 2: Pick your print or patterned, water-soluble film and place it on the surface of your water. Make sure the sticky side of your print is the one touching the water.
Step 3: Leave your print to hydrate for around 60 seconds before spraying it with a chemical activator. You should spray a thin layer of the activator for the best results.
Step 4: After 5 to 10 seconds, your print should have turned into liquid ink on the surface of your water. Or simply put, you will notice a glassy finish in the water once the film is fully activated.
Step 5: Put on your gloves and slowly dip your object directly into the liquefied film at a 45-degree angle. Once your item is submerged fully into the water, you can then even out the angle by pushing your object down towards the ink.
Step 6: Next up, slowly remove your object from the water and make sure not to touch its surface. Then, rinse it out immediately under cold water to remove any residues of polyvinyl alcohol.
Step 7: Lastly, allow your object to air-dry and then apply a topcoat.
The Benefits of Using a Hydrographic Printer
The benefits of using a hydrographic printer are many, which is why they have become so popular in recent years. The key benefits include:
Efficiency
With a hydrographic printer, you can quickly and easily produce high-quality prints. This is perfect for any company looking to increase their efficiency by having the ability to make professional quality prints in an instant.
Reduced Costs
Hydrographic printers use water-based inks, which means that you can save money on both ink and paper costs. This is especially true if you have a lot of printing to do because the cost per sheet is cheaper than other types of ink.
Increased Versatility
Hydrographic printers are extremely versatile and can be used for a variety of applications, including printing logos, graphics, and text onto various surfaces. They are also easy to use with their simplified interface.
Increased Speed
Hydrographic typesetting equipment can print at speeds of up to 150 feet per minute, therefore you can get your prints done quickly and easily.
What equipment is needed for hydro dipping
Apart from the best printer for hydrographic film, there are other supplies you will need to invest in for hydro dipping. These include:
Spray gun
This will allow you to spray an even coat of your chemical activator onto your film. You can also use it to apply the topcoat or base paint.
Hydro dip tank
This is where you dip your film to allow the ink to dissolve. A hydro dipping tank features heating tubes to keep the water at the right temperature for water transfer printing.
Spray booth
If doing hydro dipping for business, a spray booth will come in handy. It works by absorbing the painting fog and smell of the activator, which can be very strong.
Hydrographic film
This is a polyvinyl alcohol (PVA) sheet that is water-soluble in nature. It is what you will use for water transfer printing.
Chemical activator
This is what you use for dissolving the ink on the film or simply for activating the hydrographic film.
Drying machine
Again, this equipment is essential if you plan to hydro print for business purposes. It helps to easily dry out your dipped items faster.
Different paint coats
You will need an undercoat or primer so that the basecoat paint sticks well. In addition, you will require both a base and top-coat. The base coat is for painting the surfaces you plan to print while the topcoat will help seal the ink in.
Common Hydro Dipping Mistakes
You can't master everything all at once when it comes to hydrographic printing. But knowing what common mistakes to avoid might help a lot. These mistakes include:
Failure to clean your item properly making it hard for the color to stick on the surface.
Not taping properly the parts of your object that you don't want to get painted.
Working in a poorly ventilated space, thereby running the risk of breathing in the toxic fumes from the activator or paint.
Using cold water below 75-degrees F instead of warm water that is between 75 and 90-degrees F.
Double dipping the item even when the first coat of paint has not dried up completely.
Lowering your item flat into the paint rather than at a 45-degree angle. Or doing the dipping too fast or too slowly.
Waiting too long for the film to hydrate while you should wait for around 60 seconds only.
Failure to use an activator for hydro dipping or using too much of it while all is required is a single thin coat.
Ignoring the air bubbles in the paint yet you must remove them before hydro dipping your print.
Failure to cycle out the water even after hydro dipping multiple products. You must empty the water and refill it if you notice little floating bits of paint in it.
Not wearing a pair of gloves when dipping your item inside the water with the film. Or, using the activator spray without a mask on, which could lead to various health problems.
Dipping your print into the water using the wrong side. The sticky part of your hydrographic film should be the one directly touching the water.
Failure to apply some sort of clear protective finish after you have finished hydro dipping your item. This makes it more prone to scratching.
Continuing with the hydro dipping process even after noticing water on top of your film.
Not practicing hydro dipping first with things you don't need to perfect your skills before moving on to expensive items.
FAQs On Printer for Hydrographic
If you are seriously thinking about trying out hydrographic printing, you will find these frequently asked questions very helpful.
Can I Print My Own H
y

drographic Film?

Of course, you can if you have the right tools. You will need a blank hydro dipping film, a color inkjet printer, and a chemical activator. Just make sure to get a printer that supports wide-format and hydro graphic printing for the best results.
How To Water Transfer Printing At Home
Simply fill a container with water and lay your film containing printed ink on the surface of the water. Then, apply a light coat of an activator for hydro dipping to your film so the ink dissolves. Lastly, dip your object inside the water and remove it once it is completely covered with the pattern from the film.
Is Hydro Dipping Permanent?
Yes, it is, especially if you apply an automotive-grade clear coat to your item after hydro dipping it. So, if at one point you change your mind, the only solution would be to paint over it.
How Much Is Hydro Dipping Cost?
Prices vary depending on the size of your item, the type of preparation the item requires, and the complexity of your item. But overall, the average cost of hydro dipping a car's wheel is around $150. For smaller items like cups, the cost starts at $30.
Can You Clear Coat Hydro-Dip?
Yes. In fact, it is highly recommended because it helps seal in the inks. As a result, your hydro dip paint will look fresh and clean. You just need to apply the coat once your dipped item has completely dried off.
Final Verdict
If you are thinking of trying out hydro dipping, you must invest in the best printer for Hydrographic film. And to do this, you will want to consider things like the printer's printing speed and the type of ink it uses.
Most importantly, you need to have the right equipment for hydro dipping and know what common mistakes to avoid.
But overall, the Epson EcoTank Pro ET-16650 All-in-One Printer is in our opinion the best hydrographic printer. It boasts fast printing speeds, a big LCD color touchscreen, and uses pigment-based ink for crisp and professional-looking prints.
On the other hand, the HP DeskJet Wireless All-in-One Printer is an excellent choice if you're looking for a more affordable option.