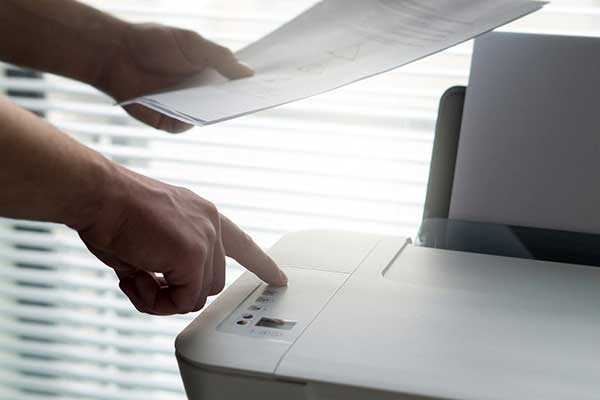 Best Printer for Carbonless Paper | Top 5 Reviews in 2023
The carbonless paper makes the best choice when it comes to creating new forms and getting them printed immediately from the printer.
Some of the important business documents you print on carbonless papers include invoices, receipts, work orders, or anything that requires multiple copies.
So you see how important they're. But now comes the trickier part!
What are some carbonless paper printers that you can truly rely on for your commercial or official documents?
We know it's challenging to figure out the best printer for carbonless paper.
But we've got you covered with our top 5 picks of inkjet and laser printers that you can include in your arsenal for going carbonless!
| Image | Product Name | Our Rating | Price |
| --- | --- | --- | --- |
| | Epson EcoTank ET 4760 | | |
| | Canon PIXMA TR150 | | |
| | Brother DCPL2550DW | | |
| | HP LaserJet Pro M404n | | |
| | Xerox Color C60 Digital Laser | | |
What is carbonless paper and what does it mean?
Let's first understand what we're talking about and set the plot for this article!
Carbonless paper is paper that comes with a special coating or dye on its top and bottom layer.
After applying pressure to the dye, the micro-capsules in the dye transfer writing onto copying pages, resulting in a copy of the top form that does not require the use of carbon particles. Therefore, it's also known as the No Carbon Required or NCR paper.
This carbonless copy paper is available as a set of two, three, or four-part forms where the top page is considered as the original form.
Carbonless papers can be printed with dot matrix printers, inkjet printers, and laser printers. They're widely used in business for creating invoices, receipts, or other business forms.
Dot-matrix printers are out of date now, so you can check our top-notch inkjet and laser printers down below to print carbonless forms.
Top 5 Recommendation of Best Printer for Carbonless Paper in 2022
1. Epson EcoTank ET-4760 Wireless Printer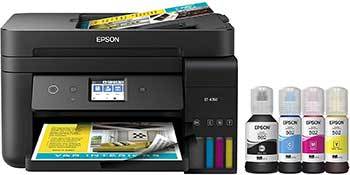 Buying a carbonless paper printer isn't only about the upfront purchase cost but also about the lower ink and refill costs. Especially if you're running a business.
And this is what you get in this cartridge-free inkjet printer from Epson. Yes, no more expensive and tiny ink cartridges, even for an inkjet printer!
Its printing capacity is up to 7,500 black or 6,000 color pages which is equivalent to around 90 ink cartridges! Now enjoy frustration-free printing for up to 2 years while bringing the cartridge waste down to almost zero.
It uses some PrecisionCore Heat-Free Technology, which along with the Claria ET Pigment Black produces sharp and crisp texts and images. The refilling is also easy peasy with its unique EcoFit Ink bottles.
There's more to its features list that includes an Auto Document Feeder and an automatic 2-side paper printing option for efficient paper handling.
For maximum convenience, you get a color touchscreen, a built-in flatbed scanner, a copier, and a 250-sheet paper tray.
Most of it all, it's a smart printer that allows modern connectivity, including ethernet and wireless. With the Epson's Smart Panel app, you can control it from your smartphone or also use the voice-activated printing option.
Highlighted Features
Integrated fax, scanner, and copier
2.4-inch color touchscreen
Auto document feeder and 250-sheet paper tray
Voice-activated printing
Ethernet and wireless connectivity with smartphone app control
Drawbacks
Printing quality are remarkable but not the best one out there. Also, its page-by-page scanning option is a little frustrating.
2. Canon PIXMA TR150 Wireless Mobile Printer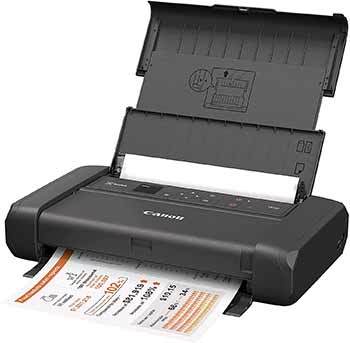 Do you belong to the work-from-home group? Or have an online business to run that requires printing carbonless invoices?
For such instances, what you need is a good wireless portable inkjet printer with tiny footprints. And in this category, you can hardly get anything better than the Canon PIXMA TR150!
It's an amazingly compact and sleek wireless printer that doesn't compromise quality. The running cost is competitive, and the ink cartridge doesn't need frequent refilling.
But its USP is its small and lightweight design that beats most of its closest competitors like HP OfficeJet200 or Epson WF-110.
It comes with a unique feature of creating and saving up to 5 templates such as colorful flyers, consent forms, or other business applications, which you can print using the printer's own intuitive LCD display.
You can use your android device, computer, or even the clouds to print on carbonless papers. But you'll need an active Wi-Fi connection along with the Mopria Print Service( an app that facilitates printing over Wi-Fi)
You can use it directly from an AC power source or use the removable, optional battery (sold separately). It has a printing capacity of up to 330 pages on a full charge battery.
This TR150 prints high-quality documents, sales receipts, flyers, or even borderless photos on carbonless forms at great speed.
Highlighted Features
Compact and lightweight
Require Mopria Print Service while printing from smart devices
Takes power from both AC and DC Battery (optional)
Prints wirelessly from computers and smart devices
1.44 inch OLED display
Drawbacks
Although there's a setup tutorial, the installation process is a bit complicated. Also, it doesn't work without an active Wi-Fi connection.
3. Brother DCPL2550DW Monochrome Laser Printer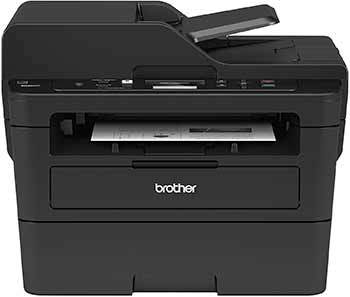 If you're looking to maximize the page yields and need a great laser printer to print out your carbonless forms, then here you go with this Monochrome Laser Printer from Brother.
This printer comes into play when the print speed matters for your business. It can get you up to 36 pages per minute! Yes, it yields such a huge amount of pages, and that too in an amazingly low cost-per-print.
There's a Toner Save Mode that saves you on toner cost. Also, you need fewer refills which makes it a cost-effective solution.
This Brother Printer comes with a 50-sheet Automatic Document Feeder and a 250-Sheet Tray to improve productivity and efficiency. There's an Automatic 2-sided Printing mode to help you save paper and time.
It's a smart printer that enables wireless printing from your smart devices or computers. You can get connected in different ways, including W-Fi, Ethernet, or USB interface.
It comes with the unique Amazon Dash Replenishment and has Brother Genuine IoT Toner Cartridge. This high-yield replacement toner automatically places an Amazon order when the toner level is detected low.
Highlighted Features
Built-in scanner, copier, and LCD display
Prints up to 36 ppm
250-sheet paper tray and up to 50-sheet Automatic Document Feeder
Automatic Toner Reordering Technology
AirPrint function with WiFi, Ethernet, and USB connectivity
Drawback
The setup is a little complicated without Wi-Fi or an ethernet connection. It's only compatible with the expensive Brother Smart Toner Cartridge, something many won't like to afford.
4. HP LaserJet Pro M404n Monochrome Printer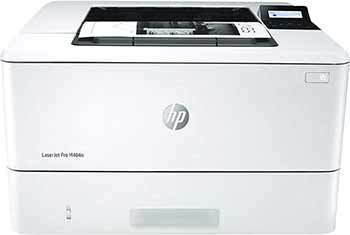 How can we forget something as top-notch as the HP LaserJet Pro M404n! It's designed for businesses to keep their projects moving. It's packed with power and features to bring high-quality prints right in your NCR papers.
It's compatible with a wide range of media, so get your envelopes, cards, or any carbonless document printed in no time!
The printer has a phenomenal speed that can print up to 40 pages every minute. And you can get your first carbonless form printed in as quick as 6.1 seconds!
The printer comes with an Original HP Toner Cartridge that ensures stress-free reprinting and minimum wasted supplies.
It's cost-efficient in terms of both saving paper and energy (up to 18% using the auto on/off technology). The device is compatible with cartridges having HP chips only.
HP never compromises on quality, its FastRes 1200 (up to 4800 x 600 DPI) ensures sharp, crisp, and clear results.
Another major feature is its cutting-edge tech features. It supports wireless printing allowing you to print virtually from anywhere.
All you need is the printer connected to the office network via its built-in Ethernet port and your smart device connected to a direct or dual-band Wi-Fi. It also allows you to print securely through clouds.
Moreover, it comes with HP Wolf Pro Security to safeguard your sensitive data against potential attacks built into the printer's firmware, hardware, and OS.
Highlighted Features
Control Panel with 2-line LCD display
HP EcoSmart black Toner
Auto on/off technology
Ethernet, Wi-Fi, and Wi-Fi Direct connectivity
250-sheet paper tray with a 100-sheet multipurpose tray
Drawbacks
It doesn't work without the Ethernet network. Also, the chipped toner makes the options limited for the users while many think it's price gouging on toners.
5. Xerox Color C60 Digital Laser Production Commercial Printer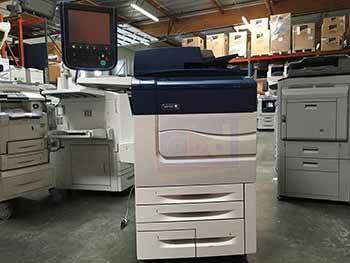 Keeping the best for the last, yes, here we've got the C60 Digital Laser Printer from Xerox. This is a high-end multifunctional printer and is quite an upscale option compared to most of the printers in the list. So a bit of an uneven match!
But we've still included it as there are large-scale businesses that need a superior printing machine to print their carbonless business documents. Having said that, you can still ignore this lavishly priced device if you don't belong to this group.
Now let's see why you should consider this mighty machine. Firstly, it's a truly all-in-one machine offering functions such as printing, scanning, copying, auto-duplexing, and an Integrated Fiery Color Server System. So do whatever you want with your NCR forms.
Then you've got its unparalleled printing speed of up to 65ppm for black and 60 ppm for color printing. Moreover, it has an extravagant resolution of 2400 x 2400 dpi. So imagine what quality of images it could bring to you!
When talking about capacity, it's immense! Whether it's about a Monthly Duty Cycle of up to 300,000 pages or the Average Monthly Print volume Range of up to 50,000 pages.
For paper handling, you get 3 Paper Sheet Trays, 1 Bypass Tray, and an Offset Catch Tray with each of them having huge capacities.
Now to remind you, it's not a brand new product. It has been inspected and refurbished to the highest standards by a team of qualified experts. It's brought to you by ABD Office Solutions who back their products with a convenient warranty and great after-sales service.
Highlighted Features
Built-in Printer, Copier, Scanner, Auto Duplexing, and Integrated Fiery Color Server
Supports color xerox
Print resolution of up to 2400×2400 dpi
Print speed up to 65 ppm
5 paper trays including a bypass tray and an offset catch tray
Drawbacks
It's an expensive machine for its kind and not suitable for small businesses. Also, it's a large machine requiring a lot of space.
Buying Guide of Printer for Carbonless Paper
It's not that easy to pick the right printer for carbonless paper. There are a few things that you need to consider while buying yours. What are those?
Let's take a look!
Laser Vs Inkjet
The laser or inkjet printer? Which one suits the carbonless paper better? If you want to consider this factor there's no straightforward answer. Today you get carbonless papers that are compatible with both these printers.
So now you've to decide whether you want to go affordable and faster with a laser printer or choose an inkjet's superior printing quality over anything else!
Printing Frequency
All the printers today tell you how many pages they can print for you in a minute. The laser printers have a better speed and printing frequency for lower cost. But today, there are some cutting-edge inkjet printers that have a competitive printing speed.
So check out for PPM specifications for your printer model before you buy. There are businesses where you don't have to print that frequently, in that case, you can go with a decent inkjet printer to achieve better quality printing.
Quality of Print
If you've got a color carbonless form to print where quality matters the most and not the cost, then go for a cutting-edge inkjet printer.
You can also consider a color laser printer in such cases. Because normal laser printers can't give you the desired quality. However, if it's only about the text-heavy pages, a regular laser printer should be good enough.
Smart Features
It's probably the most important consideration for printers today. You'd want your printer to support smart connectivity features including Wi-Fi, ethernet, voice assistance, and smartphone app control.
These features allow you to go wireless and AirPrint on your carbonless papers. By going wireless and utilizing these smart options, you can improve the overall productivity of your business.
Cost and Availability of Cartridge
Whether it's an ink cartridge or a toner cartridge; the service life, replacement cost, and availability of the cartridge are something you need to check out before buying a printer for your NCR papers
Remember not all toner cartridges are cheap and not all ink cartridges are expensive. So you've to be very wise while choosing a specific printer model.
Whatever printer you use, make sure you buy a model that has available cartridge replacements, dries slowly, and lasts longer.
Size or Footprint
If you've got a small space to accommodate your printer, you'll generally be going with the laser printer as they tend to be smaller. However, things have changed.
Thanks to the technology, you can now get inkjet printers with compact and tiny footprints such as the one we've seen above the Canon Pixma TR150.
So check out the size measurements of the specific model before you want to set it in a tiny place.
Multi-Functionality
Most of the printers today are multifunctional or all-in-one, meaning they come with a built-in scanner, copier, and 2-side automatic printing features.
When you're dealing with carbonless forms, you're not only printing on them. Sometimes you scan pages, make copies, and do such other things. So going for a multifunctional printer is always a good idea.
The Convenience of Setup and Use
When you're choosing smart printers for NCR papers, the setup could be complicated at times.
Make sure you choose a printer that comes with an installation CD and all the required software applications. Some also provide tutorials showing how to set the machine up.
Besides the ease of installation, you should also check out other convenient factors like the automatic document feeder, ease of refilling, intuitive display, easy navigation, and so on.
FAQs
Let's get some of your most common questions on this very topic answered right here!
Can I use traditional carbonless paper in my laser printer?
Although traditional carbonless paper isn't intended to use in your laser printer, there's a new breed of No Carbon Required Papers or Carbonless papers that are laser compatible and are widely used in laser printers.
Can you use carbonless paper in an inkjet printer?
Yes, you can use carbonless paper on inkjet printers for successful, high-quality printing.
Which Printer Can Print Carbon Copies?
Impact printers such as the dot matrix printer or the daisy wheel printer can print carbon copies. However, it's wise to check out the best dot matrix printers for carbon paper as they're more reliable.
What is pre collated paper?
Pre collated paper, available in 2 or 3 parts, is an alternative to carbon paper for creating or copying writings clearly down to the last part of the forms. It comes as multi-part forms that help create customer copies of invoices. It's compatible with inkjet, laser, and other digital printers.
How to print on 2 part carbonless paper?
To print on the 2 part carbonless paper or forms, you need to load your pre collated paper in a way that the printer should print on the 'Image Side' of the carbonless paper.
After loading, you've to print two separate copies of the 2 part form using the connected device. Finally, paper clip or staple the form after printing to keep them as a set.
What type of printer is most suitable for multi-part forms?
Although dot matrix printers are more suitable for printing multipart forms, they only have a niche market to serve. So you can look for a 2 or 3-part carbonless paper laser printer for your business. And also the inkjet printers as they're equally suitable for multi-part forms.
Benefits of Carbonless Laser Forms 
Luckily, there're carbonless forms manufactured for all modern laser printers. In fact, they're compatible with all the printers today.
But why would you go with carbonless papers? What are the benefits?
Let's find out.
Cost-effective: The carbonless laser forms or copy papers help businesses save up to 50% paper for their documents. Its buying cost is also reasonable.
Fast: These forms allow users to create multiple copies of forms in no time!
Accurate: Carbonless papers provide clear, sharp, and error-free transcription copies.
Secure: By using carbon laser forms no alteration can be made into already printed copies. And if any change is made, it's instantly evident.
Clean: Carbonless papers prevent texts from smearing or rubbing off. They don't curl and remain straighter and cleaner.
Eco-Friendly: These forms are made of biodegradable ingredients and leave a carbon-free impact on the environment.
What is the difference between dot matrix and inkjet printer? 
Dot-matrix printers are impact printers and are considered for printing on carbonless papers. They're often compared to inkjet printers, especially when considering one for businesses.
Before we show the differences in a comparison chart, we can say that the inkjet printers excel over dot matrix printers when it comes to printing on carbonless paper in regular businesses and offices.
But the dot matrix printers get a slight edge when it comes to niche markets like banks, ATMs, cash registers, where the carbonless forms are still printed with dot matrix printers because they're more suited to the nature of NCR papers.
What are some differences then? Let's figure them out in the chart below.
| Topic | Dot Matrix | Inkjet |
| --- | --- | --- |
| Compatibility | Can print on both carbon and carbonless papers | Compatible with carbonless papers but not carbon papers |
| Initial Cost | High initial cost | Reasonable initial cost |
| Replacement Cost | Replacement ribbon is cheap | Replacement ink is expensive |
| Noise | Quieter operation suitable for regular businesses | Produces annoying sound |
| Image Quality | Works well with high-resolution images | Works best with low-resolution images |
| Printing Speed | Prints comparative faster | Very slow printing speed |
| Maintenance | Maintenance is cheaper | Expensive maintenance |
| Application | Niche markets such as banks, registers, ATMs for printing statements or carbonless forms | Used widely in homes and offices for high-quality business document printing like flyers, brochures, receipts, etc. |
Conclusion
We've just seen the 5 best carbonless printers where each one is different from the other. If one is better at efficiency, the other one is better in print quality.
So they don't contradict much, making it easier for you to choose a printer that's closely suited to your needs. However, we've got our personal favorite here — Epson EcoTank ET-4760.
And we think it's the best printer for carbonless paper in terms of printing quality, cost efficiency, wireless convenience, and most importantly, a balanced price. These are something you look into in a commercial printer.
But the other options are also good and have their own set of pros. So now it's up to you to make your decision. Go carbonless and move forward with your business projects smoothly!