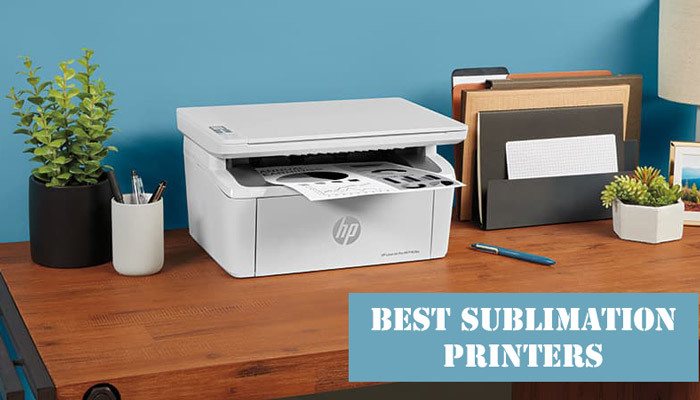 Best Sublimation Printers You Can Buy in 2023
While sublimation may sound like it's straight out of a sci-fi movie, it actually is not. In fact, we see sublimation almost everywhere without us knowing it. Little did we know that the nice t-shirt you're wearing had gone through the sublimation process when it was printed.
In this article, we discuss everything sublimation – from the sublimation process to the best sublimation printer for t-shirts to just about everything. Plus, we are also going to answer some very important questions about this manner of printing.
So, let's get started!
---
What is a Sublimation Printer?
In sublimation printing, the design is transferred and becomes part of the shirt. It is not on top of the shirt. The design is absorbed by the shirt. Think of it as like a tattoo, only that instead of a design on your skin, sublimation is having the design tattooed on your shirt.
The process of sublimation is when ink turns into a gas without passing through the liquid stage. In a nutshell, when heated with a heat press, the design turns to gas and is absorbed by the fabric, and solidifies once cooled. The result is of good quality that does not deteriorate.
And the best thing about this is that it can be used in mugs, glass, or whatever surface that's polymer-treated.
Now, is there a special printer for this?
While sublimation printers can be quite similar to the usual wide format printers, there is a certain specification it has to adhere to. Sublimation printers have to be compatible with the dye-sub application. These printers use special sublimation inks and should be able to pair well with sublimation papers.
While sublimation printers started out expensive, the price has become reasonable over the years. And here, we give you a list of the best sublimation printer for t-shirts, mugs, glass, and everything else in the market today.
Best Sublimation Printer Review
Boasting of better quality and outputs that last, here are 10 of the best dye sublimation printers in the market today.
1. Epson Workforce WF-7720
Technical Specs:
Printing Technology: Inkjet
Connectivity: Wi-Fi
Compatible Devices: PC, Laptops
Print Speed: 18 ppm
Sheet Capacity: 500
Some experts in the industry would contend that this is perhaps the best Epson printer for sublimation, by far.
Being one of Epson's newest, this printer boasts of being able to print fast. It can print in oversize pages of up to 13 x 19 inches. Also, it can scan, copy, and fax large-sized documents up to 11 x 17 inches.
This is pretty large as compared to other best sublimation printer in the market, and as Epson is known to deliver when it comes to oversized printing, we are not disappointed.
One of the additional features of this printer rarely included in other models is its auto-duplexing ADF. It has a monthly duty cycle of 20,000 pages with a recommended print volume of 1,300 pages per month.
It connects to your PC or network through different modes – from Ethernet to wi fi direct to even USB. While there may be different connecting options, the USB is the least popular, where most customers experience printing issues.
But if there's one thing we like the most with this printer, it's the control panel. It's classy-looking, and the number pad is spacious. Also, the buttons are attractive and large. Suffice to say, users with fat fingers need not worry about pressing these buttons.
This one is certainly a great-performing unit, which can churn out high-quality printouts. To summarize, this printer—while amazing—is ideal for small business to medium-sized businesses with average printing needs.
Highlighted Features
Prints fast
Can print to oversized pages
Attractive control panel
Auto duplex printing Auto feeding from paper cassette
2. Canon Selphy CP1300
Technical Specs:
Printing Technology: Dye Sublimation
Connectivity: USB
Compatible Devices: Smartphones, PC, Laptops
Print Speed: 1.5ppm
Sheet Capacity: N/A
We are all familiar with how this brand is able to produce high-quality cameras over the years. But aside from these cameras, the company also has a great line-up of printers produced.
This printer for sublimation boasts of being able to churn out great-quality photo prints with a heat transfer setup. With this taken into consideration, you would be assured of a fully-dried photo as soon as it gets out of the printer.
And if there's one thing that is highly commendable, it's that the printed output is also water-resistant.
Connecting with the printer is easy. You can connect through your smartphone or your tablet through its Canon PRINT app3. Also, you can opt to connect through a USB connection found on the printer.
Another mode of connecting would also be through the memory card of your camera, which you can link directly to the printer. This is extremely helpful, especially at times when you are in a rush to have photos printed.
Its sleek design makes it possible for you to take it with you wherever you go. There's a battery pack that goes with it. With this model, you can now print your best shots wherever you are.
Highlighted Features
Simple layout for the control buttons
Comes with a tilt-up LCD control screen
Prints on various paper sizes, including postcard-sized paper
Mobile and can be used anywhere
Prints fully-dried, water-resistant photos
3. Epson EcoTank ET-2760
Technical Specs:
Printing Technology: Inkjet
Connectivity: USB, Ethernet
Compatible Devices: PC, Laptops
Print Speed: 10.5 ppm (Black) 5 ppm (Color) 6 ppm (Black Duplex) 4 ppm (Color Duplex)
Sheet Capacity: 100
Compared to its tougher siblings in the industry, this best ecotank printer for sublimation from Epson is more suited for smaller offices and average printing use.
First of all, the model lacks the automatic ADF feature which its other siblings possess. This simply means that in scanning and copying pages, you have to manually do it – scan the first page, remove the first page, scan the second page, and so on.
If your business is into scanning and copying multiple pages at once, you can look for other options in the market.
Its lack of automatic ADF features, however, is being compensated for by its high-quality printouts. It may be slower than the others, but you are given excellent-looking text, characters, and even as photo printer.
It has easy wireless printing capabilities. You can now print documents and photos from your tablets or smartphones by connecting through direct Wi-Fi without a fuss. We need to remind you, though, there is no Ethernet-connecting capability for this one.
But what we like about this model is the amount of ink that you get, which can last you up to two years. Its replacement ink bottle set can house ink that can print up to about 7,500 pages black (or 6,000 colored pages). This saves you a lot, to be honest.
So, this is one of the best dye sublimation printers for you.
Highlighted Features
Borderless 4 x 6 printing
Hands-free, voice-activated printing
Great-quality printouts
Saves you loads in ink costs
4. Epson Workforce WF-7710
Technical Specs:
Printing Technology: Inkjet
Connectivity: Hi-Speed USB 2.0, Wi-Fi (802.11n only), Wi-Fi direct, Ethernet
Compatible Devices: PC, Laptops
Print Speed: 18 ISO ppm
Sheet Capacity: 250
With its defining features, this model may be the best sublimation printer for t-shirts out there. First off, let's talk about printing on paper. This model has the capacity to churn out borderless prints with sizes that can reach up to 13 x 19 inches.
For it to work, however, you need to make use of an intermediary fabric when transferring the designs to cotton.
It is equipped with a paper tray that can hold up to 250 sheets for when you have huge printing demands. The port at the bottom gives you an extra room for specialty paper forms that you may use once in a while.
This printer comes with an automatic two-sided printer and scanner. This is quite helpful, especially if you need to save on time in getting more items printed on the same page. Not only that, but it uses about 80% less power as compared to other printer brands out there.
It can scan for many sizes of up to 11 x 17 inches and can connect through wi fi direct and Ethernet. With these aside, it also boasts of its NFC connections, which would be very helpful if you need to connect the printer to other items where you want to print things.
Highlighted Features
Saves you more on electricity cost than other brands
Easy adjustment printing feature in its touch screen control panels
Can work with oversized medium
Compatible with various printing polyester fabric materials
5. Brother MFC-J6545DW
Technical Specs:
Printing Technology: Inkjet
Connectivity Technology: Wi-Fi
Compatible Devices: PC, Laptops
Print Speed: 22 ppm/ 20 ppm
Sheet Capacity: 250 sheets
Known for being able to produce some of the top quality sublimation printer over the years, this brand has again come up with a new model that is intended for moderate office use.
We mentioned moderate office use because unlike its other counterparts, this can only print tabloid-sized papers up to 11 x 17 inches. In terms of capacity for printing, its maximum duty cycle is up to 30,000 pages with a recommended volume of 2,000 pages per month.
But the best thing about this model is its revolutionary Investment Tank Ink System. With this in place, you are assured of your sublimation ink cartridges being able to hold more amounts of ink than the others.
And not only that, but when activating its Dash Replenishment feature, the remaining ink is automatically measured, letting you know when the amount of ink goes low.
And compared to its other expensive "brothers" in the industry, this model is fast. The only thing we are concerned about, though, is that it does not have the capacity to scan or copy double-sided pages, unlike its other "brothers."
That simply means you really have to turn the documents over to be able to scan and capture the other side.
If you are good with these, this sure is a best printer for sublimation that carry a great value for your money.
Highlighted Features
Extremely fast
Top-quality printouts
Can print, scan, and fax tabloid-sized pages
Equipped with Investment Tank Ink System
6. Epson Stylus C88 Inkjet Printer
Technical Specs:
Printing Technology: Inkjet
Connectivity : USB
Compatible Devices: PC
Print Speed: 23 ppm/ 14 ppm
Sheet Capacity: 120-sheet Tray
Compared to its other counterparts, this stylus c88 inkjet epson sublimation printer is ideal for small printing jobs at home or at work.
Basically, compact design for use at home, this inkjet printer is sleek in size but is able to churn out high-res prints. In fact, its maximum resolution can reach up to 5760 x 1440 dpi, which is pretty decent.
As such, this is one of the best printers for sublimation out there, especially for home business use. It may be small in size, but the resolution is one of those features that make this model stand out.
Connecting is easy. You can connect through your USB and other modes. The printer is also equipped with parallel ports that make it easier to connect.
Also, the installation process is uncomplicated, and you can have your printer set up and ready in just a jiffy. Downloading and setting up of your driver for this printer has never been this easy. This is amazing, especially if you have printing jobs that need to be finished urgently.
And one more thing, there is a image editing software that goes with this model. How quaint, isn't it?
This model may not be on par with other models from this brand. It can, however, be of great use for small businesses, making this one of the best sublimation printers for mugs, shirts, or for any other line of business you have.
Highlighted Features
Works with various types of paper, including airmail papers
High resolution sublimation output
Smudge-resistant printouts
7. Epson Expression Photo HD XP – 15000
Technical Specs
Printing Technology: Inkjet
Connectivity: Wireless, Ethernet
Compatible Devices: Smartphones, PC, Laptops
Print Speed: 9.2 ISO ppm (black) and 9.0 ISO ppm (color)
Sheet Capacity: 200 sheet front tray, 50 sheet Rear Tray
For larger printing jobs, whether it is for fabrics or other materials, this model is quite a good catch. It boasts of being able to produce borderless prints with sizes that can reach up to 13 x 19 inches.
Furthermore, its six-color ink feature also gives you more defined outputs in terms of colors. It actually includes red and gray inks, among others, which result in distinct mixes that look brilliant when transferred to the fabric.
While doing your printing jobs, you would also be able to make certain adjustments through its 2.4-inch colored LCD screen. This helps you in improving your printing experience with its easy to navigate printing settings.
The model is also equipped with a Dash Replenishment feature, which, when activated, keeps a tab on the amount of ink that you still have. Once the level goes down to alarming levels, you will be informed. Never run out of ink again in the middle of printing jobs!
Finally, connectivity with this printer is smooth. This includes a wireless printing function that makes sure you get printing jobs going in a short period of time. There is not much hassle when it comes to connecting and printing. All you need to do is to wirelessly link your device to the printer, and you're good to go!
Highlighted Features
Can handle up to 23mm-thick items
Dash Replenishment feature
Built with a six-color ink system for brilliant prints
Borderless prints up to 13 x 19 inches in size
8. HP Office Jet 9025
Technical Specs
Printing Technology: Inkjet
Connectivity: Wi-Fi, USB, Ethernet
Compatible Devices: Smartphones, PC, Laptops
Print Speed: 24 ppm black, 20 ppm color
Sheet Capacity: 500 sheets Input, 100 sheets Output
This model from HP is ideal for when you are in the habit of printing files and documents from your cloud network. For any of your sublimation printing needs, this one here is quite helpful.
All you need to do is to load the document on your device before you forward it to the printer. The printer can be connected to your device through Wi-Fi, making it printing convenient.
As expected from this brand, the printer tray is sturdy. It is also easier for you to apply some transfer mediums on to the surface. This makes the process of printing your work so easy and simple.
There's a single-pass, two-sided document feeder included in this sublimation printer. It also promises a scanning speed that is faster than its counterparts in the market.
It is also getting more and more important to keep our information secure. As such, a Wi-Fi security setup is included inside the printer. This makes sure that the details you have transferred to and printed through this printer remain secure inside.
And speaking of security, you can even install a password to ensure no unnecessary projects are printed through this printer.
Highlighted Features
Has the capacity to scan colored pictures at a rate of 8 ipm
Dual printer tray
Information processed through the printer is protected from unauthorized access
Can hold about 500 sublimation sheets at one time
9. Canon Pixma MG3620
Technical Specs:
Printing Technology: Inkjet
Connectivity: Wi-Fi
Compatible Devices: Smartphones, PC, Laptops
Print Speed: 6.5 Print Per minute
Sheet Capacity: 100 Sheets
"Basic" is just how we would describe this type of sublimation printer. It's never complicated. The printer is made for those who don't want to pay for extras they rarely use or don't even need.
For starters, the printer does not have an ADF. Meaning, if you have needs to print or make copies of multiple documents at one time, then this is not for you. In fact, when making multiple copies of a specific document, you need to press the copy button numerous times.
The paper tray, while sturdy, can only accommodate letter-sized sheets as well as 4 x 6 inches of photo paper. Aside from these two sizes, there's nothing else that this printer can take. And since there is only a single tray available, you have to swap your ordinary paper to photo paper every time you need to use the latter.
There is no LCD screen to control your output. However, there's a button for black and white and another button for colored prints.
Its lack of extra features, however, makes up for the speed on its printing. It prints faster than the average printer in the market. Not just that, it's also able to produce razor-sharp text and brilliant photo prints. Also, this model's scanning capabilities are top-notch.
To sum up, the model delivers more for such an affordable price. If you like to only pay for what you need, go for this.
Highlighted Features
High-quality prints
Fast scanning and printing
Easy to use
Affordable Price
10. Xerox Phaser 3260
Technical Specs
Printing Technology: Laser
Connectivity Technology: Wi-Fi, USB
Compatible Devices: Smartphones, Tablets
Print Speed: 29 ppm
Sheet Capacity: 251/251 sheets
Among all that we've listed here so far, this is the printer that can entail you a higher printing cost. But don't stop right there because we will be talking about priorities here.
If you are one to prioritize the image quality of prints, this is the best printer for sublimation there is. Yes, the printing cost may be higher than the rest by a few cents, but the quality is unbeatable.
When it comes to other features, printing, and scanning speeds, there may be better competition out there. But quality is the name of the game here. And this is where this model excels. Printing quality for text is top-notch; printing for graphics is just brilliant.
In terms of connectivity, you must know that this model does not come with an Ethernet connector. As such, you cannot directly connect the printer to a wired network. This, however, is being supported by Wi-Fi, making it more convenient that allows to print from a PC, a laptop, or even from a gadget or smartphone.
The printer has a 250 sheet tray. It also comes with a duplexer for when you need to do some double-sided printing.
If your priorities lie on the quality of your prints, this should be the sublimation printer of your choice.
Highlighted Features
Easily print from gadgets through Wi-Fi
auto duplex for double-sided printing jobs
The tray can hold 250 sheets
Top-notch quality prints
Easy to use
Comparison Chart On Sublimation Printer
| | | | |
| --- | --- | --- | --- |
| | Print 4800 x 2400 dpi/ Scan 1200 x 2400 | | Auto-Duplex, Double side Print. Scan up to 11" x 17" |
| | | | Portable Photo Booth, Instagram Prints, Diverse Connectivity |
| | | | Auto-Duplex, Innovative Cartridge-Free Printing, Memory Card Slot, |
| | Print 4800 x 2400 dpi / Scan 1200 x 2400 | | Auto-Duplex, Scan up to 11" x 17, Auto Document Feeder |
| | | | Page Gauge, Duplex Capability, Paper Tray 250 sheet |
| | 5760 x 1440 optimized dpi | | |
| Epson Expression Photo HD XP-15000 | | | Auto duplex, Fast Speeds, Simple Setup and Navigation |
| | | | Auto-Duplex, Single-pass, 2-sided ADF, Scan to email, Easy slide-off glass |
| | | | All-in-One Wireless Inkjet Printer, Auto Duplex Printing, Airprint, Google Cloud Print, NFC, Mopria and Canon Print |
| | 600 x 600 dpi (up to 4800 x 600 enhanced image quality) | | Auto-Document Feeder, Affordable reliability |
Choosing the Best Sublimation Printer for Beginners [Buyers Guide]
When purchasing sublimation printers, there are quite a few things you need to take note of. Here, we talk about considerations when choosing the model of your choice.
Before we start with the technicalities, ask yourself the following question. How much printing do I need to do? Where do I use this printer? What's a budget I can comfortably work with?
Once you are able to answer these questions, you may already be able to narrow down the list of your options. From there, we talk of technical stuff you need to consider so we can narrow your field further.
Read on....
Layout of the Printer
While most sublimation printers these days can directly transfer paper designs and prints on to the shirt, there are others that need to make use of a transfer medium.
For some, it's a cotton sheet. For others, it would be a paper material where you print a pattern for transfer. Which one would you need the most?
Materials to be Printed
Although some printers can work with cotton sheets, you may want to choose something that works with handling paper materials. They're more convenient and are easier to work with.
Specialized Cartridges
Your cartridges should be able to work well with the dye sublimation process. And your sublimation printer should have specialized sublimation ink cartridges that work on certain individual colors as well.
Resolution
The measure is generally provided as dpi or dots per inch. A good quality printer needs to have the great resolution possible. You have to remember that in sublimation printers, the higher the resolution sublimation printer is, the higher the quality of your prints.
Printing Medium Size
Your printer's layout should be able to work with different kinds of materials. Not only that, but it should also work well irrespective of the size. Do you prefer those that can print on postcard-sized paper?
Are you looking for those that can do oversized paper? This should be a consideration to look out for.
By now, you should also be able to determine the amount of work that needs to be done. Do you really require the extra features? How much of use can they render in the business at hand?
Printout Quality
Your printer should be able to do more than just print your documents. The prints should be top-notch. If you are printing more text than graphics (or the other way around), you should already know which ones are for you.
Frequently Asked Questions
There might be questions that bother you up until this point. Here, we answer your most commonly asked questions.
Q: What Kind of Printer do You Need for Sublimation?
Ans: While you may be tempted to choose just any printer in the market, it would be to your benefit if you get a printer that you are looking for the best affordable sublimation printer.
If you have not gotten one yet, Epson printers are known to be great when it comes to sublimation jobs.
Q: Can you Use any Printer for Sublimation? Looking for a Sublimation
Ans: Not all printers can be used for sublimation jobs. Sublimation printers come with cartridges that are compatible for sublimation. Make sure that the printer can support sublimation inks.
Q: What Temperature do you use for Sublimation?
Ans: You need a temperature range within 400 degrees Fahrenheit to successfully carried out quality designs sublimation.
Q: How much does a Sublimation Printer Cost?
Ans: The cost of sublimation printers can range from about $500 to $800 depending on the brand and quality. For some, especially with the added features and the print size, it can reach up to more than $1,000.
Q: What makes Sublimation Printing Different from Vinyl Printing?
Ans: We need to add an extra layer to the top part of the material for vinyl printing. The ink will then solidify over the material to ensure full coverage.
On the other side, for Sublimation, the ink becomes a part of the material. The ink submerges into the material and not on top of the fabric, and the pressure of the heat fuses the design on the shirt.
Q: How Long does a Sublimation ink Last?
Ans: Sublimation ink can probably last about four to six months, depending on how much you use it.
Q: How can You Remove a Professional Print from a Shirt?
Ans: to strip off the ink, we can use a nail polish remover alongside acetone. Just dipped a cotton ball into the mixture and remove the print carefully, that's it !
We have detail guide on How to remove screen print from shirt
Final Words
You should have known by now which of these is the best sublimation printer for t-shirts, mugs, glass, and other surfaces.
Hopefully this short list has helped you to determine the top notch sublimation printer for your budget and requirements. Each of these models is highly-vetted when it comes to performance, quality, and durability.
Now it's your turn to select as per your need. How much do quality prints mean to your business? Would you prioritize the quantity of prints?
Once you have this settled, choosing would be a breeze.