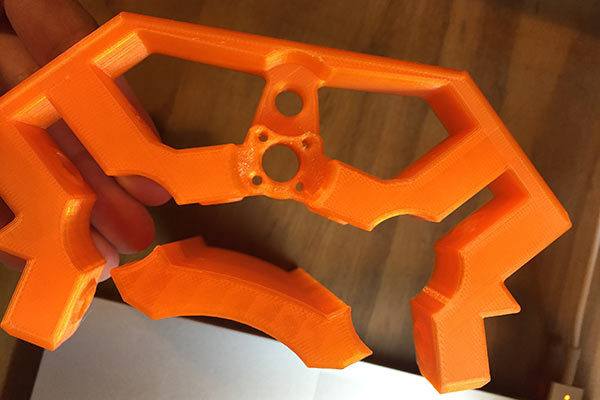 Best PETG Filament Reviews and Buying Guide 2023
The 3D printing manufacturing industry is on the rise. The prototyping solution has now become a widely used production technique.
To get the right quality print from this technique, you need to use a good quality filament. The quality of the printed product depends quite largely on the filament design. PETG filaments have a low shrinkage feature which makes them perfect for printing large and flat surfaces.
The best PETG filament is robust, smooth, and easy to work with. Not all PETG filaments possess this quality, though.
That is why we are here to guide you through the buying process. Let's take a look at a few of the top PETG filaments in the market, shall we?
| Image | Product Name | Our Rating | Price |
| --- | --- | --- | --- |
| | HATCHBOX PETG Filament | | |
| | Overture Clear 3D FPETG Filament | | |
| | DURAMIC Filament | | |
| | OVERTURE PETG Filament 1.75mm | | |
| | SUNLU PETG Filament | | |
What Is PETG Filament?
You might know PETG as polyethylene terephthalate. It's a very well-known plastic used for 3D printing.
The material is derived from PET. The G is added to the name because the plastic has been glycol modified.
This edition of glycol makes the material very clear and glossy. Therefore the material is not too brittle.
A lot of people claim that PETG contains the advantages of both ABS and PLA filaments. With a few tweaks, the material can even work better than ABS and PLA filaments.The modification made with glycol gives PETG a lot of desirable attributes. For example, the melting temperature is lowered quite significantly. Crystallization is also minimized because of the modification with glycol.
With that, you also get a lower viscosity for ease of use. The material, being more liquid, makes the printing process quicker.
People often consider working with PETG filaments because they are easier to print and melt quite smoothly. Also, they never break or shatter and are considered quite a durable material for 3D printing. Both professionals and beginners Love using this filament for their 3D printing projects.
Our Recommended: 10 Best PETG Filament Reviews
With 3D printing being on the rise, there are lots of PETG filaments in the market now. Which one will be the perfect one for you?
However, when you have the right information, it simplifies the choosing process allowing you to only focus on the right one for your needs. In this blog, we are going to review the top 10 best PETG filaments on the market.
1. HATCHBOX PETG 3D Printer Filament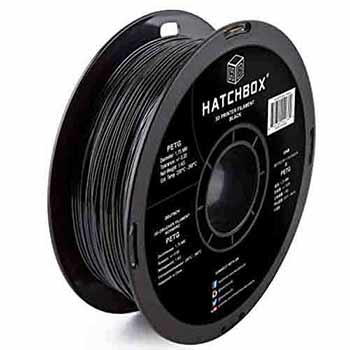 Purchasing this PEGT 3D printer filament from HATCHBOX is an indication that you are getting quality and reliable PEG. The company specializes in developing variety and quality products at an affordable price. Therefore, you are guaranteed that whatever budget you have will be a product for you to give you an exceptional experience.
Additionally, with this printer, it will be easy for you to make 3D prints last. Therefore, you are guaranteed that it will help take your printing experience to the next level.
On the other hand, it has a sturdy and pretty flexible spool that is super tough. The spool is nearly indestructible, meaning it can withstand any challenges that come along.
The quality of your prints with this printer, however, depends on the spool thickness. Luckily, the Hatchbox machine has a uniform spool thickness to guarantee that your prints' quality will not be compromised.
Unlike other printers, with this machine, you are guaranteed that the layers will stick beautifully. Therefore, you will not have to keep repeating but rather enjoy strong and high-quality prints with minimal warping.
It is also compatible with a wide range of nozzle temperature range for a better experience. This printer's adjustable adhesion ensures to supply the right amount of heat for a perfect head bed.
Pros
Nearly indestructible spool
A great layer to layer adhesion
Wide nozzle temperature
Strong and high-quality prints
Cos
2. Clear 3D FPETG Filament from Overture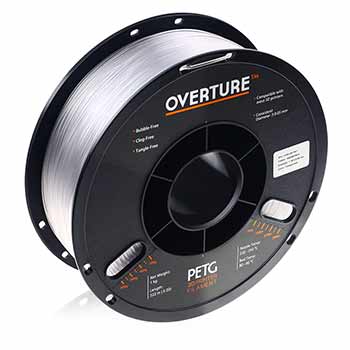 Overture is a brand you can trust. They promise and deliver as per your expectations to ensure you are satisfied. With this clear filament, you are guaranteed that delivered is clear, not milky white filament-like it happens with other brands on the market.
Therefore, it will be easy for you to undertake your duties with the confidence that your PETG filament is convenient for clear 3D prints.
This also makes it possible for you to identify possible mistakes on your prints for corrections while you still can. The clear design also enhances the beauty of your prints hence giving them a professional appearance.
On the other hand, this filament form overture is easy to use. It is quite flexible and lightweight, allowing you to apply it to your prints while within your comfort easily. It is also incredibly resistant to impact and strong, making it convenient for creating RC planes.
The filament also eliminated problems such as bubbling and stringing, which are quite common with other brands, and they eventually ruin your PETG experiences.
When applied, it gets down smoothly and has a great layer to layer adhesion with no bubbles or strings formation. This filament also comes with a build plate that is good in size and is quite nice for use.
Pros
Length and weight scale that indicates usage progress
Crystal clear filament
Lightweight for ease of use
Cos
It affects the print quality if printed together without separation
3. DURAMIC 3D PETG Printer Filament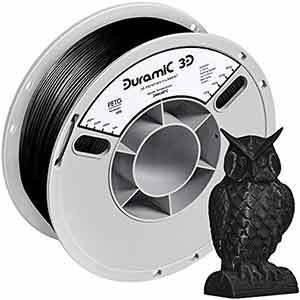 This duramic 3D PETG printer filament is all you need if you are looking for best quality. It provides you with the right adhesion and has smooth extrusion for reliable experiences with your 3D printing projects. The filament comes with not stringing or warping problems to ensure the print quality is consistent and uncompromised.
The product is also has minimal tangling issues and is free from bubbles and clogs making it convenient even for the most delicate prints. With its unique design, it ensures to make your printing experience exceptional with smooth ad stable printing. Therefore, once you have this filament within your reach, you will automatically experience the difference in your business.
It also comes with a watertight storage bag that helps keep the filament secure and free from moisture for future use. Therefore, if you haven't exhausted all the filament, you will not have to buy again whenever you think of printing. Instead, you can get the one you previously stored and print confidently without compromising on quality and adhesion.
The spool nozzle temperature can hold on high temperatures and still provide you with the same print quality. Therefore, whatever temperature you need to get the job done, you are guaranteed that this is the right product for the job. Its made of high-quality material, which guarantees reliable color consistency all the way with no traces.
Pros
High quality and reliable construction
Withstand high temperatures
Easy to use
Reliable adhesion and print smoothness
Cos
It takes time to master its use
4. OVERTURE PETG Filament 1.75mm
Overture has been in the industry for over eight years now, which guarantees that they have what it takes to develop quality products. The industry's long time also indicates that they have a piece of deep knowledge about 3D prints.
Therefore, when developing their 3D printer filament, they do it with passion and confidence that it's what the market requires, especially for anyone willing to take their 3D printing to the next level.
With this best clear petg filament, you are guaranteed exceptional quality with stable and smooth printing. It eliminated the issues of bubbles and strings, as it commonly happens with other brands for a flawless printing experience.
Additionally, this filament has a consistent diameter size to ensure that your print quality is consistent all the way. Therefore, you will not experience challenges after setting your printer to print a certain volume than the diameter shifts.
The filaments spool is of the highest quality, assuring you that the filament will facilitate printing useful and functional stuff with minimal complications.
If you are looking for best clear filament to enhance your 3D printing business, this will make the perfect fit. It is super light, but its adhesion is reliable and on another level. The spool is also flexible, allowing you to deal with it easily for your satisfaction.
Pros
High mechanical strength and super flexible
Consistent diameter size for reliable print quality
Ease of use
Resealable aluminum foil bag for moisture protection
Cos
Not suitable for large projects
5. SUNLU PETG Filament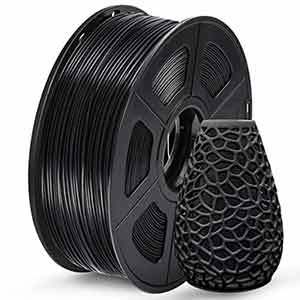 On the last spot of this review is this SUNLU PETG filament. It comes with ease of use and durability benefits to guarantee that it is worth your investment and will enhance your 3D printing skills. Therefore, if all you want is to get your reliable hands-on filament, this is all you need.
Unlike another filament, this doesn't require you to preheat the bed. This makes the operation faster and safer for you, with minimal chances of injuries or accidents. However, you will require to set the nozzle temperature to at least 235-245 degrees for it to work.
The filament guarantees strong and firm layer to layer adhesion, which is an indication that it will create solid crafts that are highly durable. It can also withstand chemical or impact damages, and its objects are also heat resistant.
Therefore, you are guaranteed that your 3D print will last longer and not be subject to possible damages.
It has consistent spool thickness to ensure that your print quality is not compromised. The even thickness also guarantees that your prints are all uniform and meet your specific size expectations making it convenient even for commercial use.
It comes in 3 rolls with different colors hence making it convenient for projects with multiple colors.
Pros
Durable construction
Ease of use
Multiple color operation
Consistent spool thickness
Smooth and strong layer to layer adhesion
Cos
6. SainSmart 101-90-740PRP PRO-3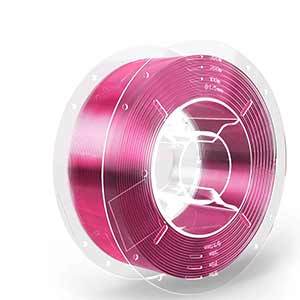 Are you tired of your filament jamming inside the printer? SainSmart takes care of that for you.
Made with the new layer by layer technology, this filament remains 100% tangle-free at all times. Now you can print smoothly and more efficiently.
The construction combines the advantages of the PRO-3 PETG and the ABS filament to give you the best of both worlds. It has a stronger structure with increased durability and temperature resistance, similar to the PRO-3. The unit has ease of use and reliability to match the ABS filament.
In order to maintain quality, the filaments are tested using a laser. With a +/-0.02mm error rate of checking, you can rest assured that you are being sold the best 3d printing filament for sure.
The filament is engineered to a consistent round shape, allowing you to print without any interruption.
Another good thing about the PETG filament is that it is made with non-toxic and renewable resources.
Pros
No tangling design gives clog-free printing
Made with incredible sturdiness, durability, and temperature resistance
Easy to work with
Tested with a +/-0.02mm error rate laser
Allows uninterrupted printing
Cos
It might give off a strong odor at times
7. Stronghero3D 3D Colored PETG Filament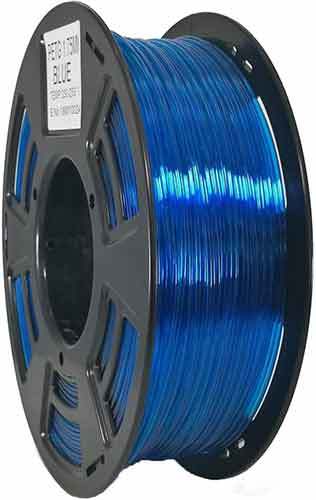 Not all good-quality PRTG filaments are expensive. Stronghero 3D is the best petg filament for ender 3 available at a very reasonable price. With little to no stringing, this is undoubtedly the best filament brand for PETG.
Firstly, the color and finish of the filament are pretty impressive. It's a nice translucent blue color with a glossy finish, which can be used for many projects.
If you can tune the filament properly, there will be no layer adhesion issues. With the correct method of use, even bridging is possible.
The material is non-toxic and even food-safe.
With a width of 1.77 mm, this product will melt beautifully and in the most consistent form. You can use the spool for finely detailed work. The PETG filament is also great for layer adhesion. But because the material can be a bit sticky, it's better not to use it for support structures.
Pros
Reasonable price
1.77 mm width spool melts with ease
Non-toxic and food-safe formula
It does not involve layer adhesion issues
No stringing or fussing
Cos
Not the sturdiest, might snap if too much pressure is applied
8. 3D Solutech – PETG175BLK PETG 3D Printer Filament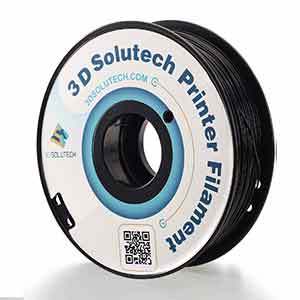 The filament you use is what decides the quality of the print. The 3D Solutech filament is a smooth texture that results in amazing-looking prints. You can use this for detailing or even for sensitive projects.
This filament can be used on a variety of 3D printers, no matter the brand. You won't find any sort of air bubbles in this filament either. The product has no oily residue or breaks.
With monitored testing and packaging, there is no inconsistency in the spools that you buy.
There is no need to operate the printer at too high of a temperature because the product melts quite easily. A temperature range of 200°C – 220°C ensures smoother, lump-free melting. The spool will never tangle so that you can have uninterrupted printing sessions.
Pros
Melting temperature of 200°C- 220°C
Melts smoothly with no lumps
Does not get any air bubbles
No oily residue can be used for sensitive projects
Smooth texture that results in a higher quality finish
Cos
Brittle if not used with proper tuning and settings
Not too many color options available
9. eSUN 3D 1.75mm PETG Black Filament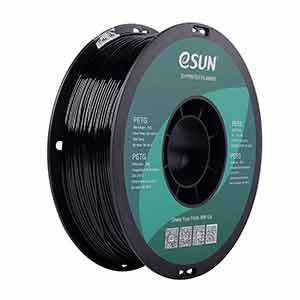 The PETG filament from eSUN is a bit special. It is more on the softer side. The filament is very easy to use but has excellent sturdiness like the ABS. So, although you will melt and shape this quicker, the material won't snap in half.
Don't underestimate the unit because of the price. Even though this is an affordable spool of PETG filament, it is as impact-resistant as any other high-end filament.
With a dimension accuracy of +/- 0.05mm, you can melt the product without having to monitor the heat settings too much.
When it comes to the finish, this is undoubtedly the best transparent filament for high gloss. You get approximately 2.2 pounds of PETG filament at a very low cost.
Pros
2.2 pounds of PETG filament available at a great price
Work fast and efficiently
Dimension accuracy of +/- 0.05mm
Sturdy structure with high impact resistance
It stays durable and sturdy even after curing
Cos
It might be too lightweight for some users
10. TECBEARS PLA 3D Printer Filament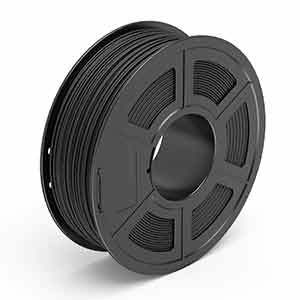 A lot of the PETG filaments in the market are inconsistent when it comes to width. This can be a problem as it results in uneven melting.
TECBEARS makes sure that the spools of filament that they make have a consistent 1.7mm width. This way, you can work with one to regulate temperature and not end up with burnt plastic.
With low shrinkage, you won't have to worry about the product stringing. It also has a high purity and is considered the best clear filament for no fussing.
Before the product is packaged and shipped, it goes through an intensive drying and vacuum process. It helps get rid of the air bubbles when you melt them. All these features come together to give you a filament that does not clog or jam up in the nozzle.
You can melt the filaments easily in 190°C- 210°C—no need to crank up the heat.
Pros
Consistent 1.7mm width
Low shrinkage transparent PETG filament
Dried and vacuum sealed before packaging
It does not get air bubble when melted
Melts easily without having to apply too much heat
Cos
It loses its shine if the heat is not regulated properly
Top PETG Filament Comparison Table
Product Name
Diameter
Nozzle Temperature
Bed Temperature
Built-in graduated scale

HATCHBOX PETG Filament

1.75mm +/- 0.03mm

230°C to 260°C

70°C to 80°C

Yes

Clear 3D Filament

1.75mm +/- 0.05mm

230°C to 250°C

80°C to 90°C

Yes

DURAMIC 3D PETG Filament

1.75mm +/- 0.05mm

230°C to 250°C

70°C to 80°C

Yes

OVERTURE PETG Filament

1.75mm +/- 0.05mm

230°C to 250°C

80°C to 90°C

Yes

SUNLU PETG Filament

1.75mm +/- 0.02mm

235°C to 245°C

65°C to 80°C

No

SainSmart 3D Filament

1.75mm +/- 0.02mm

230°C to 260°C

50-80°C

**

Stronghero3D PETG

1.75mm +/- 0.02mm

220°C to 230°C

50°C to 70°C

Yes

3D Solutech

1.75mm +/-

.02

200°C to 220°C

85°C – 100°C

yes

eSUN 3D PETG

1.75mm +/- 0.05mm

240°C to 255°C

60°C to 80°C

No

TECBEARS PETG

1.75mm +/- 0.02mm

220 to 250°C

70°C to 80°C

No
Things To Consider When Buying The Best PETG Filament
PETG is gradually becoming the best 3D printing material thanks to its indestructible design. If you get the right quality, you are guaranteed that your print quality will be exceptional and will withstand almost any challenge that comes in its way.
However, choosing the right PETG filament is not as easy with so many brands in circulation. Therefore, it is essential to have specific features to look for that will guide your decision making.
Consistency
Consistency is critical, and it comes in various forms. You first have to ensure that the spool you get has the same thickness size all the way. For instance, if you get one that measures 1.75mm, it will be difficult to get fine results if it has other parts that go up to 1.85mm thick.
Therefore, your spool thickness has to be consistent with a =/- of 0.05mm but nothing beyond that point. Additionally, it should be made of the same material texture for the same quality results.
When the material is not consistent both in texture and size, it will automatically impair your print quality. Considering that you will be exposing your prints to heat when the material is different, you might not be in a position to get the right heat setting hence destroy one while focusing on the other.
Safety
Although the chemical composition of PETG is safe, safety is a critical factor to put into consideration. Different manufactures develop their PETG material differently, and you cannot assume that all the brands on the market are safe. If you are thinking of using the material to prepare food or storage, you need to be sure you are using the right material.
However, since it may not be easy to tell whether the material you want is safe, reading previous customer testimonials could be of help. This will help you make the right choice with minimal risks, unlike when you focus on the company selling strategy.
On the other hand, if you missed customer testimonials, you can also check on odor as another safety indicator. Any PETG material with a chemical smell is automatically a bad sign.
Moisture Protection
In their unused form, filaments attract moisture quite easily. This is because they are the most hygroscopic materials, unlike all the others on the market. However, when they attract moisture, it, in return, ruins the spool and makes the layer to layer adhesion quite difficult hence affecting the quality of the results of your print.
Therefore, before committing to buy from a particular brand, ensure to go for the ones that seal their products properly before shipping. This will prevent water damages along the shipment process and ensure that your product gets to you in good shape.
Additionally, you should check and ensure that the packaging bag is reusable to guarantee that every time you use the spool, you can safely store the remaining in the bag for moisture-free preservation.
What Are the Optimal PETG Print Settings?
You need to know how to use them properly if you want to get the right outcome from PETG filaments.
Here are some of the optimum settings for using PETG Filaments.
Nozzle temperature at 235°C; PETG has a higher melting temperature compared to other filaments. Therefore, you need to set the temperature relatively high. A range of 235°C to 250°C will be optimum
Keep the retraction speed low at about 40 to 45 mm per second
Bed temperature of about 70°C will be great for PETG filaments
20mm/s speed in initial layer print speed
The print speed at 40-50 mm/s
A retraction distance of 2-3 mm if direct drive setup and 6mm if Bowden set up
50% cooling fan speed
Brim build plate adhesion
5-6mm brim width
0% speed in initial layer cooling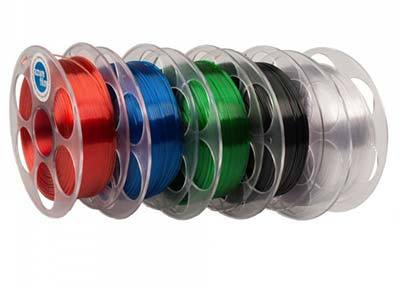 How Do I Store PETG Filament?
To keep your PETG filament in good condition for a longer time, you need to store it properly. If you take care of the material, you can keep on using it for a very long time.Here are a few methods of storing PETG filaments properly.
Air Tight Containers
Air exposure can significantly harm PETG filaments. If you keep the material out in the open, the material will absorb a lot of moisture. This will ruin the overall durability of the product and also make it melt weirdly.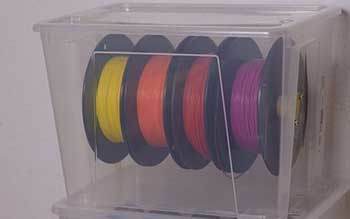 The cheapest and most convenient way to store PETG filaments is by using an airtight container. You can get a lot of sizes and shapes of the containers, so you can choose one that works for you.
Vacuum Bags
This is another way for you to store your spools of filament properly. You can get silicone packets that are vacuum-sealed at quite an affordable price. After you place the PETG filaments inside the bag, all of the air can be sucked out. This prevents the filaments from absorbing any moisture.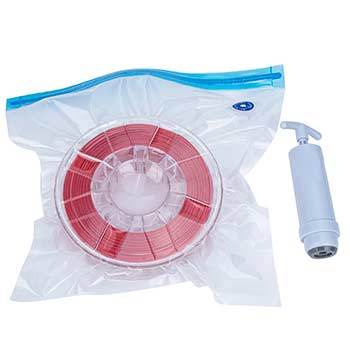 These can be bought in any size that you want. Also, these sorts of vacuum bags are straightforward to store because they don't take up much space.
To add an extra layer of protection, you can store the vacuum bags inside a double-layered zipper bag. This will prevent any air from getting into the vacuum bags in case there is a hole.
Using Renewable Dehumidifiers
If you have to use PETG filaments on a regular basis, you probably need to store them more carefully.
For this, we would recommend investing in a renewable mini dehumidifier. Store the filaments in a medium to large size airtight container and place the dehumidifier inside.These mini dehumidifiers do not need any batteries or cords.
They have silica gel beads inside them which help to keep moisture away. The dehumidifiers don't cost much and only need to be taken out of the box once to charge the silica gel beads. It's a very low-maintenance and cost-effective option.
Dry Box
This is a bit of an expensive option—people who 3D print professionally often use these electronic dry boxes to store their PETG filaments.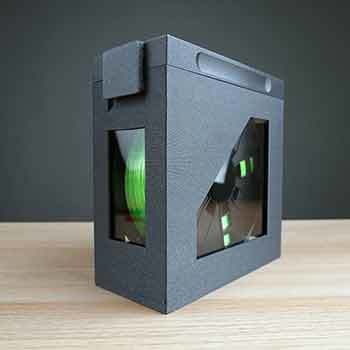 The boxes need to be plugged into a power source, and the dehumidifier system inside keeps moisture outside the box.
There is little to no maintenance with these boxes. You should only invest in an electronic dry box if you have a large number of spools to store.
Silica Gel
People who have a tiny amount of PETG filament to store can use silica gels to keep the product fresh.
To do this, place your PETG filament inside a silicone or vacuum package and put some of the silica gel beads inside.
Just like how small bags of silica gel helps keep our bags and medicines dry, it will also help keep moisture away from the PETG filament box.
It's a cheap way to keep the inside of the storage container or bag dry.
The Advantages and Disadvantages of PETG Filament
With the multiple benefits that you get from PETG filaments, there come a few disadvantages as well.
Advantages of PETG Filament
Strength
PETG filaments are much more reliable and robust when it comes to their adhesion. Even after drying, the filament is very durable.
Unlike other filaments, PETG does not have the possibility of cracking after the cooling process.
Finish
When you're using PETG for your 3D printing filament, you can expect little to no warping. Also, after the cooling phase, PETG will not shrink or bulge. The overall appearance and finish of the material are pretty impressive.
Because the material gives off a glossy or clear transparent finish, it is often considered a top priority when making visually demanding workpieces.It Combines the Best of Both Worlds
PETG is a combination of all the good properties from both ABS and PLA filaments. If the glycol content of the material is altered, PETG can even be better than both PLA and ABS filaments.Durability
The material is very sturdy and holds up quite well. It has alcohol, oil, and all kinds of solvent resistance.It has thermal properties that ensure safe and efficient use with heat-printed beds.Sterile
With a few tweaks, you can process PETG into a sterile print object. That is why you will often see PETG being used in medical technology.
Disadvantages of PETG Filament
No UV Resistance
The main disadvantage of this material is that it is not protected from UV rays. When exposed to UV light, the plastic cannot hold on to its sturdy and durable features. It becomes very weak very quickly.
Get Scratches Easily
PETG filaments are prone to getting scratches. So if the material that you want to print requires clear visibility, this might not be a suitable filament to use.
You can add scratch resistance to the filament by using clear varnish or similar treatments with epoxy resin. But this is a lot of work and might be expensive depending on the size of the project.

PETG Filament vs PLA Filament: Which is Better
PLA is a biodegradable polymer that is made from plant-based materials. It's a good material for 3D printing because it has a low melting point, doesn't warp easily, and has a low density. PETG is a polyester plastic that melts at about 275°C to 300°C.
It's also known as Polyethylene Terephthalate Glycol or PEG, which is the same type of plastic used in soda bottles. . However, with regard to durability, PETG is a better choice. It is stronger and more resistant to impact.
Although similar materials, if you are looking for Which is Better Between PLA and PETG then carefully notice the bellow comparison table:
| Characteristic | PLA | PETG |
| --- | --- | --- |
| Vicat softening temperature | 131ºF | 185ºF |
| Heat deflection temperature | 131ºF | 158ºF |
| Density | 1.24g/cm | 31.27g/cm3 |
| Impact strength | 16kJ/m2 | 11kJ/m2 |
| Printing temperature range | 392–446ºF | 446–482ºF |
| Bed temperature range | 140ºF | 140–176ºF |
| Melt flow index | 6g/10 min | 11 g/10 min |
People Also Ask
Q: Is PETG Any Good?
A: Yes. PETG is becoming popular because it combines benefits from other filaments too. It is also softer, smoother, and flexible, which is essential for 3D printing.
Q: What Are The Common Uses For PETG?
A: it can be used for food packaging materials and water bottles since it is food safe. Since this material is strong and durable, it can also develop quality bracelets and rings, among other ornaments. It can also be used to make mechanical and robotic parts.
Q: What Are PETG Filaments Made Of?
A: The material used in making these filaments is a form of thermoplastic polymer known as polyethylene terephthalate glycol strands. It is quite significant in mechanical resilience compared to other materials.
Conclusion
PETG is a great alternative to PLA and ABS as it provides you with combined benefits in one material. It is, therefore, ideal for all your 3D prints, and it is quite durable. The process of getting the best PETG filament, however, is daunting, and it requires you to go an extra step.
Choose any one of the filaments that we have recommended, and your 3D projects won't shrink or warp after cooling down for sure.Whether you are a professional or a beginner, the products on our list will meet all sorts of 3D printing needs.
However, with the information above, now you have an easy way to begin your search and ensure to land on the best deal on the market.