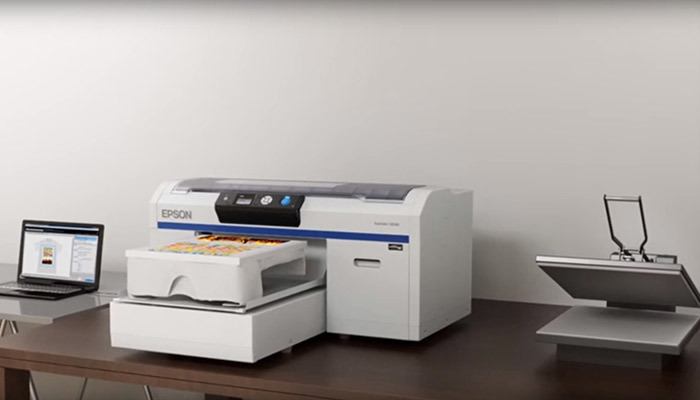 Best DTG Printer For Small Business In 2023
No matter how big or how small your clothing business is, you need a good quality DTG printer in your workplace. With new improvements made in technology, everything starting from embroidery to printing has become digital for clothes.
A lot of businesses avoid getting a DTG printer because it can be expensive. But even if you are a small business, there are still some affordable DTG printer options that you can buy.
So if you want to ensure high-quality printing on the clothes that you sell, you should get the best DTG printer for small business, as soon as you can.
Now, this is where we step in. We are here to help you find the right printers, at the right price for a starter or small business. So, without further ado, let's get started, shall we?
| Image | Product Name | Our Rating | Price |
| --- | --- | --- | --- |
| | HRM DTG Printer | 5 out of 5 | |
| | HRM A3  DTG Printing Machine | 5 out of 5 | |
| | DTF L1800 Printer | 4.5 out of 5 | |
| | HRM A4 DTG Printer | 4.5 out of 5 | |
| | A4 DTG Printer | 4 out of 5 | |
What Is DTG Printing Technology?
Advances in technology have given us the benefit of being able to print directly onto clothes now. The process of printing images or writings onto clothes in full color, is known as direct to garment or DTG printing.
With a few tweaks made to the machine, you can print both on dark and light-colored garments. Also, the printer is compatible with most kinds of fabric. You can get customized images or writings printed onto embroidered polo shirts, hoodies, T-shirts, or any other form of clothing.
People nowadays prefer using a DTG printer because the machine is capable of giving prints that are of very high quality. The fact that you can use them on any sort of clothing, or to print materials in any color, are also the very reasons why they became so popular.
The garment factory made their shift towards DTG printers from screen printing Because of how affordable the process is. There are no expensive setup fees. Orders can be completed within hours of starting the printing process.
Top 9 DTG Printer For Small Business Reviews
1. HRM DTG Printer T-Shirt Printing Machine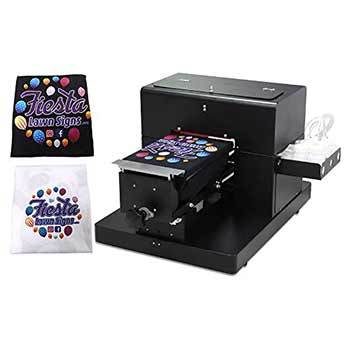 A DTG printer needs to be connected to a software so that you can print your desired graphics onto the fabric. These apps usually have to be purchased separately.
But this HRMD TG printer comes with completely free software. The acroacroRIP 9.0 can work with any windows computer system.  All the graphics and designs that you want to print can be edited and placed with the help of this software.
Connecting the printer to your computer is no hassle at all. The machine comes with a standard USB connection that works with a most computer or laptop models.
This machine comes with a very well instructed and thorough user manual. The maximum size that this printer can print is 210 X 300 millimeters. Light fabrics such as T-shirts or onesies, we can print it on with ease using the machine. Hence, the product can be labeled as the best DTG printer for small business.
New trainees and workers can learn how to use the machine very easily. You won't have to go through multiple training sessions for your workers to get a hang of this printer.
Highlighted Features
Comes with a free software
Can be used with any windows computer system
The maximum print size of 210 X 300 millimeters
Easy to use, with no thorough training required
Easy USB-to-computer connection system
2. HRM  A3 Size T-Shirt Hoodies Printing Machine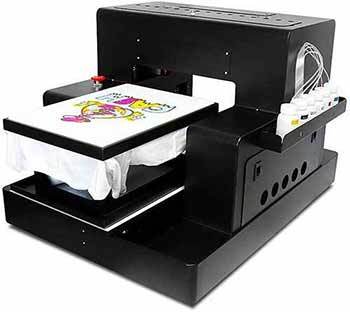 We have another DTG printer from HRM.  HRM makes budget-friendly DTG printers that small businesses can easily afford.
The difference between the previous model and this one is that this A3 Version can print on thicker fabric such as hoodies.  You can also use the machine to print on lighter fabric such as T-shirts and onesies. So, this model is a versatile one.
Just like the previous model, this one too comes with free software.  The RIP 9.0 software can help you print in both color and black & white. With the right adjustments made, you can print in both at the same time as well.
A smart machine like this one can be a great asset for any new or small business.  The HRM A3 size printing machine can adjust to an ideal height on its own.  Of course, you can adjust this height manually as well.
Another feature that makes this tool great for startups is that it can successfully recognize and select the right printing height to avoid any kind of printing mistakes. As a new business owner, this can help you save money on rejected goods.
Highlighted Features
Can be used to print on thick fabrics like hoodies
Comes with a free RIP 9.0 software
Printing height can be adjusted both manually and automatically
The machine adjusts automatically to help prevent printing mistakes
Can be used to print in color and black and white at the same time
3. Punehod L1800 Printer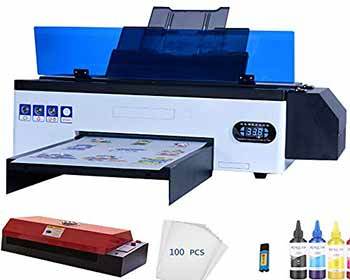 A lot of times, people regret buying a DTG printer because of the preparation of the clothes you have to make beforehand.
If you do not want to waste any time, and want to go straight into printing, this Punehod DTF printer will be the right option for you.
No matter what kind of clothes you use for printing, you won't have to pre-process the fabric. Although it might not seem like a huge benefit, it can help you significantly increase working efficiency.
After you are done printing on the PET film, the graphic can be transferred directly to the fabric using a heat press.
Heat press creates a very strong bond between the ink and the fabric. Therefore even with multiple washes, the print does not fade. It's the best direct to garment printer for small business if you want to maintain quality.
With the windows computer system support, you can transfer any graphics from your computer to the printer within a few minutes.
Your purchase includes 6 bottles of ink and 100 sheets of PET film. Once you've bought and installed this machine, there's no need to make any extra purchases for your first few orders.
When it comes to installation, you get a well-instructed guideline. The company also allows you to make Skype calls for guidance during the installation process.
Highlighted Features
Heat press creates a stronger bond between the fabric and ink
Helps you produce better quality prints
Graphics can be transferred from computer to printer within minutes
The company provides guidelines through Skype calls for installation
Six bottles of ink and 100 sheets of PET film are included with the package
4. HRM A4 DTG Printer T-Shirt Printing Machine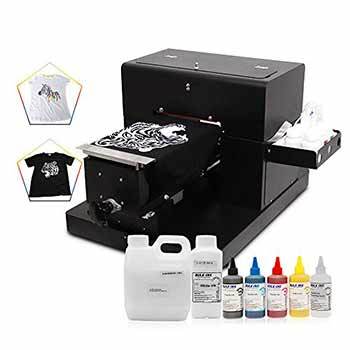 Oftentimes, DTG printers have a hard time printing on dark-colored fabrics. But the demand for prints on dark-colored fabric is growing higher and higher. So, if you want to meet this demand, you need a dtg printer for t shirt printing that can support printing on darker colored fabrics flawlessly.
The HR M A4 DTG printer can print on both dark-colored and light-colored T-shirts easily. With some light preparation on the dark-colored fabric, you can get high-quality and professional-level digital prints on your T-shirts.
Images that are printed with the help of this printer, are very close to industrial-level printing quality. The graphics, even with frequent washing, do not fade.
You can print in full color, maintain vibrancy, and make the print waterproof as well. The high-quality print is scratch-resistant, and therefore a great option for regular-wear T-shirts.
Using the machine is very easy. You won't be needing any plates for printing on the fabric. Any format of image, like JPEG, Jpg, BMP, TIFF, and PSD can be printed directly onto the fabric.
An ergonomic knob on the side of the machine allows you to adjust the print height off the unit.
Highlighted Features
Prints easily on both dark-colored and light-colored fabrics
Images printed are scratch-resistant, vibrant, and water-resistant
Can print directly onto the fabric without needing any plate
Any format of image can be printed
The ergonomic knob allows easy adjustment of functions
5. CXB A4 DTG Printer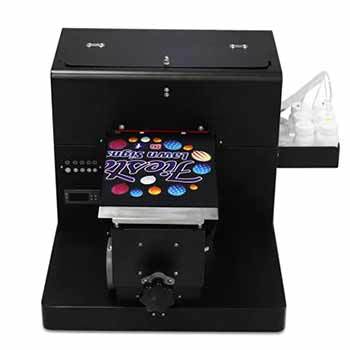 If you're just starting the DTG fabric printing business, it's better to start with the cotton-based fabric.  These kinds of clothes are easier to sell and make a profit out of.
The CXB A4 DTG printer is an ideal choice for this sort of operation. It's a simple machine that can print only on thin and flat clothes. Therefore, the machine is affordable, making it the best DTG printer for startup.
Clothes that have a cotton content of more than 50%, such as onesies, socks, or T-shirts, can be printed on using the device.
Although the machine can only print on fabric that has a high cotton content, the printer has a decent 210 X 300-millimeter printing size. The graphics on the fabric is clearly visible.
To run the machine properly, you need to use P5000+ series DuPont textile ink. There's no need to buy any additional software for printing. With your purchase of the machine, you will get a free RIP 9.03 printing software.
Highlighted Features
Uses the same ink as Epson L805 printers
Comes with a decent 210 X 300-millimeter printing size
Only prints on fabrics with high cotton content
Great for startups, or at-home use
Easy to use RIP 9.03 painting software free with the purchase
6. PUNEHOD DTF Transfer Printer
As we've mentioned before, the training period during which the employees get to learn how to use the machine can be a little bit expensive for startups.  A great way to avoid this cost is to get a machine that's very easy to use.
This printer from Punehod does not have to be adjusted manually.  The print head can automatically adjust its position to give you the perfect print. A feature as such can be great to have if you want to lower your labor costs.
Made with new and improved technology, there's no need to process the clothing before printing. If you print on a PET film, the graphics can be transferred directly to the clothing with the help of a heat press.
This direct printing system where you add the ink and the machine just prints the graphics on its own, can increase your business's efficiency as well.
If you happen to use white ink often, you might see that sometimes your printer gets blocked because of the sedimentation caused by the ink. This model helps you get rid of that issue completely. A circulatory system eliminates any possibility of sedimentation. Therefore, the nozzles never get jammed.
When the printer is running low on ink, an indicator will let you know that it needs a refill. This is a very helpful feature to have in a DTG printer, as it helps prevent blank or partial printing.
Highlighted Features
Made with new and improved technology that does not require the clothes to be processed beforehand
Print head adjusts automatically lowering your labor costs
The circulatory system prevents sedimentation in white ink
Direct printing from machine to PET film two fabric
The low ink indicator helps prevent blank or partial printing
7. Refretonic Digital Textile Printer MT-TA3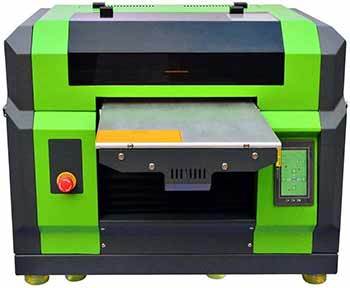 Startups or small businesses usually have a smaller working space. The tools that are bought for this sort of business should match the space.
If you have a smaller working area, you should try out this Refretonic tonic digital textile printer.
This printer is all you need for good quality products.  Because the machine works with sublimation ink or pigment ink you can print directly onto polyester or cotton fabric. You won't be needing any printing plates.
As the amount of machines required for your business is reduced, you get free space for comfortable movement. This machine is also quite user-friendly. There is only one button that you need to press for the simple machine to work.
The pigment ink has 5 colors options, white and CMYK. Hence, you can print on both white and dark colored T-shirts in different colors. The resolution of about 2880 DPI ensures easy color adjusting and vibrancy.
You can get samples of your printing completed within a minute. The printing template makes the working procedure easy, as it can print without any flaws or differences multiple times.
 Highlighted Features
Can be used to print on both polyester and cotton fabric
Gives you printing sample within a minute
Consistent printing with no differences in graphics
User friendly budget operation
2280 DPI resolution gives easy color adjusting and vibrancy
8. PUNEHOD DTF Printer L1800 A3 Heat Transfer DTF PET Film Printer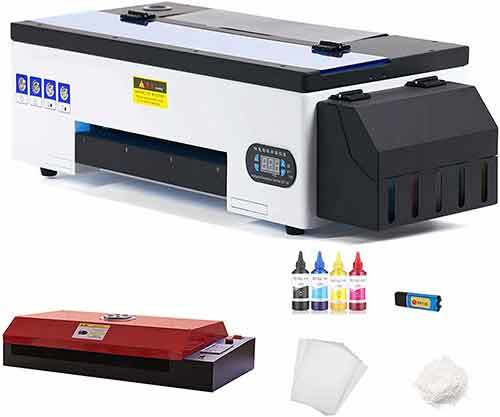 When printing on T-shirts, controlling and monitoring the temperature is quite important.
This model from PUNEHOD has a real-time temperature monitoring system. The built-in device also helps you monitor the humidity. A huge benefit that you get from monitoring these features is accelerated ink curing. This results in the increase of efficiency at your workplace.
When it comes to using white ink for printing, the device has a stirring feature. With constant stirring, the ink does not settle and blocks during printing.
Because the device is comparatively portable and small in size, you can also move it from one workspace to another easily if needed. It also has fast curing and humidity monitoring features; these are quite hard to get at such a price.
The unit uses the same ink as the Epson R1800 print engine. You can use the device to print on thicker materials. Users have got amazing results with this printer while printing on cotton and viscose pants and hoodies.
Highlighted Features
Uses the same ink as the Epson R1800 printer
Allows you to monitor temperature
Humidity monitoring feature allows faster ink curing
White ink starring feature that reduces the chances of blockage
A budget-friendly option for small businesses
9. PUNEHOD L1800 DTF Transfer Printer
Tired of your DTF feeder getting jammed? Try out the Punehod L1800 transfer printer.
This upgraded version has a new improved roll feeder. The upgrade, along with the auto heat station, reduces paper jams significantly, Increasing your efficiency.
To get rid of printer head clogs, the printer also has a white ink mix and recycle system. With no clogs and paper jams, you can print more T-shirts in a day now.
We recommend getting this set if you are starting a new business. As this set includes an A3 L1800 printer and 5 bottles of ink in white color and CMYK, you don't have to do much shopping in the initial stage of your business.
The set also includes an oven and PET films. The drawer in the oven has a handle, making it easy to bake PET films.
Punehod has amazing services for new users. You get video instructions during your first installation process. This way there are no mistakes made while assembling the printer.
Highlighted Features
Comes with five bottles of ink in white color and CMYK
White ink mix and recycle system to avoid clogs
An upgraded version that does not have any paper jam
Comes with an auto heat station
Video guidelines provided for proper and mistake-free assembly
You will Get some other DTG Printers on the following website.
Comparison Table of Best Dtg Printer For Home Business
| Product | Connectivity Technology | Compatible Devices | Print Media | Print Size | Operating System |
| --- | --- | --- | --- | --- | --- |
| HRM DTG Printer | USB | PC | Farbric | 210 X 300 Millimeters | Windows Xp |
| HRM Automatic A3 Size  Printing Machine | USB | PC/Lapto | Fabric, Both Thin, And Thick | A3 | Windows Xp |
| Punehod DTF L1800 Printer | USB | Computer | Cotton Based Fabric | A3 | Windows Xp |
| HRM A4 DTG Printer | USB 2.0 | Pc | Fabric | A4 | Windows Xp and 7 |
| CXB A4 DTG Printer | USB | Pc/Laptop | Cotton Based Fabric | A4 | Windows Xp and 10 |
| Punehod DTF Printer | USB | Pc | Glossy Photo Paper | A3 | Windows Xp |
| Refretonic Digital Textile Printer MT-TA3 | USB 2.0 | Pc | Polyester, And Cotton Fabric | A3 | Windows |
| PUNEHOD DTF Printer L1800 A3 Printer | USB | PC | Fabric | A3 | Windows Xp and Above |
What To Look For When Buying The Best DTG Printer For Small Business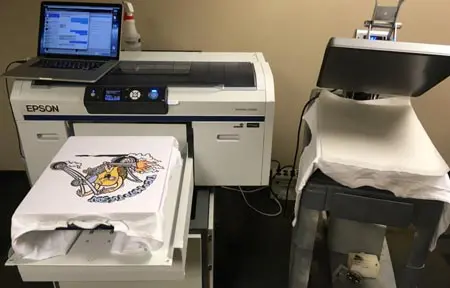 If you are looking for a good quality DTG printer for your small business, there are several factors that you need to keep in mind. Since a DTG printer can cost a lot, it's always better to invest in a machine that you know works well.
Maintenance And Ink Costs
Just buying a cheap direct to garment printer is not enough. Getting one under 1000 bucks can be tough at times. There are a lot of other costs that you need to keep in mind.
One of the first costs is the ink.  You have to be sure about the price of the ink per ml that has to be added to the cartridge. As this is a recurring cost, knowing this beforehand will help you get an estimate of the machine running cost.
A great way to find out the average cost of the machine is to look for the price of printing a 12X12 inch image. The price of the size will help you get a vague idea about the printer cost.
Keep in mind to check out the price for printing on different colored fabrics as well. Sometimes, printing on black clothing costs a little bit more.
Other prices that you would be at are cleaning and maintenance costs. Some machines provide an auto maintenance feature. The Best affordable DTG printer will have reasonable pricing in all these sectors as a whole.
Bulk Or Closed Cartridge Ink System 
Buying ink in bulk helps you save a lot of money. If your company deals with large volumes of orders, adding a bulk buying system can be very beneficial.
But with a direct to garment printer for beginners, a closed cartridge system is the better option. After your company reaches the point where it's receiving bulk orders, you can shift to the bulk ink system.
Although bulking can seem like the better option, this system can cause a lot of issues. Small businesses should stick to an under 500 dollars ink budget.
If you put your machine on a bulking system, but don't use the machine regularly, your DTG printer will be harmed. Only shift to a bulking system if you're sure about large printing volumes.
Ease Of Installation
Just like any other tool, a DTG printer also needs its parts replaced. The one thing that needs frequent replacement is the printhead.
Before buying a DTG printer, take a look at what the replacement cost of the printhead is. Also, ensure that you have all the guidelines and instructions to help you install the printhead yourself.
The initial installation of the machine has to be easy as well. Calling a professional to set up your DTG printer can be expensive. Some companies offer video and Skype assistance for the installation part, which can help you save the cost.
RIP Process
The RIP Process is just as important as the durability of the printer. Having a standard RIP process will help guide the machine to give you a proper and high-quality print.
RIP stands for Raster Imaging Processor. If the machine that you buy has a good RIP, then it can automatically adjust itself according to the kind of fabric and color you have chosen. This way, you get the highest quality possible even with a small DTG printer.
Ease Of Use 
Getting to know how to use a DTG printer properly can take a while. Easier to use machines help make the printing process less of a hassle.
For a small business, training employees on how to use the machine over and over can cost a lot. Therefore, a printer that is easy to understand is always the better option, both for efficient and cost-effective work.
Benefits And Drawbacks Of A DTG Printing Machine For T-Shirt
When used correctly, a DTG printing machine can be of great use to any company. Starting from higher efficiency to better quality prints, a DTG printer is a must-have for any small clothing business. Below are some of the pros and cons of this machine-
Benefits Of Best Direct to Garment Printer
Affordability: Other kinds of printing machines such as screen printers have a lot of expensive setup costs. But with a direct to garment printing machine, you don't have to pay any sort of expensive setup cost like that.
Versatility:  No matter what color you want your prints to be, a DTG printer can do it. There are no limitations to the color range or the clothing type when using this sort of printer.
Also, you can use this printer to print on both light-colored and dark-colored garments.
Efficiency: DTG printers are capable of printing your desired pictures or writings within a matter of few hours. Therefore the number of T-shirts that you can print in a day can increase significantly with the use of a DTG printer.
Even though the T-shirts are ready in a few hours, the print is still very high quality.
Disadvantages Of DTG Printing Machine
Under Base Layer: Although a DTG printer can be used for both dark-colored and light-colored fabrics, when painting on darker colors, some precautions need to be taken beforehand.
A pre Treatment is added to fabric that is of darker color to create a base layer. Your desired design is placed on top of this layer, and then secured into the fibers with the help of heat.
Sometimes this extra layer can cause Stains. If a fabric gets a stain that is too obvious, it has to be rejected.
There is no way of telling whether or not the fabric will stain because of this extra layer. You have to wait until the printing process is complete and the fabric has dried completely to find out whether it has a stain or not.
Color Unmatching Issue: While DTG printer gives you access to a lot of color options, the output colors might not be exactly what you want all the time.
Sometimes it becomes really hard to match Pantone color codes. Therefore, the color you choose might come out grainy or duller than expected.
Limitations To Some Fabric Types: Fabric that has a low cotton content is hard to print on with a DTG printer.  The fabric that you want to print on has to have at least 80% cotton content.
Different Garment Printer Technologies Other Than DTG Printer
There are other ways to print on T-shirts besides using a DTG printer. Some of the popular and in-demand printing devices are as follows.
1. Screen Printing
This is one of the most common printing techniques that you will find in clothing factories or businesses. Companies that receive large volume orders usually opt for the screen printing system. It's one of the most traditional ways of printing on fabric.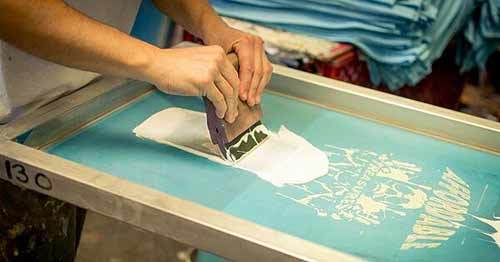 With a screen printer, a screen is used to print designs on T-shirts. The ink that is used in screen printers is usually much thicker than inks that are used in other sorts of printers. That is why these prints last a lot longer.
Most businesses go for screen printings because it is capable of printing on a large number of T-shirts in a very small time. Of course, the amount of t-shirt printed depends on the ink, strokes, fabric, and design. But overall, it's a cost-effective option.
2. Sublimation Printing
In this printing method, you do not print directly onto the fabric. Firstly the design that you want on your T-shirt is printed onto a transfer paper.  Then using heat and pressure, the design is printed onto the fabric.
With this technique, you can only print on polyester-rich fabrics. Any sort of fabric that has a high cotton or viscose content cannot be printed on using a sublimation printer.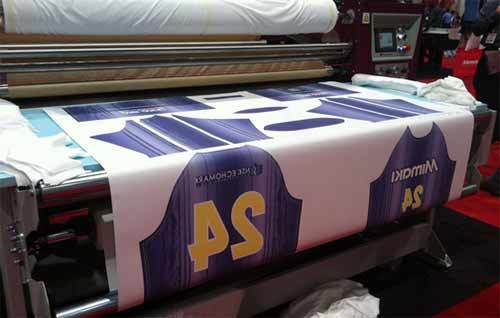 The dye-based ink that is used in this sort of printing, turns into gas after it comes in contact with heat. Using heat and pressure, this ink is then returned to its solid state onto the fabric. The process joins the ink with the fabric. Hence, the print is not just a layer sitting on top of the cloth. Chemical bonds as such usually last longer on clothes. Also, these prints rarely fade, crack, or peel.
How To Print Your T-Shirt Using DTG Printer
How you should use your DTG printer will depend on the model of printer you have. But as a general guideline, there are just a few steps that you have to follow.
Step 1: Preparing The Cloth
If you are using a darker colored fabric with your DTG printer, some Preparation beforehand is mandatory which the professionals call pretreatment  You have to add an extra layer of pre-treatment through the cloth. If you want to work with tougher fabrics like canvas or denim, you need to pretreat them properly.
Usually, you should get a pretreatment hand spray when buying a printer. But, our suggestion is getting an aftermarket hand spray that better suits your needs.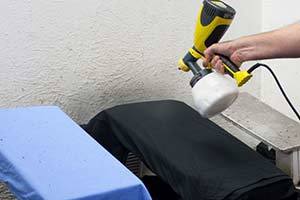 If you have a DTG pretreatment machine, you can also use it for this step. Just load your shirt into the machine, then press a button to have the pretreat sprayed onto it.
One of the biggest advantages to the PTM is that it is completely enclosed so you can pretreat shirts inside a house, retail location or an office. However, hand spraying is fine as long as you are careful with the application.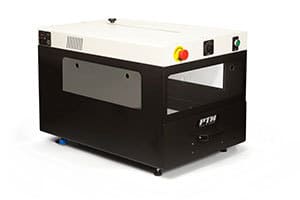 DTG pretreatment machine
Lighter-colored fabrics do not need this treatment. Therefore, if you are working with colors that are not too dark, you can skip this step.
A good quality printer doesn't require much setup beforehand. If you have successfully bought the DTG printer for small business, the setup cost won't be that high.
Step 2: Prep The Printer And Fabric
All DTG's need good, clean artwork to produce the best prints on your garments. The design that you want to print should be put into the system of the printer beforehand. Then all you have to do is place the T-shirt properly in place. You need to be sure about where the printer is going to print its image on and place the T-shirt accordingly.
Step 3:  Print
To Print properly, all the DTG printer requires a specific software package called a Raster Image Processor (RIP).
This RIP software posses the design in a way that the DTG printer can understand and transfer to the fabric. Usually, RIP software comes with the DTG Printer. If you don't get it with your printer then you need to buy it from third-party companies.
Anyway, after the above mentioned steps have been taken care of, all you have to do is press print on the printer, and you're good to go. When the printing is over, carefully take out the T-shirts, check the quality and they are ready to be used or sold!
List of third-party RIPs
| Company | Application | Platform | Web Link |
| --- | --- | --- | --- |
| Electronics For Imaging | Fiery Color serverFiery XJ-W | MacintoshWindowsUNIX | efi.com |
| Handmade Software | Image Alchemy | MacintoshWindowsUNIX | handmadesw.com |
| ColorGATE Digital Output Solutions | ColorGATEColorGATE Pro | Windows | colorgate.com |
| Wasatch | PosterMakerPosterMaker 2.11 | MacintoshWindowsUNIX | wasatchinc.com |
| Image Technologies | Image Technologies | Windows | imagetechdev.com |
| Onyx Graphics | PosterShop PSPosterShop Pro | Windows | onyxgfx.com |
FAQ On Best Dtg Printer for Startup
1. Is Screen Printing Better Than DTG Printing?
Screen printing is considered a better option for bulk printing. It can print lots of T-shirts in a very small amount of time.
The best DTG printer for home use have a very low setup cost and can print in lots of colors.
The choice of which one is better depends on what the printer is being used for and the number of prints being made.
If you are trying to decide between those two methods, We put together an infographic to illustrate the differences.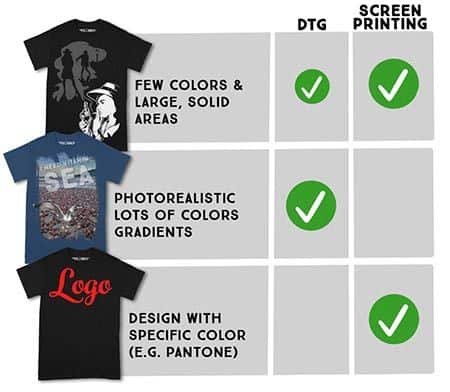 Image Source: dtgmerch.com
2. Is A DTG Printer A Good Investment?
DTG printers can be a great investment If you buy the right kind. Even the cheapest DTG printer might not be cost-effective for you in the long run. You should look for a printer that has easy setup, needs little maintenance and has a low ink replacement cost.
3. Is DTG Business Profitable?
Nowadays a lot of companies, schools, and organizations need T-shirts with their logos printed on them. It's a business that has regular customers.
So if you can provide high-quality prints at a reasonable price, then a DTG business can be quite profitable.
4. Do DTG Printers Require A Lot Of Maintenance?
This will depend on the model you have bought. A DTG printer that does not require much maintenance is the better choice of course. Some printers come with auto-maintenance feature.
DTG printers that are used regularly might need a lot of maintenance. But if you buy the right kind, you can easily minimize this cost.
5. What Is The Best DTG Printer On The Market?
We would say the HRM DTG Printer is the finest overall. It can be connected to a PC using a USB and comes with free AcroRip9.0 software. With a maximum printing size of 210 X 300 mm, this one can be a great machine for any small business.
6. How Long Does it Take to Print a Shirt on a DTG Printer?
It depends on the design and the specific printer model, but a standard sized 10 x 10 inch design on a white shirt at 720 dpi will print in approximately one minute.
Final Word
DTG printing has become quite popular and profitable now. Even small startups are making a lot of money in this business.
These machines are easy to use, give you high print quality, and can be maintained easily as well. That is what has made them so popular in the clothing business sector.
With the best DTG printer for small businesses by your side, you too can be a part of this successful line of work. Hope this article helps you do that!