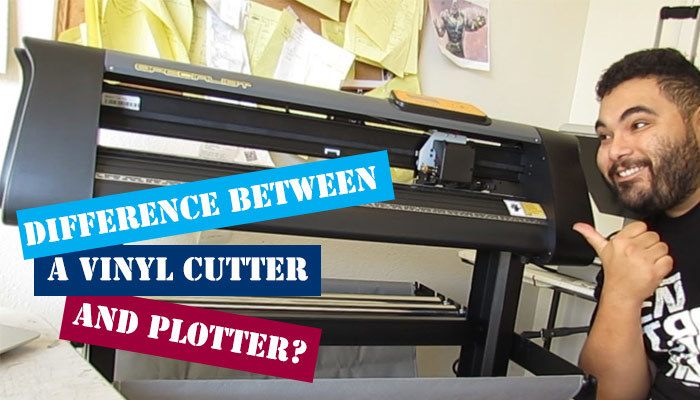 What Is the Difference Between a Vinyl Cutter and Plotter?
Needless to say, a vinyl cutter works wonders in the aspect of cutting materials in different shapes and patterns, but what does a plotter do?
Well, first of all, plotters are also known as vinyl plotters?
Why so?
Because it pretty much works equivalently to the vinyl cutter, and the outcomes are quite similar.
However, there are very few diversities between a vinyl cutter and a vinyl plotter.
And to conclude, choosing the right tool for your printing job is notoriously tight when the differences aren't too serious to notice.
Hence today, I have compiled a whole bunch of information in order to comprehend the differences between a vinyl cutter and plotter so that you can easily stumble upon the right tool for the right job.
What Is a Vinyl Cutter and How Does It Work?
A vinyl cutter is basically a tool that allows you to cut vinyl in different shapes and patterns through a computerized blade or knives.
First things first, you'll need to craft your design as per your preference in any relevant software.
Then the next move is to transform the design into vector art. Once you have turned the design into vector art, now it's time to load the design in your computer and access the vinyl cutting program.
Lastly, command your corresponding button or push the CUT trigger button to have precise cuts of your loaded design on a sheet.
When you have the design printed on the sheet, turn off the machine and use the trimmer and squeegee to weed out unnecessary edges from your design. Make sure to have as seamless print as possible.
What You Can Do with a Vinyl Cutter?
If you have a vinyl cutter, then there are plenty of things that you can do by utilizing this amazing tool and its attributes.
Over the decades, from adults to teenagers, everyone is getting more accustomed to using vinyl stickers.
Being a hobbyist and DIY'er, I always have that quirk to design stickers for my stationeries and study table.
Also, when I was in college, it helped me to foster my financial stability as selling customized stickers to my folks and neighbors was one of my jobs to afford all the movie dates and rich foods.
Similarly, there are other ways of generating money if you intend to harness a vinyl cutting machine accordingly.
However, a vinyl plotter doesn't only resolve your financial hurdles but also satisfies your passionate psyche through art and creativity.
Hence, let's have a look at what else you can do with a vinyl cutter.
Crafting Customized Apparel
Have you ever dreamt of having your clothing line where you can craft your designs and make everything artistic around you?
Well, if your answer is yes, then you have come to the right place! Because a vinyl cutting machine allows you to print personalized designs and logos on t-shirts.
Let me explain it to you. Most of the sports wear you see popping around the internet or creating the online "noise" might seem overrated,yet it has great demand because of its customization availability and varieties.
And to craft those aesthetic t-shirts or for giving a jaw dropping transformation to your old clothes with a touch of unique designs, you will need to have a vinyl cutting machine.
However, a heat press is required to get the job done appropriately.
So, this is the craziest thing you can do with a vinyl cutter without having to invest money in a significant amount.
With a minimal investment, you can proceed to your customized t-shirt business.
Moreover,having a vinyl cutter has its embellishments in order to contribute to your start-up business.
Painting and Woodworking
You can customize your wooden pencil box or a photo frame by sticking vivid vinyl decals on it. Also, you can affix some vinyl decoration around the edges of your paintings and hang them on your front wall for adding an artistic appeal.
Labeling Kitchen Supplies
Sometimes it's hard to find the right ingredient or utensil due to having the same mason jars and similar appearance. In such cases, you can cut vinyl letters for labeling your kitchen supplies in terms of their categories and names.
Modifying the Outlook
With vinyl decals or stickers, you can intensify the outlook of your personal belongings such as mobile phones, I pad, laptop, gaming console, etc.
It will not only enhance the way they look but also ensure that you have a different looking gear in hand.
Party Boards and Templates
I am sure you have seen weddings and baby shower parties where plain boards with names, characters, quotes, and different symbols are used. Also, the food or the complimentary gifts which are decorated like an ostentatious parade with different tags and markings can be made if you have a vinyl cutting machine.
So, these are the most common things that you can make with a vinyl cutter. You may discover some the vinyl cutting machines reviews one of our another article.
Pros and Cons- Vinyl Cutter
Here are some pros and cons of the vinyl cutter for clearing your concerns.
Pros
Inexpensive tool
Easy to maneuver
Accessible
Multi-purpose use
Nurtures your art and craft skills
Ensures being a bliss to your mind and soul
Cons
Doesn't work without a laptop
Might be time-consuming sometimes
What's a Vinyl Plotter, and How Does It Work?
A vinyl plotter is a vinyl cutting machine that uses a pen instead of the suppressed knives a vinyl cutter yields.
Also, a plotter provides relatively better detailing results, and you can be more precise and specific while designing something.
Initially, when you want to cut calligraphy and other scripts in an enhanced and elaborated shape and pattern, you stumble upon vinyl plotters.
Now the question is, how does it work?
Well, in the printing industry, the professionals prefer vinyl cutter and the plotter irrespective of their tiny differences. Because the contrast actually brings a significant change in the outcome. Here when you want to print a customized design out of your plotter, it prints over the vinyl instead of cutting the vinyl.
You need to transform your desired patterns into different vinyl shapes as you are supposed to print directly on the vinyl.
And this also makes the operation a little bit tricky as you are required to be more accurate, focusing on the vinyl instead of cutting later on.
In other words, you can say that plotters use a pen that runs mechanically in order to draw line arts on a flat surface of a paper to relocate a vector graphics from the computer.
Things You Can Do with a Vinyl Plotter
As there's no major difference in a vinyl cutter and a plotter, you can undoubtedly do things with a plotter that a vinyl cutting machine would do. But one thing that opposes the idea of using the same tool is that plotters permit you to work more flexibly because of the detailing authority you get from the mechanical pen.
Also, creating repetitive lines, using a whole color scheme or individual spectrums of ink are the unique calibers that make a plotter distinctive amongst the conventional and obsolete printers.
Here are the things you can do when you have a plotter!
CAD Technical Drawings
If you are an architect student or you have to make blueprints on diverse projects via 3D illustration, then having a plotter can eliminate all your hurdles to get through. It also minimizes the expenses you make on printing stores as well.
Banners
Making customized banners for promoting a scheme or social awareness is crucial. And, to help you make these banners catchier and translucent, nothing can be more competent than a vinyl plotter.
Designs on Numerous Materials
One of the best things plotters can effortlessly accomplish is to print unique designs on an array of materials such as plywood, plastic, aluminum, steel, sheets, etc.
See? When you have a plotter, you are more likely to engage with productive artworks rather than just limiting yourself in DIYs.
Pros and Cons
Let's glance over the pros and cons of a vinyl plotter.
Pros
Impeccable quality resolution
Offers to work on larger sheets
Works faster
Exceptional accuracy
Inexpensive yet efficient
Multi-purpose use
Cons
Pricier than regular printers
Needs a considerable space for better maneuverability
The Key Differences Between a Vinyl Cutter and Plotter
To clear your doubts, I have outlined the key differences between a vinyl cutter and a plotter. Check it out!
The Knife
The use of a knife rather than a pen, as is typical in ordinary vinyl plotters, is the primary hardware distinction between a vinyl cutter and a vinyl plotter. Instead than only printing a graphic on top of the vinyl, this enables the machine to cut a pattern.
The outcome is a vinyl design that neatly covers the side of a van or fits into shop windows with unusual shapes. Depending on the quality of the specific vinyl cutter, this knife can cut intricate shapes like calligraphy and other character because it rests on bearings that move in a similar manner to the printing pen.
Cutting & Printing
The vinyl cutter uses a knife for cutting. This tiny component, which resembles a utility knife virtually, slices items off of an automated arm. Sitting on the mechanical arm, it may cut in accordance with a pattern sent by the computer since the arm travels in that direction.A vinyl cutter, on the other hand, may or may not really cut the vinyl. Instead, it uses a mechanical arm that follows the pattern given by a computer or cartridge to print the design directly onto the vinyl. This enables more complex pieces with the appropriate forms and coloring when necessary.
Use
Since they have diverse tools, vinyl cutters and plotters are utilized for various tasks. Many billboards employ vinyl plotters because printing a sign on a single vinyl sheet is less expensive and time-consuming than producing an overlay image. Vinyl cutters are used for tasks that call for monochromatic or translucent vinyl, such as window tinting and cabinet coverings.
| | |
| --- | --- |
| Vinyl Cutter | Plotter |
| 1. Uses knives for cutting vinyl | 1. uses a pen for cutting patterns on vinyl |
| 2. Works great on smaller sheets | 2. Works great on both smaller and larger sheets |
| 3. It's immensely affordable | 3. It costs more than a traditional printer and a vinyl cutting machine |
| 4. Unable to use different colors | 4. Plotters have enhanced ability to work with numerous coloring |
| 5. It's a modest tool for small printing projects | 5.This is a highly effective tool for comprehensive and elaborated printing operations |
Vinyl Cutter vs Vinyl Plotter: Which One To Go For?
It's time to purchase the top vinyl cutting machine for your requirements and now that you have more knowledgeable about the distinctions between vinyl cutters and vinyl plotters.This won't be simple, primarily since they are two significantly different items, and choosing one over the other could not fully satisfy all of your wants.You have the vinyl cutter on one side, which makes designs on vinyl and other materials using a tiny knife. The vinyl plotter, on the other hand, prints and stamps vinyl in various colors for a more precise outcome.Therefore, choose a vinyl plotter if you require something exact with highly stylized outcomes.However, a vinyl cutter is the best option if you require something with fewer colors and/or simpler forms and/or letterings.
Bottom Line
Regardless of having certain perks and setbacks of both vinyl cutter and plotter, still, they outshine one another in distinct aspects of printing.
For instance, when you are expecting to work on blueprints, billboards, banners, or construction design making, which needs accuracy, reproduction, color varieties, and swift operation, choosing a plotter will be rational.