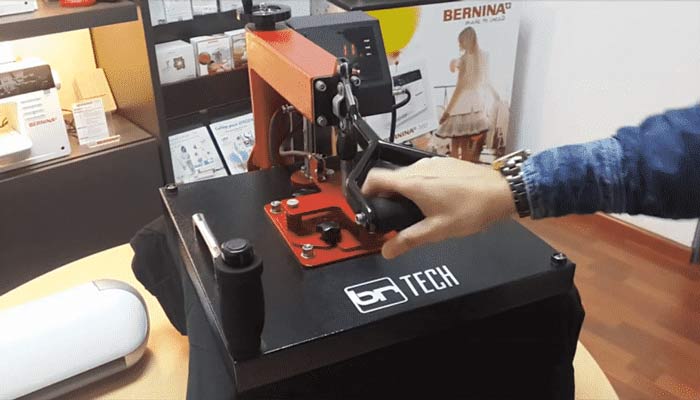 What Size Heat Press Do I Need: Ideal Size
There are a few factors to consider when purchasing a heat press, such as the size of the machine, the type of fabric you'll be working with, and the types of projects you'll be undertaking. The size of the heat press will determine the maximum size of the projects you can complete; for example, a small heat press may only be able to accommodate smaller items like t-shirts, while a larger model may be able to accommodate larger items like towels or blankets. Whether a person is a hobbyist or managing an industrial-sized production warehouse, there are heat press machines available in a variety of sizes.
The majority of individuals think about purchasing a 15″ X 15″ heat press machine, often known as a full-size heat press, whether they are running a small business or a full-time t-shirt printing operation. The most practical and cost-effective heat press is the 15″ X 15″ model, making it the ideal choice for amateurs who want to start a t-shirt printing company.
Five Questions to Ask Yourself when Picking out Your ideal Heat Press Size
What is the largest size item that I want to heat press?
When it comes to heat pressing, size does matter. The larger the item you want to heat press, the more important it is to consider the coverage on the shirt. Kid-size shirts are very different from XXXL, so you need to make sure you have the right size heat press for the job. If you're not sure, ask a professional or check the manufacturer's guidelines.
What is the largest size transfer paper my printer can print or what is the largest size transfer paper/vinyl I have? 
The smallest heat press size that is advised is a 9″ x 12″ heat press if all you want to print on are 8″ x 11″ transfer sheets. The larger the bed, the better, since you want to make sure you can transfer the full picture in one motion for even applications.
Are you doing mass production or looking to do quick jobs one at a time? 
Smaller presses are a quick solution for a few shirts at once and heat up more quickly. The larger the heat press, the better if you want to produce large quantities of something (such as mouse pads, totes, or shirts) at once. More things can be pressed at once with larger presses.
What size heat press do I need five or ten years from now? 
As technology improves, heat press machines are becoming more and more durable. In fact, many last a very long time with proper care. If you're thinking about purchasing a heat press, you may be wondering what size machine will last the longest.
Here's a general rule of thumb: the larger the machine, the longer it will last. This is because bigger machines are made with stronger materials and can handle more wear and tear. So if you're planning on using your heat press for years to come, it's best to get a larger model.
Of course, this doesn't mean that you should immediately go out and purchase the biggest heat press available. You still need to consider your specific needs and how much space you have for a machine.
What is my budget? 
If you're starting a business or expanding your current one, you'll need to know what kind of budget to set for your heat press.  The size of the heat press is one of the main factors that will affect your budget. A small heat press is typically less expensive than a large one. If you're not sure what size you need, start with a smaller model and upgrade if necessary.
Types of Heat Press by Size
Small Heat Presses: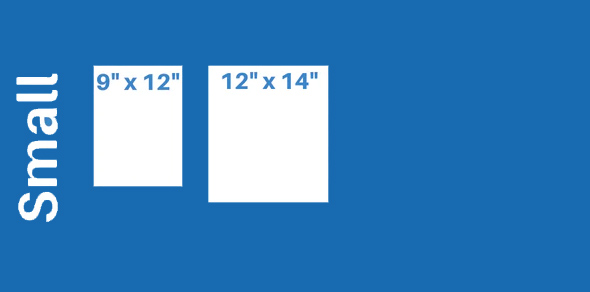 A small heat press is a great option for hobbyists or those who want a portable machine to take with them. It's also a good choice for small crafts shops that don't have the space for a larger machine.
With a small heat press, you can still print on t-shirts, but you'll need to be careful about the size of the design. This machine is also good for kids t-shirt prints. If you're looking for a machine that can do both small and large projects, then this is not the one for you. However, if you only need it for occasional use, then a small heat press is a great choice.
Small Heat Press sizes:
9″ x 12″ Heat Press
12″ x 14″ Heat Press
Benefits of smaller heat presses: 

Heats up quicker
Easy to position garments.
Portable
More affordable
Takes less workspace

Are Small Heat Presses for you?

Hobbyists, people who print shirts on the side or small production
Single products
 kids or small-sized shirts for adults
8 1/2″ x 12″ or smaller transfers
Medium Heat Press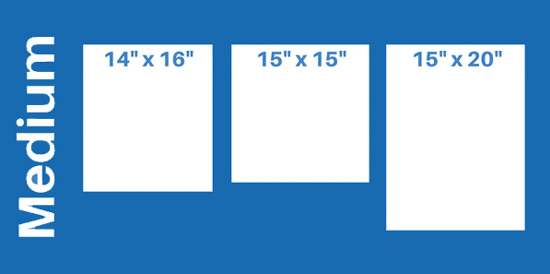 If you're looking for a proper printing business that can handle print jobs of all sizes, from small to XXXL, then you need a medium heat press. With a medium heat press, you can easily print medium-sized hoodies and other craft items. Plus, with the right settings, you can get a perfect print every time.
If your production rises or you have to start dealing with many transfers for various clients that place big orders, you will need to invest in a few of these additional units in order to do the task effectively.
Medium Heat Press sizes: 
14″ x 16″ Heat Press
15″ x 15″ Heat Press
15″ x 20″ Heat Press
Benefits of Medium Heat Presses:

Are Medium Heat Presses for you? 

Popular with decorators
Budget-friendly for business owners
Multitasking

Want to do T-Shirts
Medium size Business
Doing repetitive work
Large Heat Press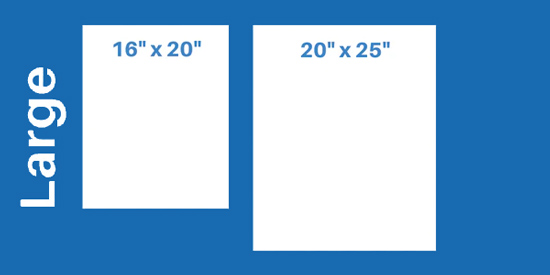 These heavy-duty industrial heat presses are ideal for people that have a significant volume of production going on. With optimal manufacturing efficiency, they can accept any size garment (even large hoodies or aprons).
These folks operate enterprises that often receive large bulk orders from organizations, hospitals, restaurants, sports teams, and companies seeking shirts, aprons, jerseys, and other items for their employees.
Large Heat Press Sizes:
16″ x 20″ Heat Press
20″ x 25″ Heat Press
Benefits of large Heat Presses

 Are Large Heat Presses for you? 

Large industrial-sized machine for 24/7 production cycle
Can press multiple items at once for smaller items (mouse pad, totes, etc)
Easier alignment large sizes

Using 11″ x 17″ Transfer sheets
Printing for Athletic teams
Frequently using large transfers or large shirts
Print on Oversize hoodies
People doing sublimation business
Conclusion
The size of the heat press you need for your business depends on the nature and volume of your business. If you are starting a small business with low production volume, then a small tabletop heat press will suffice. However, if you are starting a business with high production volume, then you will need an industrial-sized heat press.