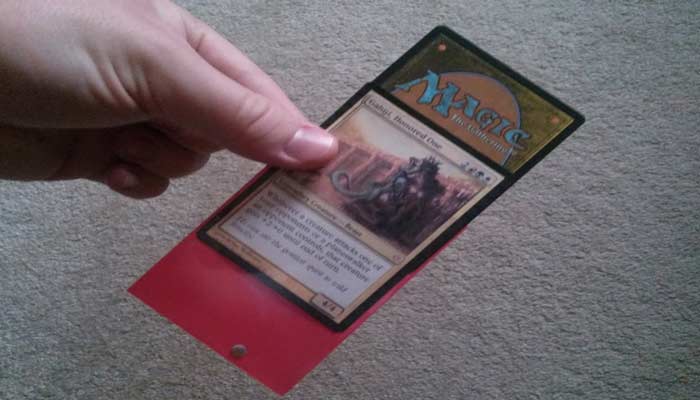 How to Print Proxy MTG Cards
You don't have the chance to go too pricey at the moment, or you just don't want to bring out your expensive cards - there are more than one reasons why you might be considering making proxy Magic cards, and we're here to help.
Yeah, while it comes to duping them, seeing other's proxies, this might seem like some huge industrial hacking sorcery, but really it's not!
Do you have a good color printer ready to go with your PC? You're already halfway there, you just have to learn how to print proxy mtg cards now!
Why you're here in the first place!
So, less talk, more following ahead! Let's print some cards!
What You'll Need
In order to print the proxy, you're gonna need the following things:
Good Quality Paper: You can go for standard A4 size printing sheets as it all comes down to sleeving in the end. Or you can go a bit thicker.
Heavy paper or thin cardboard material is usually used for printing MTG cards. So better if you can find those.
Plastic coated paper gives a more authentic feeling. But that's less likely to work with your average printer.
Whatever you choose, has to be of good material. Nothing flimsy, so that the proxy card doesn't easily tear or break.
Scissors and/or Paper Cutter: Scissors will be needed to cut the card out of the printed paper and later to trim the edges/corner.
Cutter works better when planning to print a number of cards or a whole deck. Do you know those cutter blocks that just cut through? Having them would be nicer. However, scissors or regular cutters will do if you can't manage.
Sleeve: Collect both inner and outer sleeves. While the inner sleeve isn't mandatory for proxying, it does provide more volume to the dupe.
(And no we're not again mentioning the PC or the printer. There's no point for you to read any further to learn how to print proxy mtg cards, if you don't have that in the first place. Unless you're planning to use someone else's gadget. Or purchase an Mtg Proxies Pritner.)
Now, start editing your card.
Editing Software for Proxying
Many will root for photoshop, not us. Go for something easier where using the tools or creating the layers won't be that complicated for beginners.
Gimp works nicely for that. The tools are super easy to use; it doesn't take much time to learn all the needed functions.
Or for the real amateurs, online editors might work the best.
There are people who can make proxies using Microsoft paint as well! However, we're in 2022, so let's not blast the past. Or maybe, let's, if you're good at it.
How to Print Proxy MTG Cards: Step by Step
We have our gadgets, sheets, tools, and sleeves. It's time to make some proxy cards.
Step 1. Find the Templates and the Right Fonts
You're proxying them, so the cards have to look proper bonafide. Download a fitting template first to proxy a card. And also the fonts; regular fonts of the editor might not work.
Since a lot of people proxy their decks these days, finding templates on the internet won't be difficult. In trouble, ask on forums or comment sections of related posts for sources.
Step 2. Find a Card to Work with
In order to maintain the authenticity of appearance, the proxy must match a card from the deck; standard, commander, doesn't matter.
It's also needed for a dupe. So go to websites that have original MTG collectibles on display.
Wizards of the Coast is a fan favorite for its sole theme of being an inventory for playing and collectible cards. Then there are MTG Prints. Another one is Scryfall. Go to any of these websites to get an image copy of the digital cards.
In order to a proxy, the quality of the graphics does weigh in. So don't pick an image that's hard to read, or pixelated to the point that it's not pleasant to look at.
Once you've found your card, copy/save it for the editor.
Step 3. Have a Unique Photo/Image for the Card
In case you don't want your proxy card to be an exact duplicate, you might want to chip in images from other places to give it a unique look. In such a case, either download a photo from the internet or illustrate one yourself.
Step 4. Edit the Card
Open the editor in several tabs to help with editing. Insert the photo, the card image, and the template there.
The template should match the size of actual MTG cards, so fix the ratio.
After fixing, place the card photo saved from WOTC, MTG Prints, or Scryfall over the template to create your proxy card.
Or, insert your illustrated/saved particular image onto the template to create your unique proxy. Write on that card whatever you want to be written using the downloaded MTG card font.
Make sure to add borders to the proxy layout as they exist on the original cards as well.
[Note: It's important that the cards don't appear as counterfeits to the original decks as it's an issue of copyright. So do make a card that's passable yet can be recognized as a proxy on demand. For instance, insert the text "proxy" in subtle letterings on the card.]
And, save the newly edited image (proxy card) file.
Step 5. Print
Adjust your printing requirements and click on the "print" option to print the proxy MTG card sheet.
The printer has to be a color printer, as MTG cards are never black and white. And it should be capable of properly printing on thick paper forms, including plastic coating, just in case.
Step 6. Trim the Proxy
Cut and shape the proxy pieces to sleeve them. MTG cards have round corners, so trim them to properly align with original cards. Or you can leave them as it's not going to be visible from the outer sleeve.
Step 7. Sleeve the Proxy
The printed sheet is going to be blank on the back. You have to align the proxy card with an original card to cover for that. So place the card over the face of the original card.
Insert these two cards into the inner sleeve to add the weight and feel of a genuine MTG card, and then insert the whole thing into the outer sleeve for the collectibles.
Congratulations, you successfully printed a proxy MTG card!
Now print some more if you like.
Conclusion
It wasn't so difficult, was it? Just some regular printing and sleeving and your proxy replacement are ready to pass. Be careful while fixing the ratio and aligning the template; that's pretty essential for being passable.
It's understandable, having an original deck is expensive, and they're collectibles in the first place, so trading an original card for a tournament or regular gameplay is quite nerve-wracking. You can save your priceless cards with a bit of craftsmanship, that's all it takes really.
Check our site for more quick fixes!